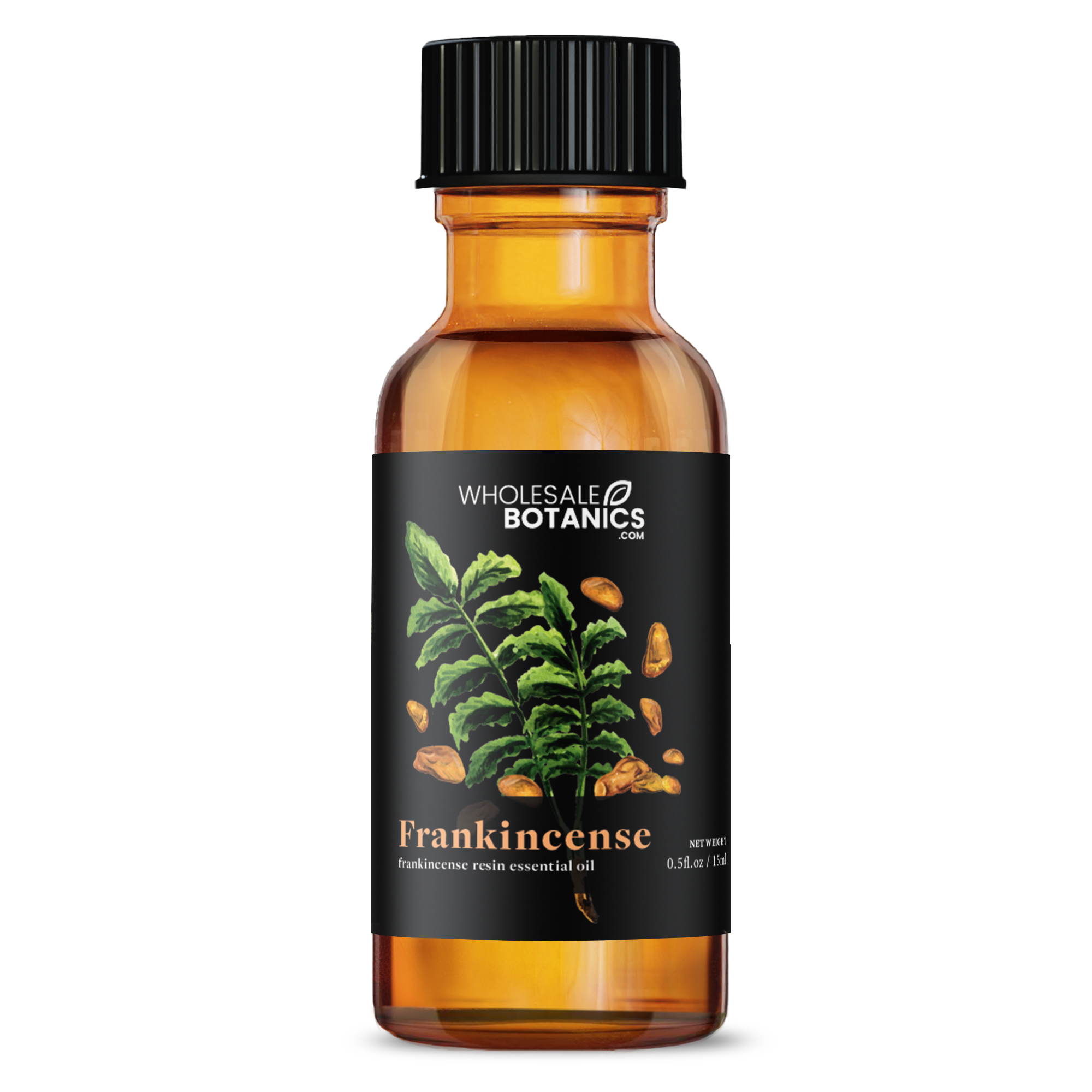 Frankincense Essential Oil
Frequently Bought Together
Responsibly Sourced
We work with farms and producers in over 30 countries to support renewable harvest and grow practices.
100% Pure
Wholesale Botanics guarantees that this pure frankincense oil is undiluted, unadulterated, and contains no additional ingredients beyond the oil itself.
Oil Report
Access the certificate of analysis to see the composition and purity of our Frankincense Oil.
Geographical & Botanical Breakdown of Frankincense Oil
View and download the Certificate of Analysis for our 100% Pure Frankincense Oil.
Botanical Name
Boswellia serrata
Also Known As
Olibanum Oil
Luban Oil
Shallaki Oil
This essential oil is comprised only of natural plant material and contains no synthetics, fillers, or other harmful materials.
Ingredients
100% Frankincense Oil
Oil Profile
Perfect for meditation: transport yourself to a state of calm with the earthy aroma of Frankincense Oil.
Extraction Method
Steam Distillation
Appearance
Colorless to yellow liquid
Aroma
Spice, wood, resinous
Key Components
α-thujene, limonene, sabinene
Blends Well With
Geranium, myrrh, and ylang ylang essential oils
Mixes Well With
Jojoba, argan, or coconut carrier oils
Features & Benefits
Promotes a sense of calm and tranquility.
Used as a meditation aid for thousands of years.
Soothes skin rashes when diluted.
Transport yourself to a world of calm and tranquility with the sacred oil of Frankincense, extracted from the Boswellia tree. For centuries, this oil was revered for its anti-inflammatory properties and used to treat a variety of ailments, including skin rashes and digestive issues. In modern times, the captivating fragrance of Frankincense Essential Oil is widely used in cosmetics and aromatherapy to promote relaxation and reduce anxiety. Diffuse this oil to experience the ancient healing power of Frankincense and create an atmosphere of peace and serenity.
What Our Customers Think
"Excellent packaging. Quality product. All in all, it was clear I'll be ordering my materials from Wholesale Botanicals from now on."
- Susan Duty
12/31/22
98%
of reviewers would recommend this product to a friend
Great!
It smells nice and it penetrates deeply
Wholesalebotanics.com handled my order quickly and completely.I appreciate their reliable service!
I love their quality product. I'm excited to use things to help my animals with the elimination of fleas and ticks.
Shipped in a very timely manner . Thank you
I love these products and how they are packed for shipping
Great, really appreciate the quick delivery time.
Nice smell, doesn't over power you.
Wonderful!
Very attentive and easy to resolve the issue.