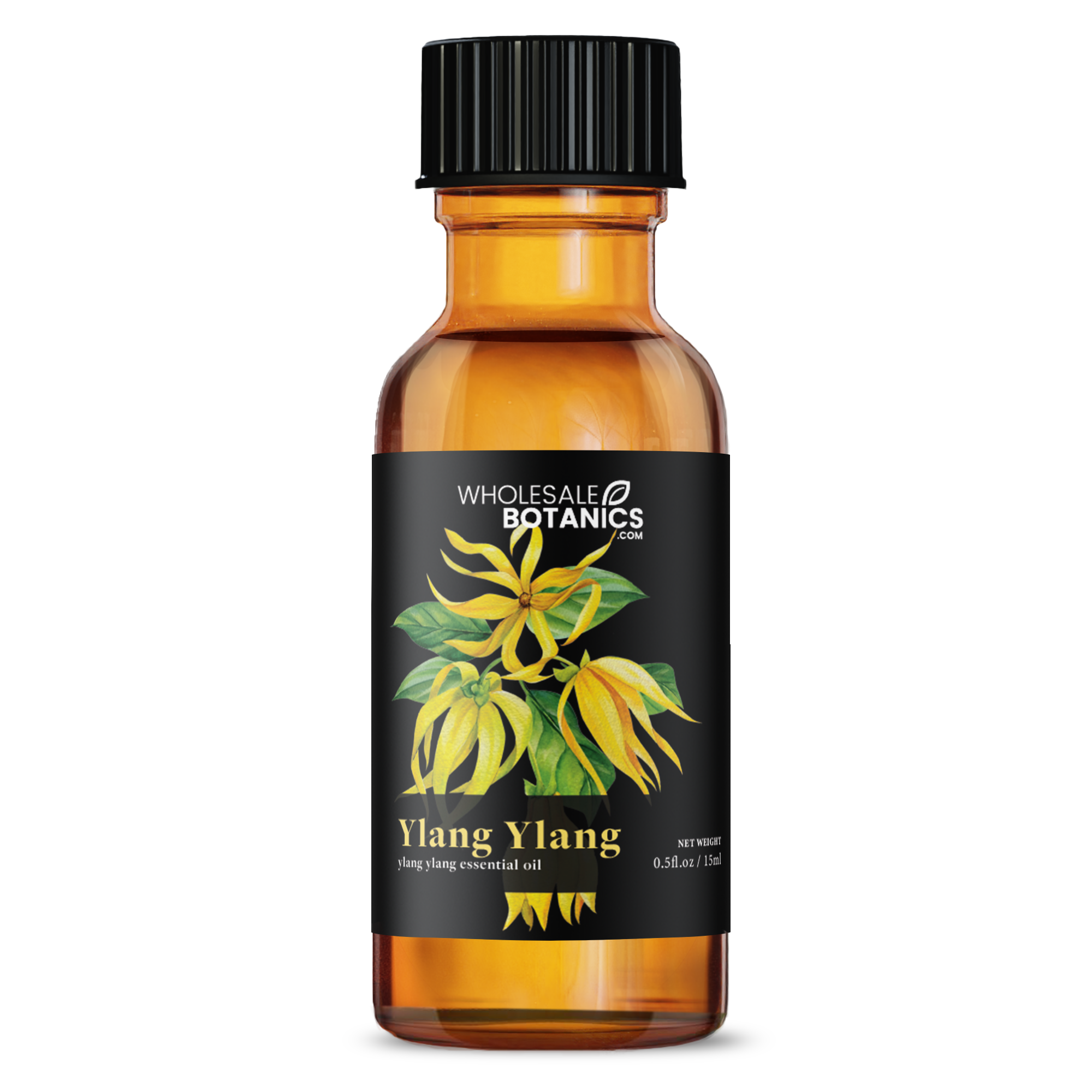 Ylang Ylang Essential Oil
Frequently Bought Together
Vegan Friendly
The oil is 100% Vegan - No animal was harmed nor used in the manufacturing of this product.
Responsibly Sourced
We work with farms and producers in over 30 countries to support renewable harvest and grow practices.
Oil Report
Access the certificate of analysis below to see the geographical and scientific data of our Ylang Ylang Oil.
Geographical & Botanical Breakdown of Ylang Ylang Oil
View and download the Certificate of Analysis for our Ylang Ylang Oil.
Botanical Name
Cananga odorata
Also Known As
Cananga Odorata Essential Oil
Flower Of Flowers Oil
Perfume Tree Oil
Oil Profile
Renowned for its ability to alleviate congestion and respiratory issues, essential in every sense of the word
Extraction Method
Steam Distillation
Appearance
Colorless liquid
Aroma
Floral, sweet, potent
Key Components
Germacrene, farnesene, b-carophyllene
Blends Well With
Jasmine, lavender, and eucalyptus essential oils
Mixes Well With
Jojoba, argan, or coconut carrier oils
Features & Benefits
May promote relaxation if applied to the skin with a carrier oil
May boost mood when inhaled
Creates a calming atmosphere when diffused
Ylang Ylang is known for its uplifting and happy scent. Its exotic and sweet profile makes it a common choice for perfumes and fragrances. Ylang Ylang is an excellent oil for aiding stress and promoting relaxation. It is also said to be antibacterial and can be used to kill head lice. In aromatherapy, Ylang Ylang is used to boost thinking and memory skills. It can also be used as a fragrance in health and beauty products. Revered for its calming qualities, Ylang Ylang is used to help temper anxiety and promote relaxation. Cosmetically, it has been praised for combatting acne and oily skin, and it is a popular treatment for hair loss. Ylang Ylang is also considered an aphrodisiac. Due to its soft, floral scent, Ylang Ylang can be mixed with many types of oils. However, it is best paired with spice oils like frankincense and citruses like lime or bergamot.
What Our Customers Think
"My all-time favorite ylang ylang. It is so natural smelling, just like you're smelling it from the flower itself. Heaven!"
- Heather
04/30/22
"Quarantine has really been wearing my husband and I down, so we decided to do a little at-home "dinner date." I diffused this in the air and it really set the mood and created a lovely, romantic atmosphere when mixed with the candles. Delicious!"
- Aiden
07/05/22
"This is my absolute favorite essential oil! It literally smells like the most wonderful floral garden! Its something I use in my bath. I also use it in my face serum. Very soothing & calming."
- Eddy
04/15/22
88%
of reviewers would recommend this product to a friend
My order took longer than expected due to delays but the customer service was awesome. I appreciated that they kept me informed throughout the process . So I will order from the company again.
I Love the product packaging it was secure. The oil scents are amazing.
Top notch service and quality product
They were quick to ship and you can tell the product is good quality. This is my new source for essential oils
Great Oil!
I love Wholesale Botanics' essential oils. I use them all the time in my aromatherapy soy wax candles and couldn't be happier!
Reviewed by Kelly W., from United States
Verified Buyer
I put Ylang on the soles of my feet at bedtime and slept good however, I remained tired throughout the day
I only used it once so, I will be able to answer that at a later date.