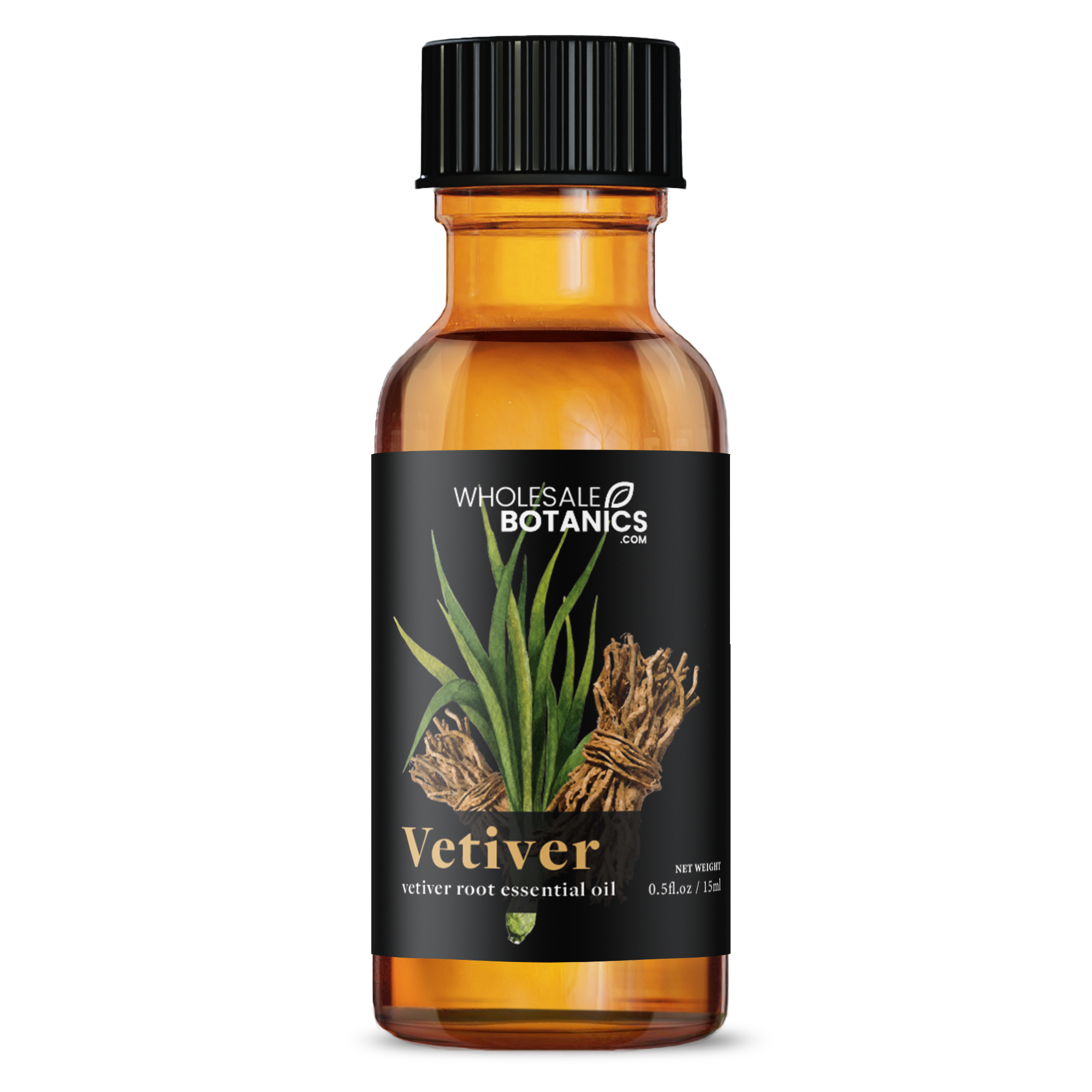 Vetiver Essential Oil
Frequently Bought Together
Responsibly Sourced
We work with farms and producers in over 30 countries to support renewable harvest and grow practices.
100% Pure
Wholesale Botanics guarantees that this pure vetiver oil is undiluted, unadulterated, and contains no additional ingredients beyond the oil itself.
Oil Report
Access the certificate of analysis to see the composition and purity of our Vetiver Oil.
Geographical & Botanical Breakdown of Vetiver Oil
View and download the Certificate of Analysis for our 100% Pure Vetiver Oil.
Botanical Name
Vetiveria zizanoides
This essential oil is comprised only of natural plant material and contains no synthetics, fillers, or other harmful materials.
Ingredients
100% Vetiver Oil
Oil Profile
An "oil of tranquility", vetiver is known for its calming and soothing effects
Extraction Method
Steam Distillation
Appearance
Yellow-brown liquid
Aroma
Woodsy, earthy, smoky
Key Components
Khusimol, isovalencenol, vetivone
Blends Well With
Sandalwood, patchouli, and myrrh essential oils
Mixes Well With
Calendula, grapeseed, or rosehip carrier oils
Features & Benefits
Helpful for anxiety when added to a hot bath
Beneficial for meditation and aromatherapy
An excellent antioxidant boost for the skin
Vetiver is a grass that thrives in sandy or clay soil and tropical/subtropical climates, and it is native to places like India, Bangladesh, Sri Lanka, and Malaysia. Growing to an average height of 1.5 meters, vetiver grass has long, tall stems with purple/brown flowers and rigid leaves. To make vetiver essential oil, the plant roots are usually aged first before being soaked in water. During this process, the oil is released and then skimmed off the surface of the water before being steam distilled. Vetiver is a close cousin to other aromatic grasses such as citronella and lemongrass and is known for its smoky, woody and earthy aroma. The oil's calming qualities make it great for us in aromatherapy, meditation, and topically on the skin. Its strong, distinctive aroma also makes it a popular ingredient in men's cologne.
What Our Customers Think
"Vetiver has a lovely smoky scent. I've tried it from a few suppliers and I like it here best-the scent seems richer and fuller."
- Hailey
04/25/22
"Vetiver Grass is probably my favorite scent in the world so I'm a bit bias, but this EO delivers again on purity of product. An extremely earthy aroma that is like a more masculine patchouli. It is also a bit more more subtle than other base notes."
- Mike
04/10/22
"I took a risk and purchased this EO without ever having smelled it before and that was one of the best decisions that I have ever made! This EO is deeply earthy, complex with a smoky base and spicy middle notes. I love using this in combination with a rose oil to make perfume and hand balm with beeswax."
- Briony
03/06/22
96%
of reviewers would recommend this product to a friend
Generally good. I got my little bottle in good condition.
I had sent an email to the company because I couldn't tell if it had been shipped. Someone got right back to me about it and I was reassured.
Reviewed by Ixaque's Green T.
Verified Buyer
I recommend this product
Excellent
No drama, everything went as it should
Great
Ordering was straightforward and I received my order on time.
Great Product
Price is less than others in the market but same quality. Thanks
Reviewed by Chauntelle W., from United States
Verified Buyer
I recommend this product