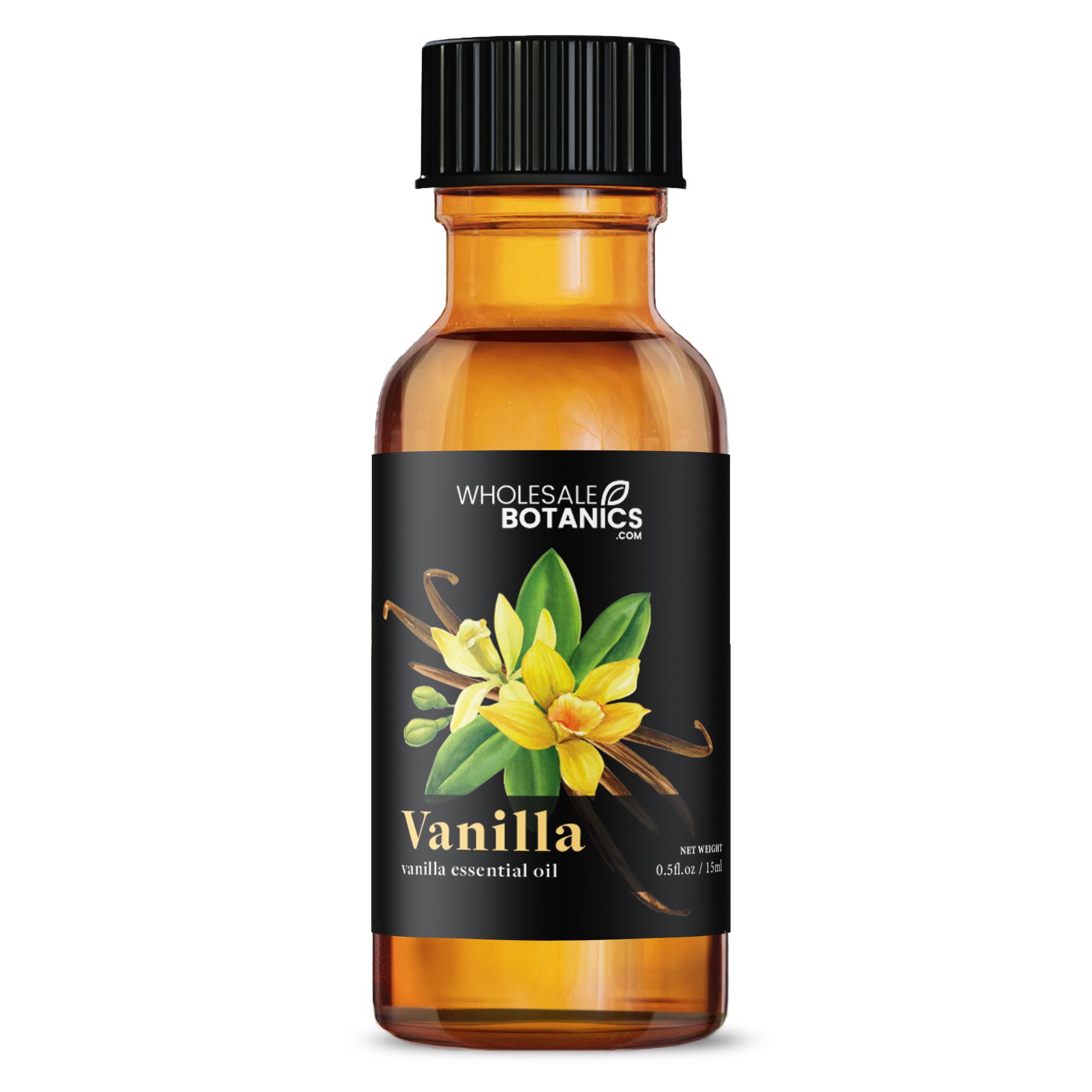 Vanilla Essential Oil
Frequently Bought Together
Vegan Friendly
The oil is 100% Vegan - No animal was harmed nor used in the manufacturing of this product.
Responsibly Sourced
We work with farms and producers in over 30 countries to support renewable harvest and grow practices.
Oil Report
Access the certificate of analysis below to see the geographical and scientific data of our Vanilla Oil.
Geographical & Botanical Breakdown of Vanilla Oil
View and download the Certificate of Analysis for our Vanilla Oil.
Botanical Name
Vanilla fragrans
Also Known As
Vanilla Bean Essential Oil
Bourbon Vanilla Essential Oil
Oil Profile
Sweet and warm, vanilla is a wonderful pick-me-up
Extraction Method
Solvent
Appearance
Light yellow to yellow clear liquid
Key Components
Vanillin, vanillic acid, 4-hydroxybenzaldehyde
Blends Well With
Coffee, cinnamon, and cedarwood essential oils
Mixes Well With
Jojoba, argan, or coconut carrier oils
Features & Benefits
May boost mood when diffused
Soothes dry or inflamed skin
Makes a fantastic antibacterial wash
Most famous as a sweet flavoring in desserts and cosmetics products, vanilla comes from the pods of the vanilla planifolia plant. Native to areas like Mexico and Central and Southern America, vanilla was first used by the Aztecs as a flavoring for cocoa. As a plant, vanilla is an evergreen vine that can reach 15 meters in height. Characterized by greenish yellow flowers and thick stems, the fruit of a vanilla vine can contain thousands of tiny, black seeds. Vanilla essential oil is made using the beans of the vanilla pod, and is often referred to as common vanilla, reunion vanilla, or bourbon. Known for its sweet, warm aroma, vanilla essential oil is used widely in cosmetics and is said to possess many medicinal properties.
What Our Customers Think
"Sweet and surprisingly strong! Truly a must have for vanilla/gourmand lovers. I use it for my diffuser as well as adding it to my lotion."
- Mariana Ferreira
07/17/23
"I love this fragrance so much we're already almost done with our first 3 oz bottle. The 6 oz bottle is already in my cart for when we're nearly out! This is only mildly sweet, just sweet enough to be true vanilla but not sweet enough to make me crave sugar and crash my diet. A winner for sure."
- George
07/19/22
"I'm one of those people who can't just sit and rest, I'm always up and about which leaves me exhausted most of the time, but still incapable of stopping. Ever since I started using vanilla oil I can sit and relax for almost two hours before bed and then I have a great night of sleep."
- Richard
05/20/22
98%
of reviewers would recommend this product to a friend
great
love the earth of the scent
Fast shipping! Product good.
Lavender really good! Good quality.
Lovely Scent!
Sweet and surprisingly strong! Truly a must have for vanilla/gourmand lovers. I use it for my diffuser as well as adding it to my lotion.
Great oil
Smelled great, and the dropper was a nice inclusion
Great!
Easy to order and I love the box and items!