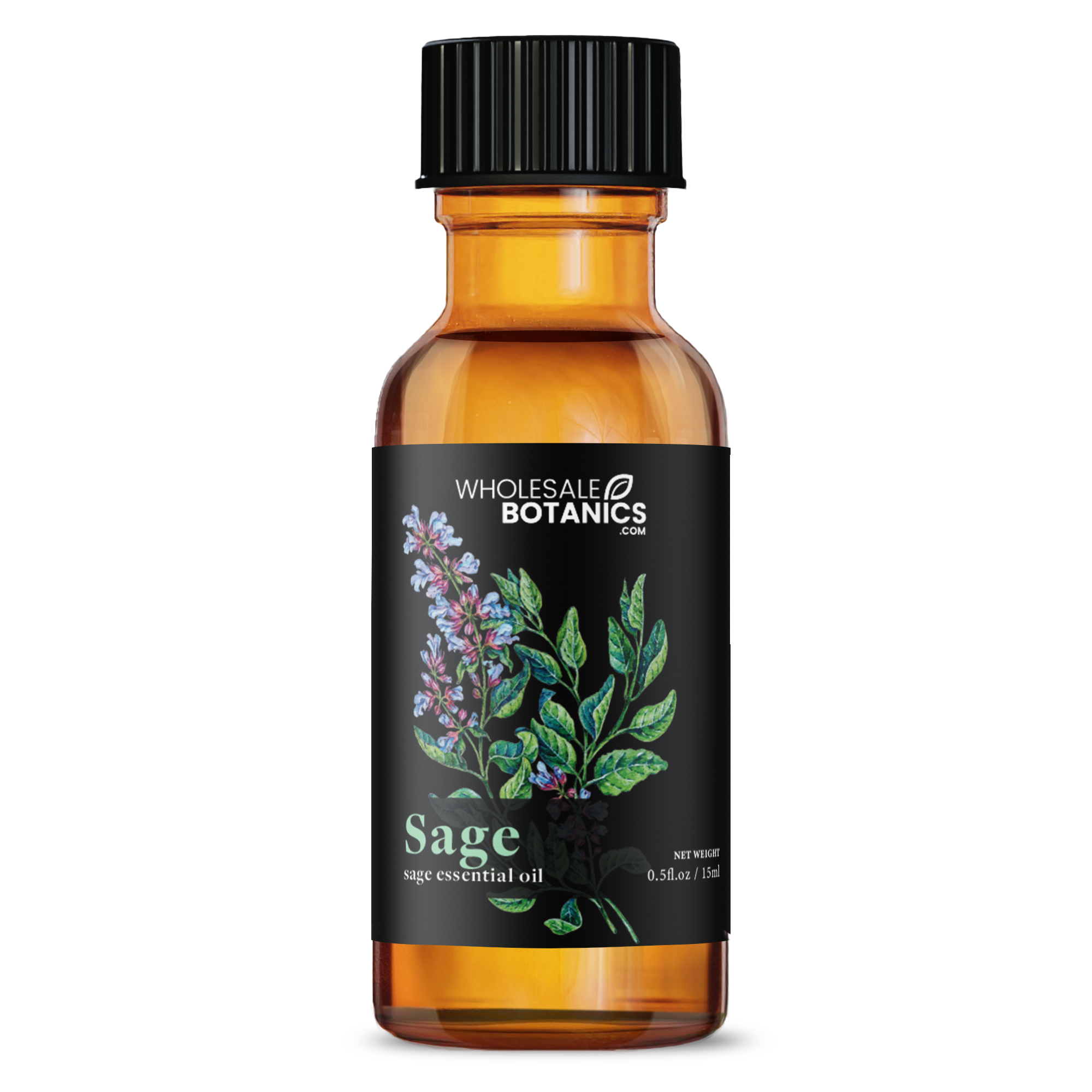 Sage Essential Oil
Frequently Bought Together
Responsibly Sourced
We work with farms and producers in over 30 countries to support renewable harvest and grow practices.
100% Pure
Wholesale Botanics guarantees that this pure sage oil is undiluted, unadulterated, and contains no additional ingredients beyond the oil itself.
Oil Report
Access the certificate of analysis to see the composition and purity of our Sage Oil.
Geographical & Botanical Breakdown of Sage Oil
View and download the Certificate of Analysis for our 100% Pure Sage Oil.
Botanical Name
Salvia lavandulaefolia
Also Known As
Dalmatian Sage Essential Oil
Garden Sage Oil
This essential oil is comprised only of natural plant material and contains no synthetics, fillers, or other harmful materials.
Ingredients
100% Sage Oil
Oil Profile
Sage Oil's strong, earthy aroma is the perfect base for any fragrance blend.
Extraction Method
Steam Distillation
Appearance
Colorless to yellow liquid
Aroma
Herbal, camphorous, earthy
Key Components
α-thujone, camphor, eucalyptol
Blends Well With
Geranium, neroli, and vetiver essential oils
Mixes Well With
Marula, tamanu, or sweet almond carrier oils
Features & Benefits
Strong, nutty scent is the perfect base for perfumes.
Soothing aroma is an ideal addition to a massage blend.
Earthy and floral fragrance makes it a great ingredient in soaps to cleanse the skin.
The Sage Plant is a perennial, evergreen shrub that is a member of the Mint family. In ancient times, sage leaves were highly valued for their potential to treat fertility issues and other ailments. It was also a popular cooking herb due to its unique earthy aroma that could elevate any dish. Fast forward to today, Sage Essential Oil is extracted from the leaves of the Sage plant, and is commonly used as a base for perfumes, soaps, and skincare products for its antiseptic and astringent properties. Its herbaceous fragrance also creates a calming effect, making it perfect for aromatherapy.
What Our Customers Think
"I get stressed so easily. There's nothing like coming home and relaxing through sage oil aromatherapy."
- Henry
03/10/21
"Antibacterial sprays can be costly — if you can find them in stock these days. Using the oil works just as well. It's a life-saver."
- Vincent
06/18/21
"Whenever I use just a little bit, I get calmer so quickly and feel so relieved."
- Kellan
05/06/20
100%
of reviewers would recommend this product to a friend
Package arrived intact and quickly.
The packaging is absolutely stunning. The effort in keeping the product safe while shipping is also outstanding.
EXCELLANT
Always the best products/prices and packaged like they are a special gift! This time you even jumped through hoops to get my special shipping needs met!! You guys are AWESOME!!
Reviewed by Amanda, from United States
Verified Buyer
I recommend this product
Studying cure
I've never been a good test taker and struggle to concentrate when studying. This oil is a dream. I am finally able to relax.
Reviewed by Lilianna, from United States
Verified Buyer
I recommend this product
helps the skin heal properly
I'm a skin picker. It's a problem, I know. But that means that I go through lots of plasters, and my skin can get emaciated sometimes, sage oil helps with the burn feeling and helps the skin heal properly
Reviewed by Antony, from United States
Verified Buyer
I recommend this product
Helped with my anxiety
This oil really works wonders in helping me calm down. Friends have noticed a big difference.