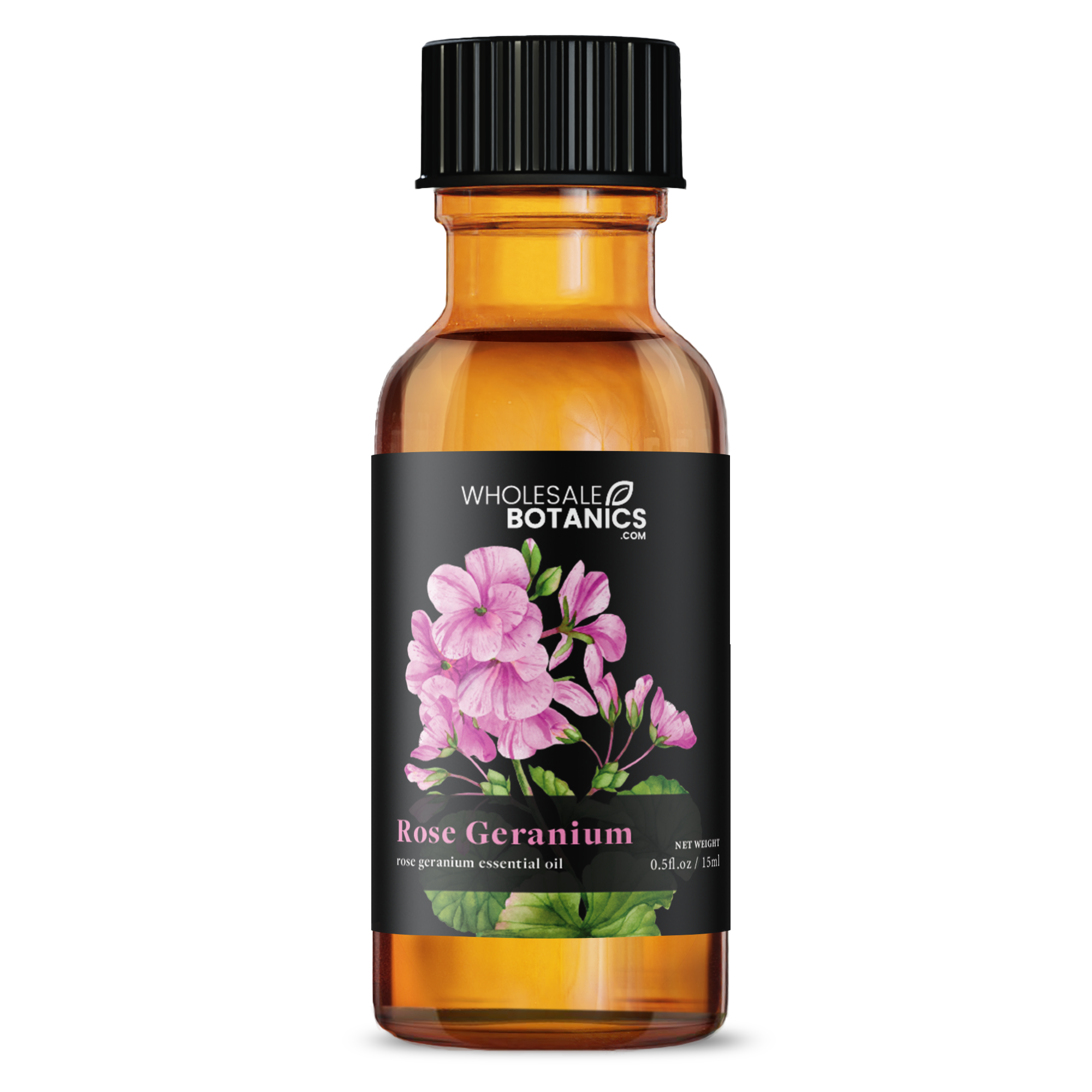 Rose Geranium Essential Oil
Frequently Bought Together
Responsibly Sourced
We work with farms and producers in over 30 countries to support renewable harvest and grow practices.
100% Pure
Wholesale Botanics guarantees that this pure rose geranium oil is undiluted, unadulterated, and contains no additional ingredients beyond the oil itself.
Oil Report
Access the certificate of analysis to see the composition and purity of our Rose Geranium Oil.
Geographical & Botanical Breakdown of Rose Geranium Oil
View and download the Certificate of Analysis for our 100% Pure Rose Geranium Oil.
Botanical Name
Pelargonium graveolens
Also Known As
Sweet Scented Geranium Oil
This essential oil is comprised only of natural plant material and contains no synthetics, fillers, or other harmful materials.
Ingredients
100% Rose Geranium Oil
Oil Profile
Its natural analgesic properties are ideal for soothing sore muscles.
Extraction Method
Steam Distillation
Appearance
Transparent liquid
Aroma
Sweet, rose, floral
Key Components
Citronellol, geraniol, linalool
Blends Well With
Angelica, carrot seed, and lime essential oils
Mixes Well With
Jojoba, olive, or coconut carrier oils
Features & Benefits
Eases anxiety and clears the mind.
Natural antimicrobial properties can improve skin complexion.
Originating in South Africa, the Rose Geranium flowering plant is known for its aromatic leaves and pink flowers. Historically, all parts of the plant were used to alleviate various ailments, including nausea. The oil extracted from Rose Geranium leaves is renowned for its powerful antimicrobial and analgesic properties. Its natural ability to ease anxiety, soothe sore muscles, and promote relaxation makes it a must-have addition to your self-care routine.
What Our Customers Think
"Amazing! I use the regular geranium but this one is more subtle. Highly recommend."
- Maria Bates
04/12/22
"This is one of the best oils I've come across. Love the scent."
- Maria Smyth
03/11/22
"Not only does it smell great, but I've used it to get rid of wasps too."
- Kerry-Ann Johnson
01/07/22
100%
of reviewers would recommend this product to a friend
Great
The box, the smell, the customer service
Reviewed by Ami A., from United States
Verified Buyer
I recommend this product
Fantastic and friendly customer service when I inquired about the oils. My Oder came quickly and was beautifully packaged and no leaks!
Fresh, pure rose Geranium essential oil.
Reviewed by Maria B., from United States
Verified Buyer
I recommend this product
Amazing!
Amazing! I use the regular geranium but this one is more subtle. Highly recommend.'