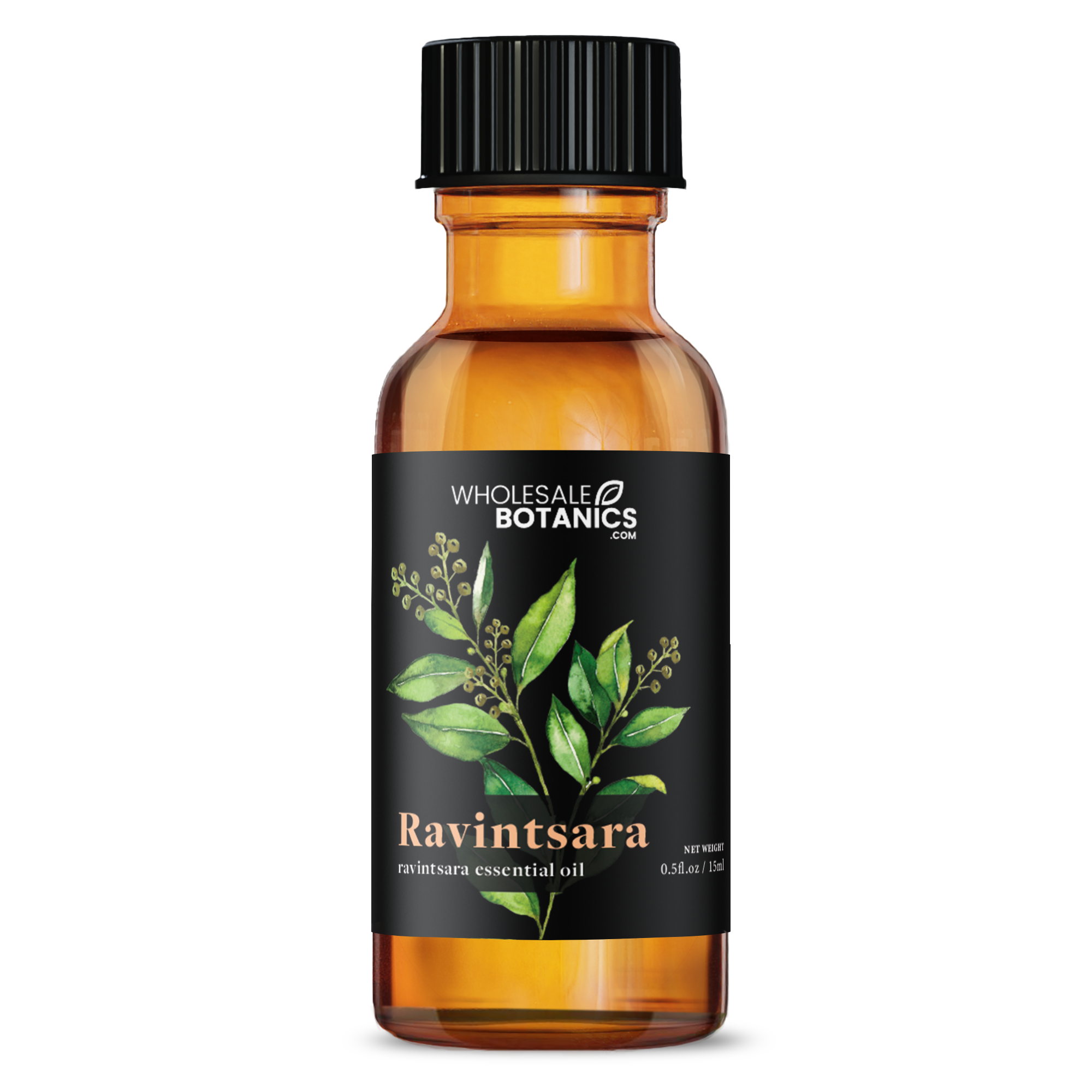 Ravintsara Essential Oil
Frequently Bought Together
Vegan Friendly
The oil is 100% Vegan - No animal was harmed nor used in the manufacturing of this product.
Responsibly Sourced
We work with farms and producers in over 30 countries to support renewable harvest and grow practices.
Oil Report
Access the certificate of analysis below to see the geographical and scientific data of our Ravintsara Oil.
Geographical & Botanical Breakdown of Ravintsara Oil
View and download the Certificate of Analysis for our Ravintsara Oil.
Botanical Name
Cinnamomum camphora
Also Known As
Ho Leaf Essential Oil
Camphor Tree Oil
Oil Profile
Purify your space with the refreshing scent of Ravintsara Oil.
Extraction Method
Steam Distillation
Appearance
Light yellow liquid
Aroma
Earthy, woodsy, herbal
Key Components
Eucalyptol, limonene, sabinene
Blends Well With
Marjoram, vetiver, and wintergreen essential oils
Mixes Well With
Marula, tamanu, or sweet almond carrier oils
Features & Benefits
Refreshing fragrance makes it ideal for adding to DIY cleaning solutions.
Refreshing and invigorating scent awakens the mind when diffused.
Can be added to a cleanser to purify the skin.
Cinnamomum camphora, commonly known as Ravintsara, is a tree native to Eastern Asia. Historically, the leaves were used to clear congestion due to their refreshing scent. Today, the essential oil extracted from the leaves of the Ravintsara tree is highly sought after for its powerful antimicrobial benefits. When used topically, Ravintsara oil can help to cleanse and purify the skin, leaving it feeling refreshed and rejuvenated.
What Our Customers Think
"It is very soothing and works pretty darn fast with relief."
- Marcus
05/23/22
"Sometimes I get really anxious and this oil really helps me calm down. I love it!"
- Oliver
02/06/22
"Has a pleasing smell. I like to use for therapeutic purpose, to boost my immune system."
- Owen
01/16/22
89%
of reviewers would recommend this product to a friend
Reviewed by Alice M., from United States
Verified Buyer
I recommend this product
Reviewed by Blakely, from United States
Verified Buyer
Review
I have had this oil for awhile now, but still haven't made up my mind regarding how I feel about it. This scent wasn't as strong as I expected. Not a bad scent - but also not my first go to.
Reviewed by Gracelyn, from United States
Verified Buyer
I recommend this product
Great aroma!
The price is reasonable and good in quality!
Reviewed by Joana, from United States
Verified Buyer
I recommend this product
fantastic combination
I've been using this every day consistently to complement my therapy and antidepressant meds, and it's been a fantastic combination
Reviewed by Sharlene, from United States
Verified Buyer
I recommend this product
remarkable
I misred and thought I was getting ravensara oil, but, I'm not mad about it at all as ravintsara oil is remarkable as well