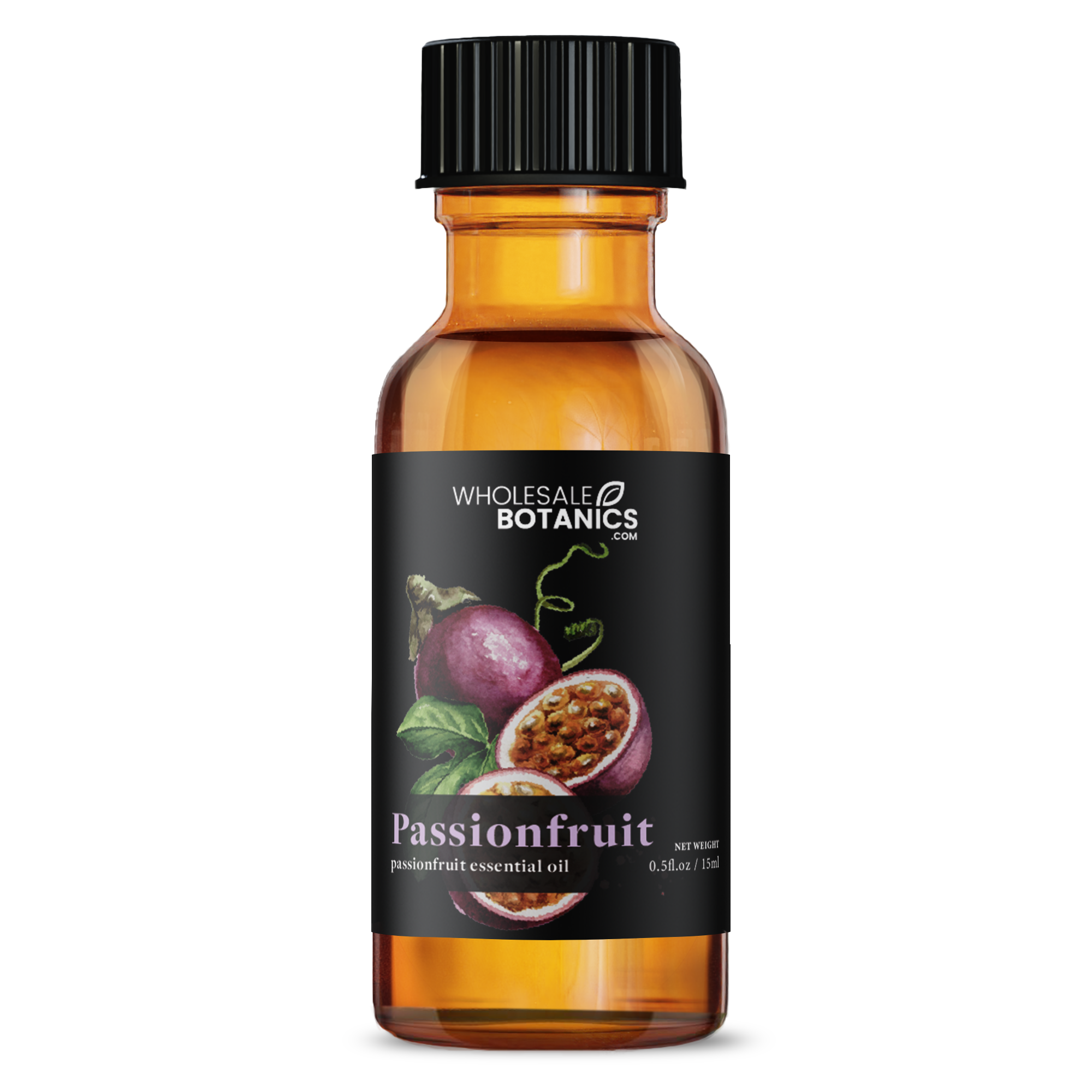 Passionfruit Essential Oil
Frequently Bought Together
Vegan Friendly
The oil is 100% Vegan - No animal was harmed nor used in the manufacturing of this product.
Responsibly Sourced
We work with farms and producers in over 30 countries to support renewable harvest and grow practices.
Oil Report
Access the certificate of analysis below to see the geographical and scientific data of our Passionfruit Oil.
Geographical & Botanical Breakdown of Passionfruit Oil
View and download the Certificate of Analysis for our Passionfruit Oil.
Botanical Name
Passiflora edulia
Oil Profile
Grounding, nourishing, and cleansing, passion fruit works wonders for the skin
Extraction Method
Cold Pressed
Appearance
Yellow clear liquid
Aroma
Mild, sweet, fruity
Key Components
Linoleic acid, oleic acid, tocopherol
Blends Well With
Sweet orange, ylang ylang, and lavender essential oils
Mixes Well With
Calendula, grapeseed, or rosehip carrier oils
Features & Benefits
May ease anxiety when diffused
Beneficial for wrinkles and anti-aging
An excellent moisturizer for the skin
Passion fruit – also known as marcuja – originates in tropical areas such as the Amazon Rainforest. The oil from this plant is extracted from the seeds of the fruit or from its beautiful exotic flowers. While the plant originates in the tropics, there are some sub-species that can survive in other climates, which is why passion fruit is also cultivated in the Middle East, Central America, South Pacific and Mediterranean. Known for its powerful effects on the skin, passion fruit has been used historically to treat skin conditions by the Native Americans and as a nerve tonic by the Aztecs. Today, passion fruit is known as a nutritious fruit that consists of a tough rind with a soft, juicy center. As an essential oil, it is said to have antioxidant, antibacterial and anti-inflammatory properties, making it beneficial for topical use.
What Our Customers Think
"Stellar experience. Phenomenal essential oil. All of my questions were answered putting my mind at ease. I'd order again"
- Keyana Spencer
12/30/22
"Don't hesitate to try this oil like I did. I had it sitting in my cart forever but just couldn't pull the trigger because I was worried it would be too citrus-y. Eventually I received a heavy discount code and decided to pull the trigger and now I can't believe I waited so long! I wish I had tried it sooner!"
- Maria
06/29/22
"I use this passionfruit oil to blend with my homemade skin products and it works great."
- Mike
07/09/22
100%
of reviewers would recommend this product to a friend
Great
Put it in my vinegar for cleaning and there is a light smell. Also want to make some lotion with it.
Not for me
This oil is very hydrating to the skin but the smell is too strong for me. I didn't like the smell that's why I'm giving 4 stars.
Great first Time shopping
The packaging was incredible
Stellar experience. Phenomenal essential oil. All of my questions were answered
Stellar experience. Phenomenal essential oil. All of my questions were answered putting my mind at ease. I'd order again
Reviewed by Chauntelle W., from United States
Verified Buyer
I recommend this product