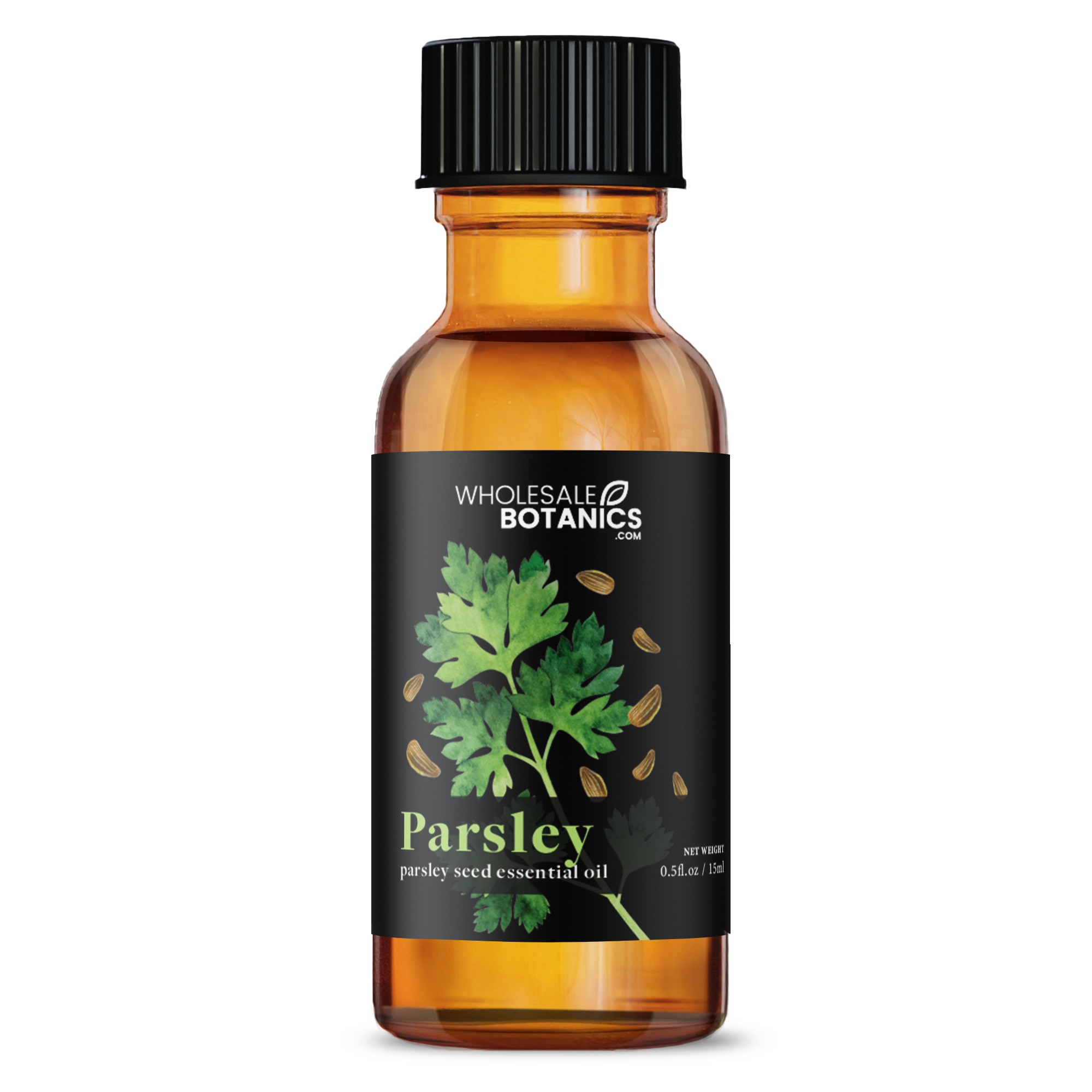 Parsley Seed Essential Oil
Frequently Bought Together
Vegan Friendly
The oil is 100% Vegan - No animal was harmed nor used in the manufacturing of this product.
Responsibly Sourced
We work with farms and producers in over 30 countries to support renewable harvest and grow practices.
Oil Report
Access the certificate of analysis below to see the geographical and scientific data of our Parsley Seed Oil.
Geographical & Botanical Breakdown of Parsley Seed Oil
View and download the Certificate of Analysis for our Parsley Seed Oil.
Botanical Name
Petroselinum sativum
Oil Profile
Its natural anti-inflammatory properties soothes and revitalizes the skin.
Extraction Method
Steam Distillation
Appearance
Pale yellow liquid
Aroma
Herbal, sweet, spiced
Key Components
Parsley-apiol, myristicin, thymol
Blends Well With
Black pepper, coriander, and anise essential oils
Mixes Well With
Calendula, grapeseed, or rosehip carrier oils
Features & Benefits
Refreshing aroma improves overall mood when diffused.
Spicy aroma stimulates the mind and improves mood.
Soothes and calms the skin due to its anti-inflammatory properties.
Parsley is an aromatic flowering plant native to Europe and Western Asia. It was widely used in perfumes, creams, and soaps thanks to its bright, herbaceous scent. Extracted from the seeds of the Parsley plant, Parsley Oil is a natural anti-inflammatory agent and is commonly found in organic skincare formulations. Its refreshing and pleasant aroma can elevate your senses and improve your overall mood, making it a popular choice in aromatherapy.
What Our Customers Think
"We use this is MANY of our products, and it always seems to be in the ones that get sold out. A little goes a long way and it has wonderful skin benefits."
- Michelle
05/18/22
"You wouldn't normally think of parsley as being a good scent flavour in perfumes, but this stuff is great! It's super soft but gives an edge to all of the earthy scents we've been experimenting with."
- Naomi
04/29/22
"I enjoy this oil so, so much. It provides so much hydration and moisture, and it even mixes well with other EOs."
- Preston
03/14/22
94%
of reviewers would recommend this product to a friend
Reviewed by Tammy, from United States
Verified Buyer
I recommend this product
Strong but subtle
This works really well in my soaps. It's subtle but strong at the same time. Will definitely reorder, thank you!
Reviewed by Kate, from United States
Verified Buyer
I recommend this product
Stocking up for Christmas
I make my own massage oils and this parsley oil goes in every one. Good stuff!
Reviewed by Aisha, from United States
Verified Buyer
I recommend this product
Heals cuts
This stuff does everything! After running out of the expensive one (you know the brand I'm talking about), I decided for my reorder I'd try a few from Wholesale Botanics and I wasn't disappointed. Mixed this with rubbing alcohol and it healed a papercut super quickly. Good stuff.
Reviewed by Reagan, from United States
Verified Buyer
I recommend this product
Good essential oil
Worked perfectly in our soap, we are happy!
Reviewed by Vivian, from United States
Verified Buyer
I recommend this product
Hair repair oil
I bought this to test as a shampoo additive. While it did help with hair loss (my hair is feeling thicker), it did not help with dandruff control, so I'd really just use it as a hair repair oil.