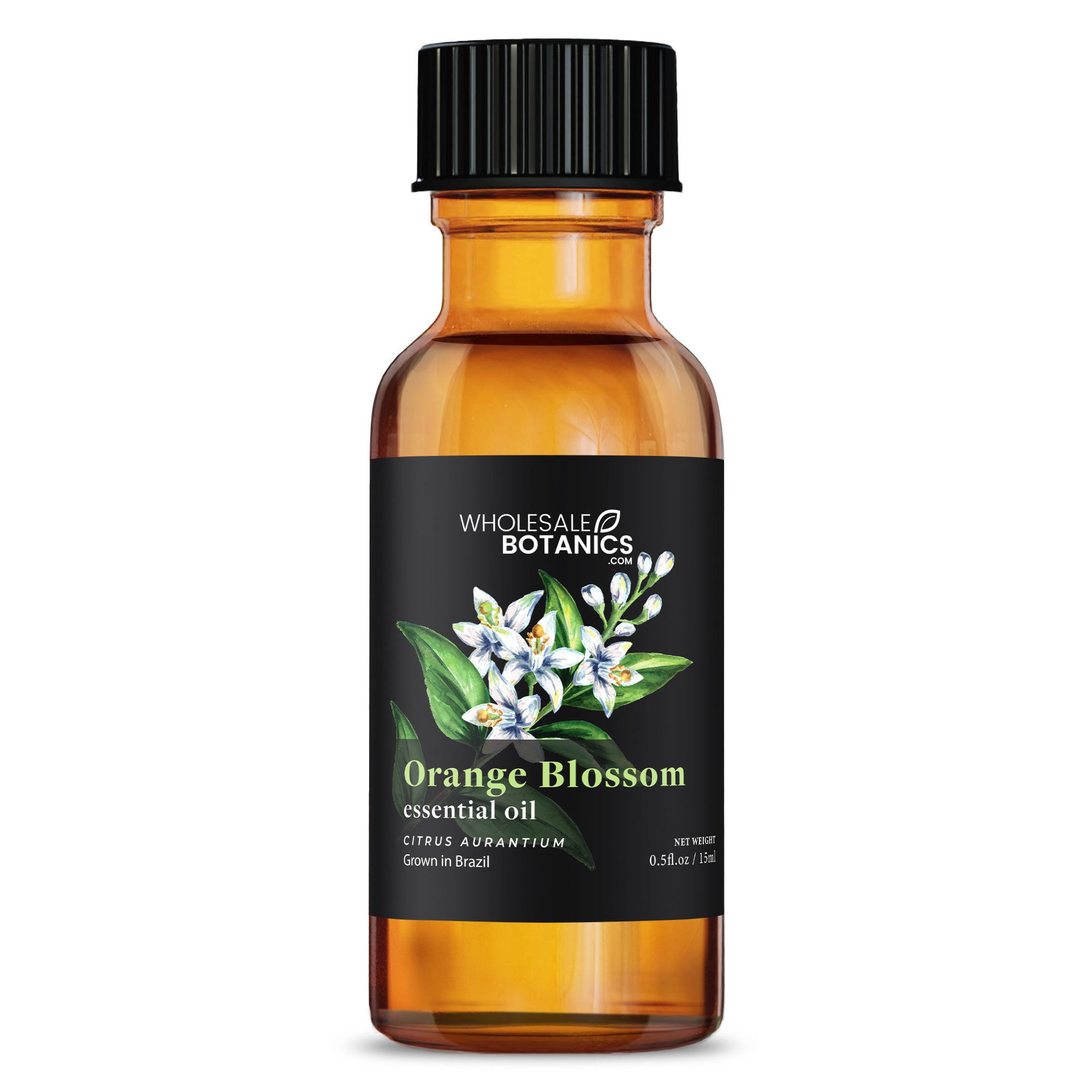 Orange Blossom Essential Oil
Frequently Bought Together
Vegan Friendly
The oil is 100% Vegan - No animal was harmed nor used in the manufacturing of this product.
Responsibly Sourced
We work with farms and producers in over 30 countries to support renewable harvest and grow practices.
Oil Report
Access the certificate of analysis below to see the geographical and scientific data of our Orange Blossom Essential Oil.
Geographical & Botanical Breakdown of Orange Blossom Essential Oil
View and download the Certificate of Analysis for our Orange Blossom Essential Oil.
Botanical Name
Citrus aurantium
Also Known As
Neroli Essential Oil
Orange Flower Essential Oil
Oil Profile
The alluring combination of sweet and citrus notes in Orange Blossom enhances the fragrance of perfumes.
Extraction Method
Steam Distillation
Appearance
Pale yellow or golden liquid
Aroma
Floral, herbal, sweet
Key Components
Linalool, limonene, linalyl acetate
Blends Well With
Sweet orange, bergamot, and lavender essential oils
Mixes Well With
Jojoba, argan, or coconut carrier oils
Features & Benefits
Ideal choice for creating environmentally friendly cleaning solutions.
Exquisite floral scent ideal for massages and diffusion.
Perfect addition to facial serums for a potentially healthier complexion.
Derived from the fragrant blossoms of the bitter orange tree, Orange Blossom Oil has been a cherished remedy in ancient cultures. The Citrus aurantium tree was traditionally valued for its potential to address nervous system disorders and manage pain. Its calming and soothing properties made it a natural choice for alleviating stress and promoting a sense of well-being.

Today, the allure of Orange Blossom Oil is most recognized by its floral and citrus scent, commonly used in popular perfumes, adding an element of elegance and freshness.
What Our Customers Think
"Ahhhh this smell is divine! Just like the orange blossom-lined streets in Marrakesh."
- Naomi
07/08/22
"Excellent price for an excellent product. Neroli is my signature essential oil and I am saving by switching to wholesale botanics. Quick shipment !"
- Sam
05/02/22
"Neroli is one of my absolute favorites! So uplifting and calming! I will be buying this again for sure."
- Lydia
04/15/22
95%
of reviewers would recommend this product to a friend
Great
The best Neroli oil ever. Neroli is also great for blood pressure and calming.
Excellent
Courteous and thorough service
My shipment actually arrived early!
The neroli oil I ordered smells heavenly! I will definitely order more. I will order others as well. The quality of your products is exceptional!
It took awhile to get here , but worth the wait!
Lovely smell & very pretty packaging
Great
Fast shipping, great highly scented product