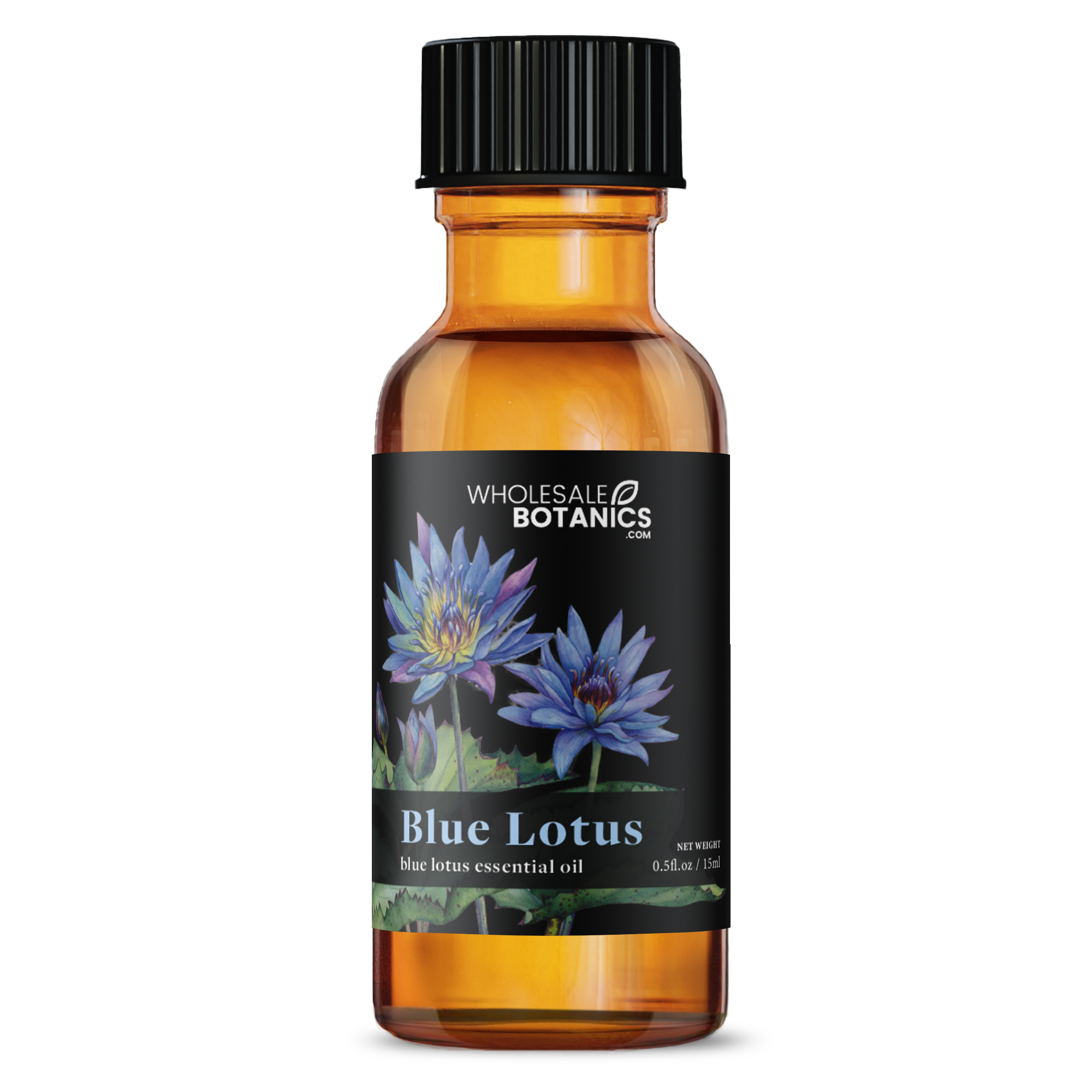 Blue Lotus Essential Oil
Frequently Bought Together
Vegan Friendly
The oil is 100% Vegan - No animal was harmed nor used in the manufacturing of this product.
Responsibly Sourced
We work with farms and producers in over 30 countries to support renewable harvest and grow practices.
Oil Report
Access the certificate of analysis below to see the geographical and scientific data of our Blue Lotus Oil.
Geographical & Botanical Breakdown of Blue Lotus Oil
View and download the Certificate of Analysis for our Blue Lotus Oil.
Botanical Name
Nymphaea tetragona
Also Known As
Sacred Blue Lily Oil
Blue Water Lily Oil
Egyptian Lotus Oil
Oil Profile
An exotic paradise awaits with blissful Blue Lotus
Extraction Method
Steam Distillation
Aroma
Floral, musky, complex
Key Components
Squalene, aporphine, nuciferene
Blends Well With
Neroli, rose, and ylang ylang essential oils
Mixes Well With
Jojoba, argan, or coconut carrier oils
Features & Benefits
High squalane content makes Blue Lotus an effective moisturizer
May boost sexual health and desire
Intoxicating, exotic, & alluring floral aroma
The blue lotus plant has held deep symbolic meaning and practical usefullness for the residents of the Nile River dating back to the time of the pharaohs. These days, this luxurious substance is mostly used for its incredible rejuvenating effects on the skin, as well as its uniquely complex floral yet deep aroma. A few drops of blue lotus essential oil can effectively boost the effectiveness of many skincare products, and it's also excellent when used in an aromatherapy blend with citrus and wood essential oils.
What Our Customers Think
"I've been looking for a Blue Lotus Essential oil and this one is the best I've found. I use 5 drops in my diffuser and its smells intoxicating."
- Mari
07/17/23
"All the other brands I tried smelled really medicinal, not at all the soothing like I'd read so much about. HOLY COW it smells amazing! It's like my eyes are finally opened to what blue lotus smells like on the stem! Pure, high quality, very flowery, exactly what I was looking for."
- Jacob
06/30/22
"This Lotus oil is heaven-scent. I have been looking for a lotus EO that is nuanced and complex. Well, this one has truly outdone the rest and I am very much looking forward to purchasing again in the future."
- Belinda
05/28/22
The experience was superb
Customer service was good
Beautful aroma
Loved it. Will now buy White Lotus.
I love the blue lotus oil. I have bought many bottles.
Pleasant transaction
Great product, great price.
Lovely
this essential oil has a lovely scent and can be used with or without a carrier oil on my skin.