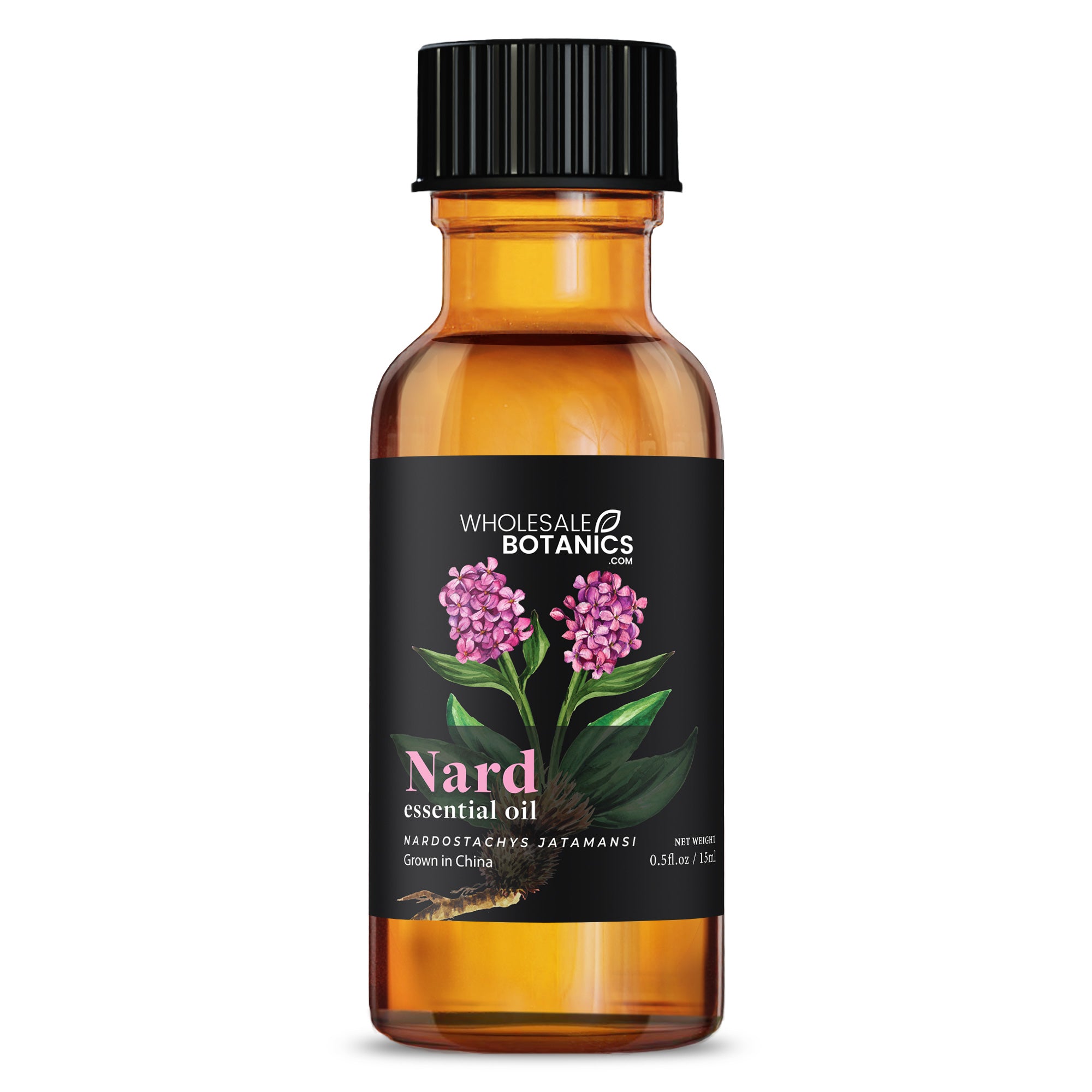 Nard Essential Oil
Frequently Bought Together
Vegan Friendly
The oil is 100% Vegan - No animal was harmed nor used in the manufacturing of this product.
Responsibly Sourced
We work with farms and producers in over 30 countries to support renewable harvest and grow practices.
Oil Report
Access the certificate of analysis below to see the geographical and scientific data of our Nard Oil.
Geographical & Botanical Breakdown of Nard Oil
View and download the Certificate of Analysis for our Nard Oil.
Botanical Name
Nardostachys jatamansi
Type
Natural Blend Essential Oil
Natural Blend Essential Oils are derived entirely from natural plant materials, but may contain all or a portion of different plants than the one on the label. These natural materials are blended to achieve an aromatic and therapeutic profile similar to the true essential oil in cases where the true essential oil is not the best option.

Our Nard Essential Oil is a Natural Blend Essential Oil because Nard is an endangered species with restrictions on its import and export.
Also Known As
Spikenard Oil
Muskroot Oil
False Valerian Oil
Jatamansi Oil
Oil Profile
Offering comfort and relaxation, Nard Oil is rooted in Himalayan healing traditions.
Extraction Method
Steam Distillation
Appearance
Pale yellow to brownish yellow liquid
Aroma
Earthy, musky, spice
Key Components
Valeranone, velerenal, patchoulene
Blends Well With
Vetiver, clove, and frankincense essential oils
Mixes Well With
Jojoba, argan, or coconut carrier oils
Features & Benefits
Nard Oil is a popular choice for diffusion, filling the air with a soothing and grounding scent.
Deep and earthy aroma creates serene atmosphere.
May aid blood flow when applied topically.
The Nardostachys jatamansi plant has been an integral part of healing traditions in the Himalayas for centuries. Its roots were recognized for their therapeutic potential, leading to its extensive use in Ayurvedic and Unani systems of medicine.

Nard Oil has a comforting scent with earthy and woody notes and is known to promote relaxation and emotional grounding. Diffusing Nard Oil has become a popular practice in aromatherapy, offering an aromatic embrace that may ease stress.
What Our Customers Think
"Earthy and mysterious, spikenard is absolutely essential for my analgesic rub. It blends well with many other essential oils and provides not only fabulous aroma, but a tremendous healing factor."
- Jenna
05/06/22
"Jojoba oil and spikenard work really well for inflammation control. This is probably the most pure spikenard I've ever used."
- Clark
04/02/22
"I ordered this after a conversation with my acupuncturist. She mentioned that spikenard is great for removing dandruff, without the harsh scent of tea tree. I've ordered from here a few times in the past and had good experiences so I ordered a small sample and after a few washings, I can confirm it works out pretty well!"
- Ted
03/26/22
90%
of reviewers would recommend this product to a friend
Great
This is a tad bit sweeter than other Spikenard I use and it is great. Really beautiful. Adds so much goodness to my blends. Love it😍
Great
The product is great the quantity is great and the quality of the product is very nice
Grateful
Delighted to find such a high source of essential oils and it is in my home state.
Excellent
That it brings into my senses the smells of history
Great EO for a great price!
Probably the best smelling Spikenard I've ever purchased. Fast shipping and I'm very happy with the oil!