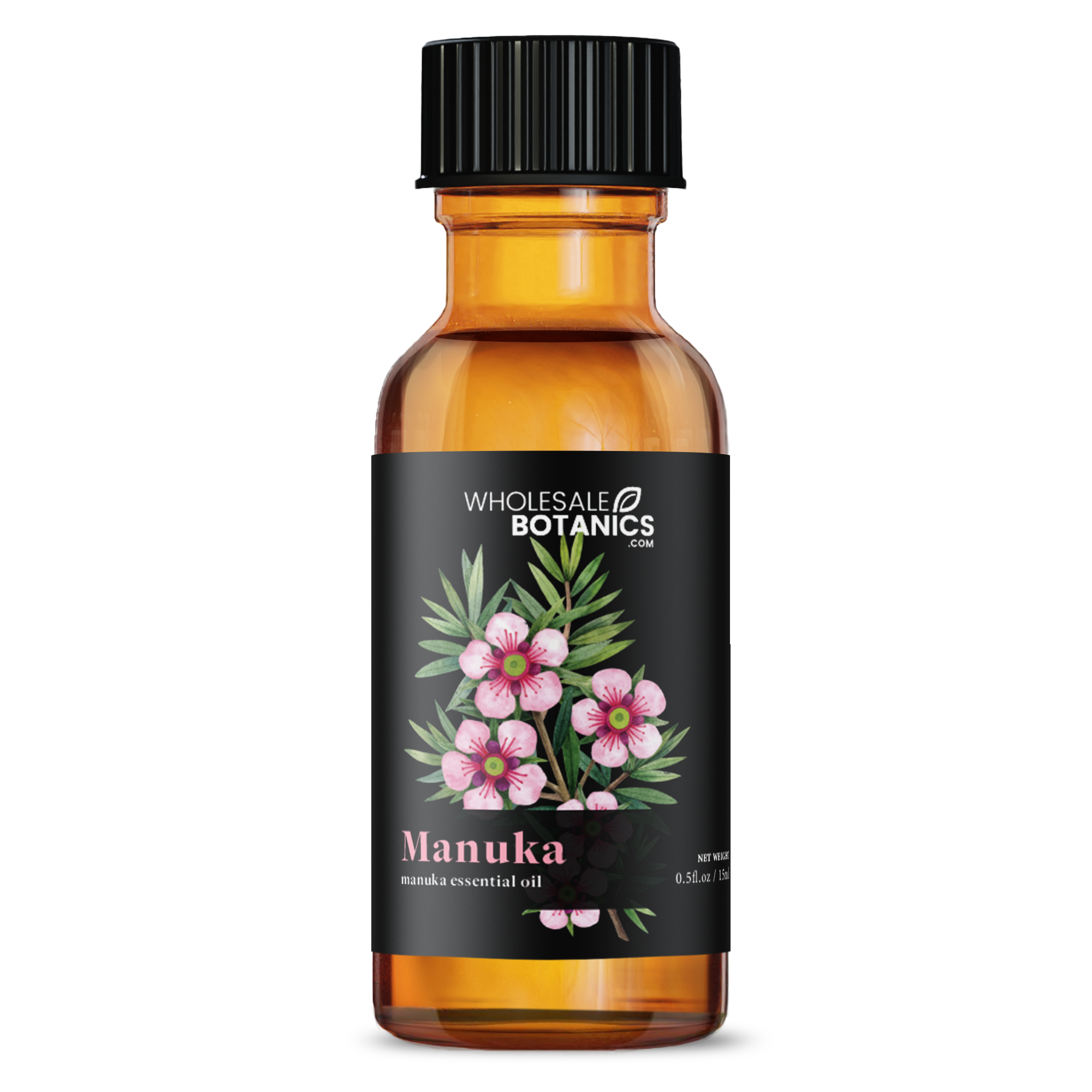 Manuka Essential Oil
Frequently Bought Together
Vegan Friendly
The oil is 100% Vegan - No animal was harmed nor used in the manufacturing of this product.
Responsibly Sourced
We work with farms and producers in over 30 countries to support renewable harvest and grow practices.
Oil Report
Access the certificate of analysis below to see the geographical and scientific data of our Manuka Oil.
Geographical & Botanical Breakdown of Manuka Oil
View and download the Certificate of Analysis for our Manuka Oil.
Botanical Name
Leptospermum scoparium
Oil Profile
Transform your skincare routine with the nourishing and refreshing properties of Manuka Oil.
Extraction Method
Steam Distillation
Parts Used
Leaves and twigs
Appearance
Pale yellow liquid
Aroma
Sweet, herbal, spice
Key Components
Leptospermone, trans-calamenene, iso-leptospermone
Blends Well With
Basil, marjoram and pine needle essential oils
Mixes Well With
Marula, tamanu, or sweet almond carrier oils
Features & Benefits
Soothes minor skin irritations and cuts.
Sweet aroma is ideal for massage and to soothe sore muscles.
Antimicrobial properties can promote healthy skin complexion.
The Manuka tree, scientifically known as Leptospermum scoparium, is a small evergreen shrub that is native to Australia and New Zealand. It is highly valued for its medicinal properties and is often referred to as the "tea tree," due to its traditional use in brewing teas. First distilled in the 1900s, Manuka Oil is extracted from the leaves and twigs of the Manuka tree. Its antimicrobial properties make it highly effective at soothing minor skin irritations and cuts. And with its unique and refreshing scent that is both earthy and slightly sweet, this aromatic oil is worth adding to your essential oil collection.
What Our Customers Think
"Quality, exceptional secure shipping."
- Mary M Bush
05/18/23
"This scent is a wonder of nature. Not even the most expensive perfumes can rival this scent."
- Martha Sheehan
02/27/22
"So glad I tried this rare oil :) very unique and gorgeous. Love the earthy, woodsy smell!"
- Magdalena Hofstetter
03/02/22
100%
of reviewers would recommend this product to a friend
Outstanding
Everything about my purchase to the arrival of my product. I was impressed at how well it was packaged as well as the shipping. I will be ordering form wholesale botanics again
Good, but more like tea tree oil than other Manuka I've tried before
I know that Manuka is a type of tea tree, but this oil smells much more like standard tea tree oil than the other two brands of Manuka essential oil that I've tried, and smell is the only quality I can judge initially. I'll have to see how it performs in my blends, but so far I've liked everything else I've received from WB so I'm hopeful that this will have the same high quality
Reviewed by Deborah Powell A.
Verified Buyer
I recommend this product
Ty Very good
On the web site I'm glad ty
Excellent
Quality, exceptional secure shipping.
Love it
I purchased this to apply topically to my nails, which for decades have had fungus because of wrestling. The product works better than expected as even after I apply at the nails begin to absorb and even change color is it penetrates.