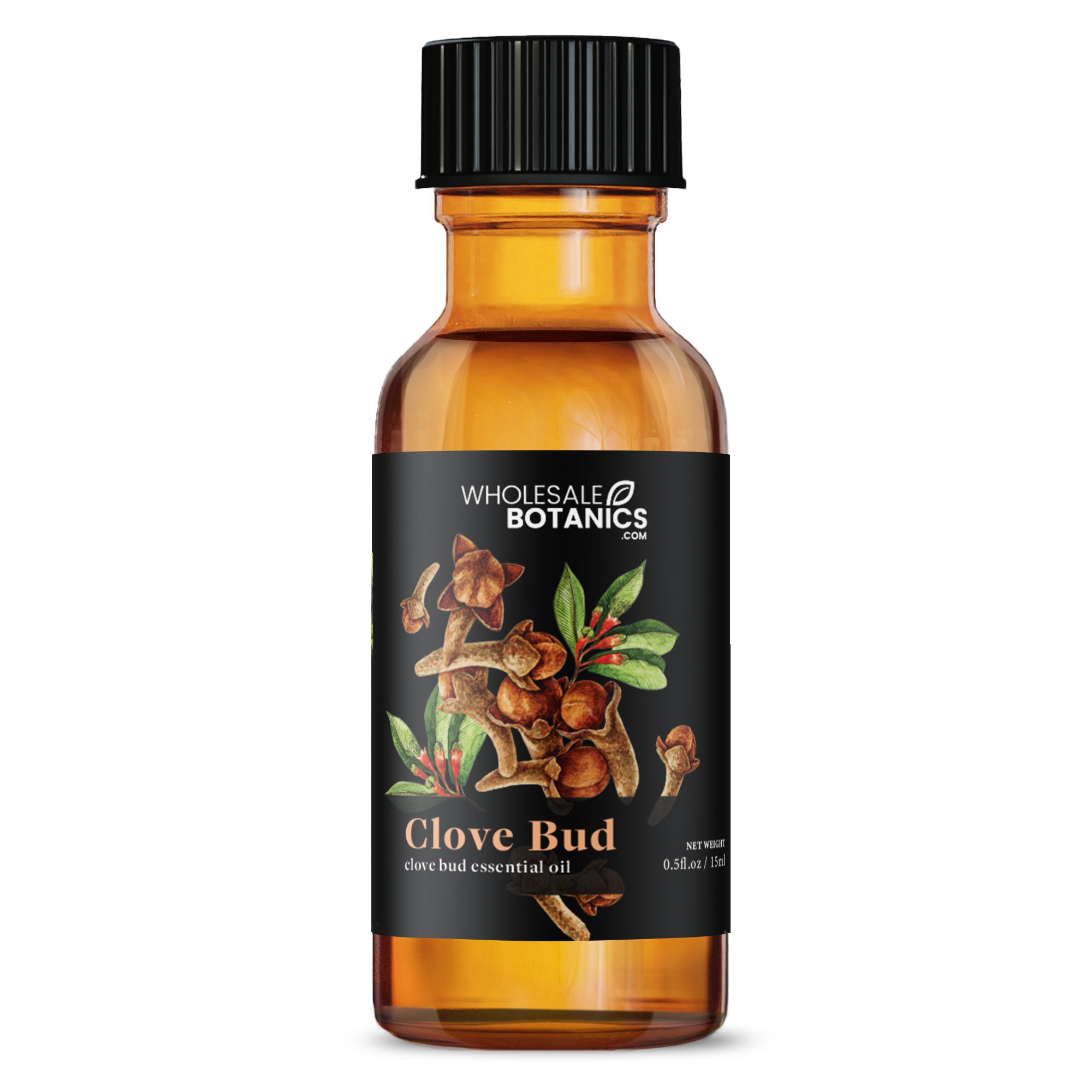 Clove Bud Essential Oil
Frequently Bought Together
Responsibly Sourced
We work with farms and producers in over 30 countries to support renewable harvest and grow practices.
Certified 100% Pure
A GC-MS report prepared by a third-party lab is included with every certified pure essential oil.
Oil Report
Access the GC-MS report and certificate of analysis to see the composition and purity of our Clove Bud Oil.
Geographical & Botanical Breakdown of Clove Bud Oil
View and download the Certificate of Analysis and GC-MS (Gas Chromatography Mass Spectrometry) batch report for our 100% Pure Clove Bud Oil.
Botanical Name
Syzygium aromaticum
This essential oil is comprised only of natural plant material and contains no synthetics, fillers, or other harmful materials.
Ingredients
100% Clove Bud Oil
Oil Profile
Relieve, revitalize, & replenish with clove bud oil.
Extraction Method
Steam Distillation
Appearance
Colorless or light yellow liquid
Aroma
Spice, warm, earthy
Key Components
Eugenol, eugenyl acetate, caryophyllene
Blends Well With
Cinnamon bark, cassia, and cedarwood essential oils
Mixes Well With
Marula, tamanu, or sweet almond carrier oils
Features & Benefits
Anti-inflammatory activity reduces redness, inflammation, and aching.
Only a few drops are required to add an appealing spice note to aromatherapy blends.
Powerful cleansing & clarifying properties on the skin and hair.
Indigenous to Indonesia, the Clove Bud plant, also known as Syzygium aromaticum, has been used in Chinese medicine for centuries. This versatile plant has been used to freshen the breath, spice up culinary dishes, and add a warm fragrance to perfumes. Today, Clove Bud Oil is prized for its potent analgesic and antiseptic properties, making it a go-to remedy for pain relief and wound healing. Additionally, its warm and spicy aroma is utilized in aromatherapy to induce a sense of comfort and relaxation, leaving you feeling revitalized and invigorated.
What Our Customers Think
"Really thick oil, and strong smell. Good on hair"
- LaTiedra Cottrell
01/15/23
"The shipping box was beautiful, the packing curlies we great and the wonderful black box the oil was in was awesome--such a delight for this little country store to recieve such a beautiful order--of course the oil too ws perfect--THANK YOU"
- Bonnie Scott
05/15/23
"They all smell great :)"
- Rebecca Hobin
10/01/22
87%
of reviewers would recommend this product to a friend
grteat
Everything was delivered quickly. Also good quality produsts
just wonderful
The shippi9ing box was beautiful, the packing curlies we great and the wonderful black box the oil was in was awesome--such a delight for this little country store to recieve such a beautiful order--of course the oil too ws perfect--THANK YOU
Excellent was very good
Well packed and east to use for what i wanted it for. Was of very good