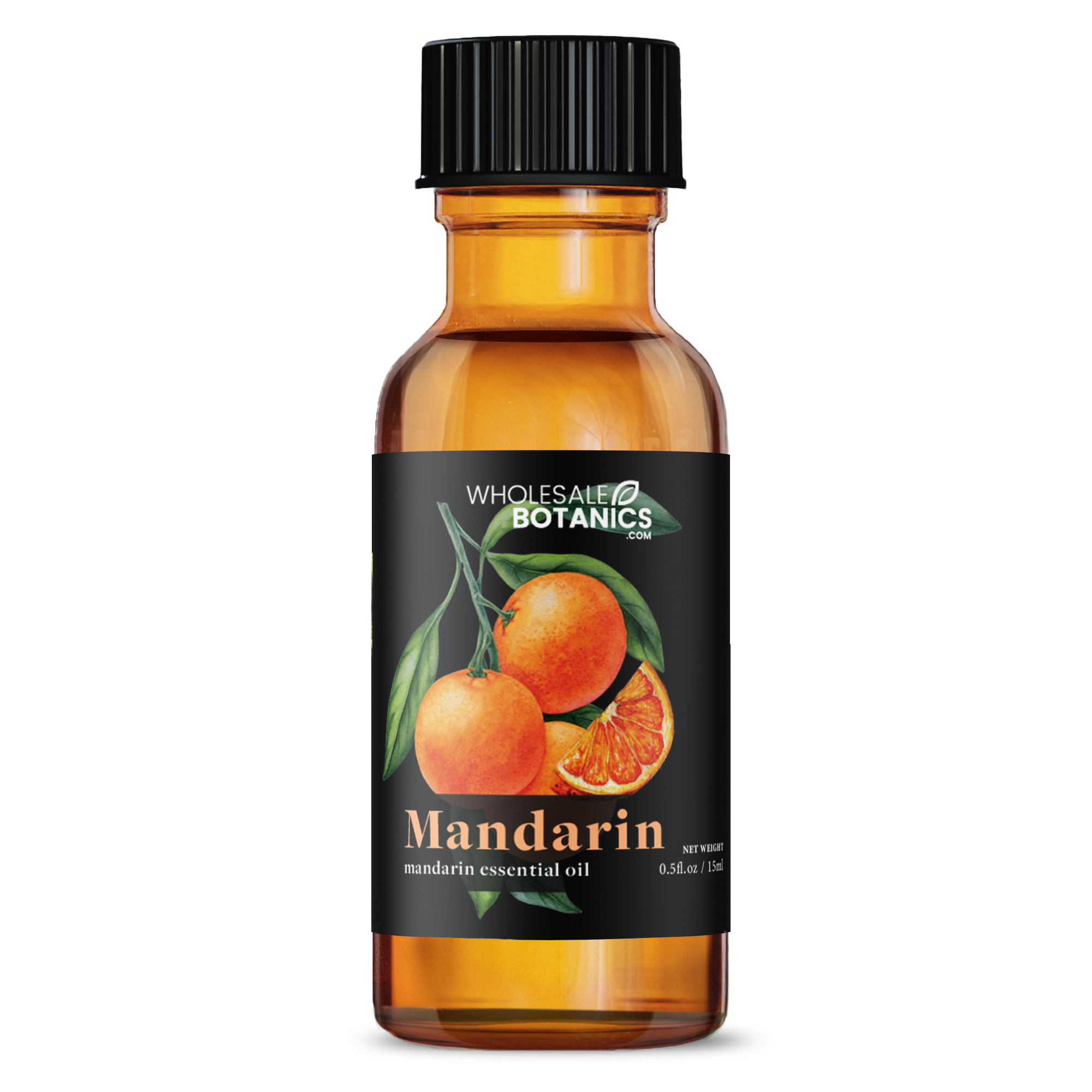 Mandarin Essential Oil
Frequently Bought Together
Vegan Friendly
The oil is 100% Vegan - No animal was harmed nor used in the manufacturing of this product.
Responsibly Sourced
We work with farms and producers in over 30 countries to support renewable harvest and grow practices.
Oil Report
Access the certificate of analysis below to see the geographical and scientific data of our Mandarin Oil.
Geographical & Botanical Breakdown of Mandarin Oil
View and download the Certificate of Analysis for our Mandarin Oil.
Botanical Name
Citrus reticulata
Oil Profile
Bring a burst of citrus to your senses with Mandarin Oil, perfect for a rejuvenating massage or a relaxing aromatherapy session.
Extraction Method
Cold Pressed
Aroma
Sweet, citrusy, fruity
Key Components
Limonene, γ-terpinene, α-pinene
Blends Well With
Myrrh, grapefruit, and patchouli essential oils
Mixes Well With
Calendula, grapeseed, or rosehip carrier oils
Features & Benefits
Its antibacterial activity makes it an ideal addition to skincare products.
Invigorating scent is perfect for massage.
Antibacterial activity makes it a natural preservative in cosmetic formulations.
The Mandarin plant, also known as Chlorophytum comosum, has a rich history dating back centuries in China where it was considered a symbol of good fortune and prosperity. It was quickly discovered that the oil extracted from its small citrus fruits, Mandarins, had potent antiseptic benefits and was used to treat wounds and infections. In modern times, Mandarin Essential Oil is a popular natural preservative in cosmetics, thanks to its antibacterial activity. It also has soothing properties that can help reduce inflammation when applied topically and is known to have a refreshing and invigorating effect when diffused, transporting you to a state of pure bliss.
What Our Customers Think
"I have just recently started using Mandarin EO in many blends for diffusing. I love the quality and scent of this EO. It works great and will now be a staple in my collection."
- Alberta
04/12/22
"Great crisp Mandarin smell, a little goes a long way and is kid safe for your home made lotions and such."
- Abigail
02/20/22
"I love this oil, it smells exactly as the fruit and it is so versatile."
- Daniel
08/10/21
83%
of reviewers would recommend this product to a friend
Reviewed by Victoria T., from United States
Verified Buyer
I recommend this product
Good ordering experience, fast delivery.
I haven't used the fragrance oil yet but it smells divine.
Reviewed by Kirsti, from United States
Verified Buyer
I recommend this product
This one is best used in blends.
It isn't much of a thrill by itself! But love to blend it with spearmint and other citrus oils for my own version of the "Fresh Citrus" blend.
Reviewed by Joan, from United States
Verified Buyer
I recommend this product
Makes your skin younger
It makes my skin look and feel ten years younger
Reviewed by Maria, from United States
Verified Buyer
I recommend this product
Perfect Smell
If you're in it for the smell, this is absolutely perfect. Pair it with some lemon oil and you have the best smelling combo ever. I have yet to notice any health benefits, but the smell alone make it a great purchase
Reviewed by Madeleine, from United States
Verified Buyer
so many uses
nice variation of the typical citrus scent.