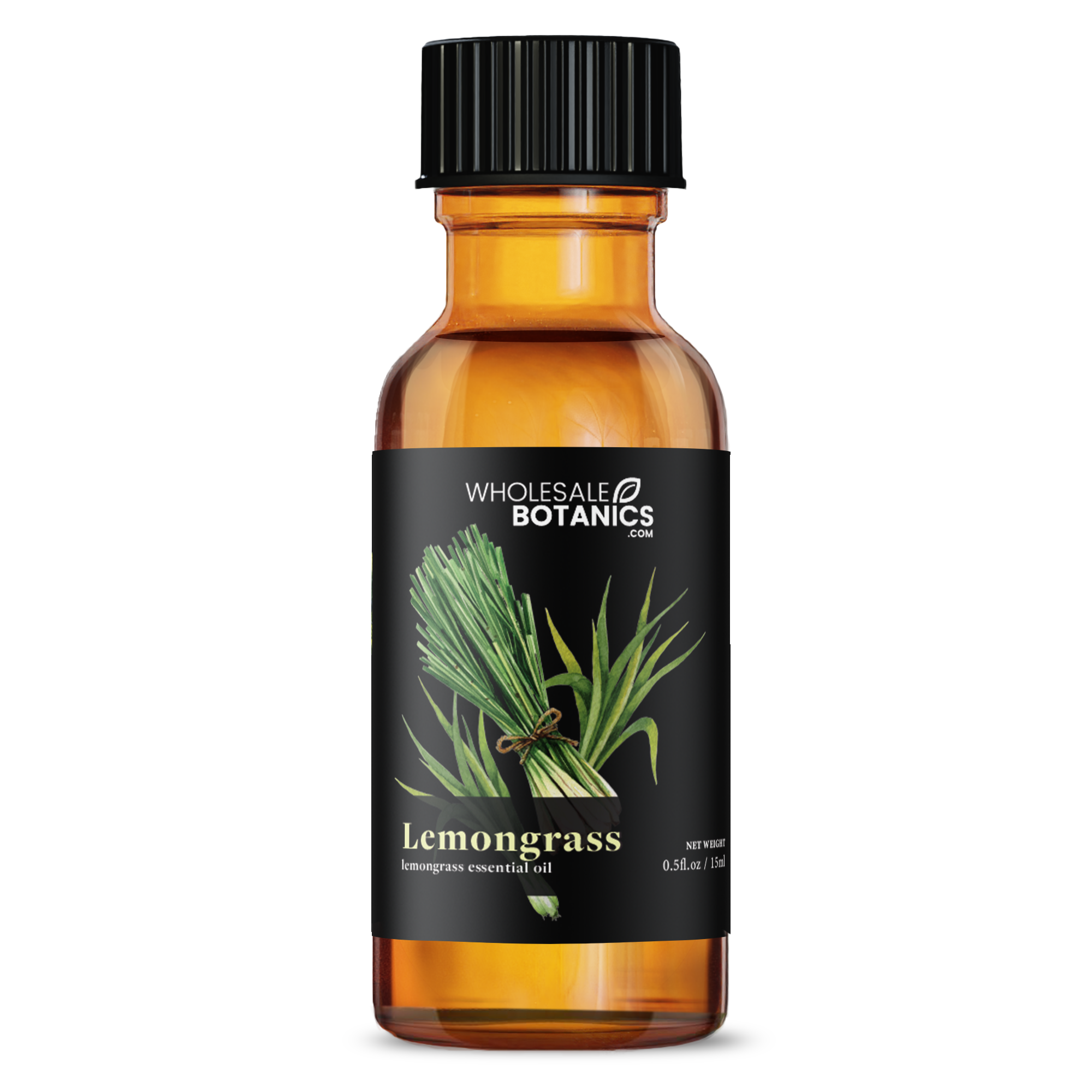 Lemongrass Essential Oil
Frequently Bought Together
Responsibly Sourced
We work with farms and producers in over 30 countries to support renewable harvest and grow practices.
100% Pure
Wholesale Botanics guarantees that this pure lemongrass oil is undiluted, unadulterated, and contains no additional ingredients beyond the oil itself.
Oil Report
Access the certificate of analysis to see the composition and purity of our Lemongrass Oil.
Geographical & Botanical Breakdown of Lemongrass Oil
View and download the Certificate of Analysis for our 100% Pure Lemongrass Oil.
Botanical Name
Cymbopogon flexuosus
Also Known As
Citronella Grass Oil
Cochin Lemongrass Oil
Bhustrina Oil
This essential oil is comprised only of natural plant material and contains no synthetics, fillers, or other harmful materials.
Ingredients
100% Lemongrass Oil
Oil Profile
Its distinct, citrus aroma is perfect for diffusing to uplift the mood and promote a sense of relaxation.
Extraction Method
Steam Distillation
Appearance
Dark yellow to light brown-red liquid
Aroma
Herbal, citrus, sweet
Key Components
Geranial, neral, geraniol
Blends Well With
Lime, sweet orange, ylang ylang essential oils
Mixes Well With
Olive, grapeseed, or rosehip carrier oils
Features & Benefits
Soothes the skin due to its anti-inflammatory properties.
Earthy scent promotes a sense of calm.
Reduces skin redness due to high concentration of myrcenes.
Lemongrass is a tall, tropical grass native to Asia and Australia. For centuries, it has been touted for its therapeutic properties and was often used to make herbal teas to treat stomach aches. Nowadays, the essential oil extracted from the leaves of the Lemongrass plant is gaining popularity in cosmetics due to its distinctive and potent citrus aroma. Additionally, Lemongrass Oil is rich in myrcene, a natural anti-inflammatory compound, which makes it an excellent option for reducing skin redness. Embrace the power of nature and incorporate Lemongrass Oil into your wellness routine today.
What Our Customers Think
"Love the lemongrass essential oil, used it for my homemade soap and on my laundry balls. Gives all your laundry a lemony fresh scent."
- Wills, George
06/26/22
"I couldnt be happier with the lemongrass oil. I needed something refreshing but safe for use with pets, and this one did not disappoint. My customers rave about how it helps their muscle pains. Would definitely recommend."
- Destiny
06/30/20
"Can not praise lemongrass enough, the results on my hair were evident from the first use. My dandruff issue is officially solved."
- Bennett
12/09/19
93%
of reviewers would recommend this product to a friend
Good... Fast delivery!
Showed up and I walked it to the lab for compounding and evaluation.
Love these oils..
Good quality for the price. The only bad thing some oils get sold out quickly.
delivery was a couple days longer than expected, but still a great experience and i do recommend to friends.
the products seem to be of highest quality.
the tea tree oil almost smells good!!
High quality oil, pleasant scent
Use this product in my aromatherapy diffuser