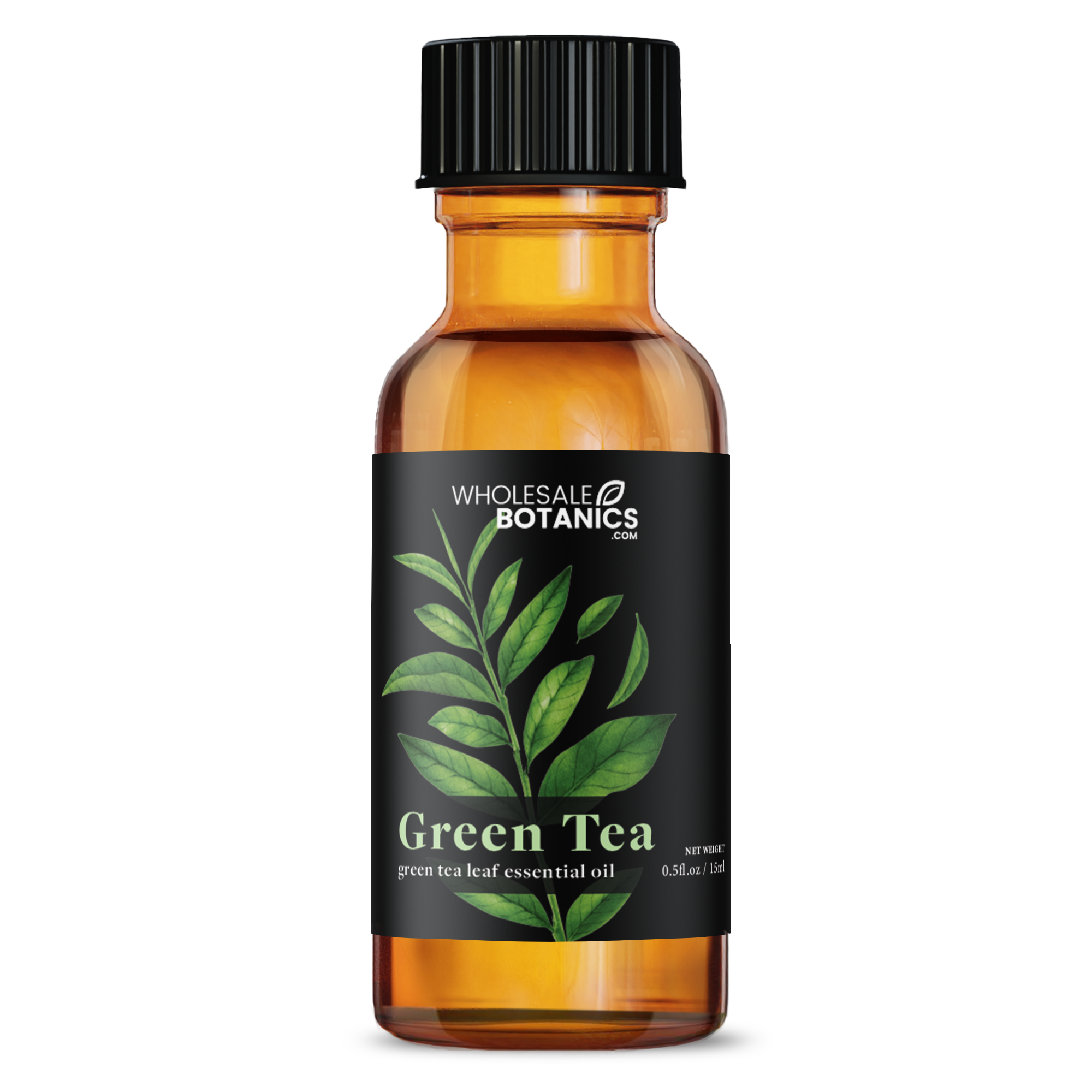 Green Tea Essential Oil
Frequently Bought Together
Vegan Friendly
The oil is 100% Vegan - No animal was harmed nor used in the manufacturing of this product.
Responsibly Sourced
We work with farms and producers in over 30 countries to support renewable harvest and grow practices.
Oil Report
Access the certificate of analysis below to see the geographical and scientific data of our Green Tea Oil.
Geographical & Botanical Breakdown of Green Tea Oil
View and download the Certificate of Analysis for our Green Tea Oil.
Botanical Name
Camellia sinensis
Oil Profile
Green tea essential oil provides the same focused calm you expect from the superfood drink
Extraction Method
Steam Distillation
Appearance
Pale yellow to golden liquid
Aroma
Herbal, sweet, woodsy
Key Components
Theanine, glutamic acid, n-ethylglutamine
Blends Well With
Lemon, lavender, and geranium essential oils
Mixes Well With
Calendula, grapeseed, or rosehip carrier oils
Features & Benefits
Astringent effects make green tea oil great for skin
Fresh, herbal, green tea aroma
Creates a sense of focused calm when added to a diffuser
Green tea essential oil is derived from the leaves of the same camellia sinensis plant from which the most popular drink in the world is brewed. Likewise, it offers many of the same aromatic notes and therapeutic effects as green tea, just in a more concentrated format. Expect focused energy and calmness without tiredness alongside a fresh herbal scent. It's also incredibly nutrient and anti-oxidant rich, just like normal green tea. This makes it a popular ingredient in many skin-boosting products: we love it added to store-bought lotions and DIY massage oils!
What Our Customers Think
"Started using this as I just reached the big 40 and I'm worried about the effects of aging on my skin, and I'm now glowing like I haven't glown in decades."
- Jessica
07/13/22
"This is a beautiful and subtle scent, just perfect for my soaps. It's fresh, clean, crisp, and subtle."
- Richard
06/20/22
"Who doesn't love green tea? this stuff is so soothing. I highly recommend it to all my friends."
- Charlotte
05/08/22
93%
of reviewers would recommend this product to a friend
I really like the green tea essential oil.
Its a pure scent unlike some others that claimed to be essential oil. The packaging was beautiful; the bottle well protected. Very pleased. Will definitely be ordering more from this company.
I will buy it again
The smell is very nice and creat the beautiful aroma with other Essential oils. The reason 4 stars is it speeds up CP soap trace.
Great
Timely and quality excellent!
Excellent!
Product is great! Shipped quickly, very well packed.
Reviewed by Cristina M., from United States
Verified Reviewer
I recommend this product
VERY IMPRESSED!!
I am using this oil with micro needling. WOW! was my first reaction after doing this. My skin looked like glass. My new addition to skin care procedure(s). The smell is amazing as well; this makes the technique much more tolerable. Will definitely continue to purchase this oil.