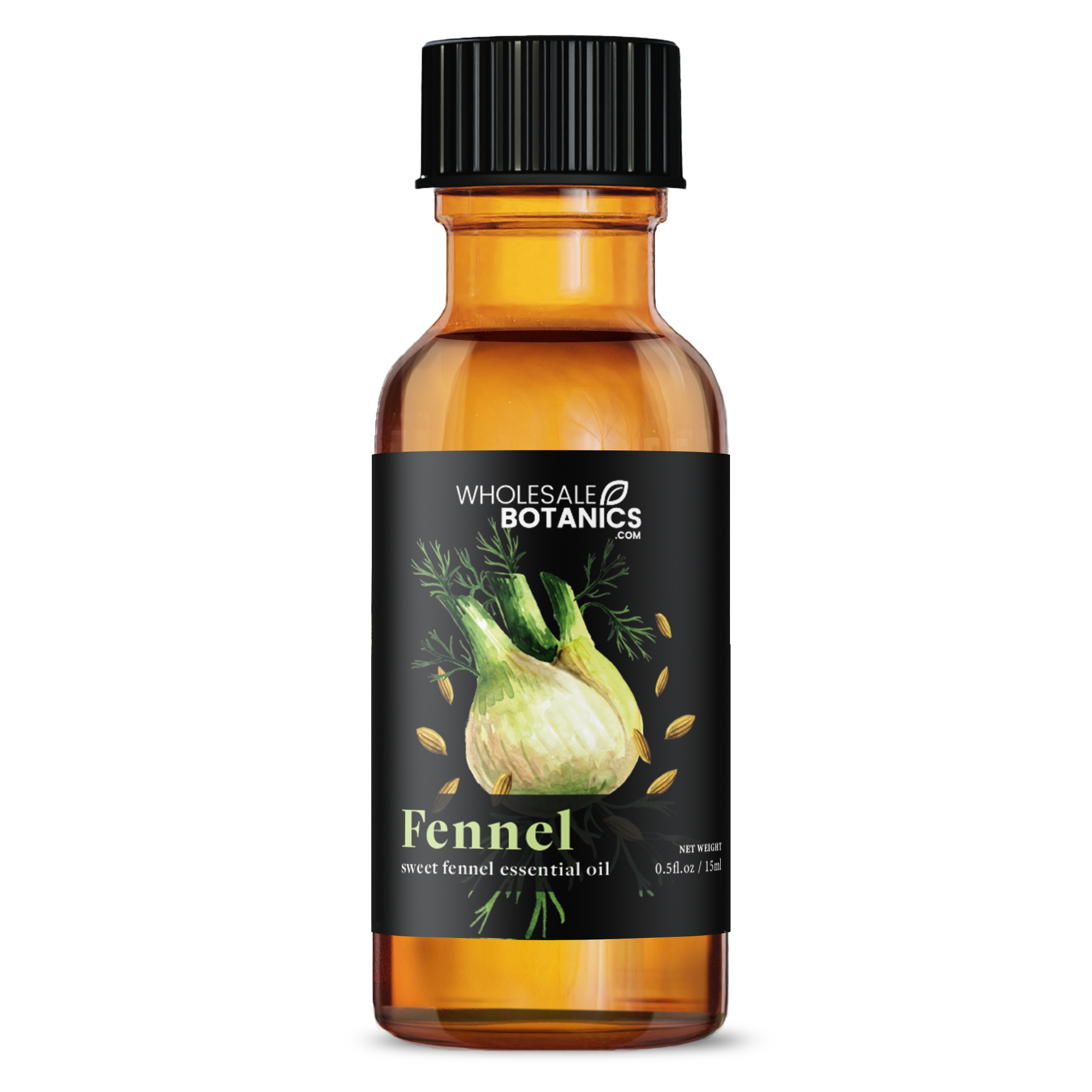 Fennel (sweet) Essential Oil
Frequently Bought Together
Vegan Friendly
The oil is 100% Vegan - No animal was harmed nor used in the manufacturing of this product.
Responsibly Sourced
We work with farms and producers in over 30 countries to support renewable harvest and grow practices.
Oil Report
Access the certificate of analysis below to see the geographical and scientific data of our Fennel Oil.
Geographical & Botanical Breakdown of Fennel Oil
View and download the Certificate of Analysis for our Fennel Oil.
Botanical Name
Foeniculum vulgare
Oil Profile
This mood-boosting and muscle-soothing oil is ideal for relaxing the mind.
Extraction Method
Steam Distillation
Appearance
Colorless liquid
Aroma
Herbal, sweet, peppery
Key Components
Trans-anethole, carvacrol, thymol
Blends Well With
Geranium, lemon, and rosemary essential oils
Mixes Well With
Marula, tamanu, or sweet almond carrier oils
Features & Benefits
Keeps the skin healthy and hydrated.
Sweet fragrance uplifts the mood.
Alleviates inflammatory skin conditions.
Native to Southern Europe, the Fennel plant is a member of the carrot and parsley family and was used by ancient Egyptians for culinary dishes and traditional medicine. This fragrant plant was a go-to remedy for digestive and respiratory disorders. Now, the seeds of the Fennel plant are distilled to create Fennel Seed Oil, which is a natural way to boost skin moisture, reduce water loss, and alleviate inflammatory skin conditions. It is rich in antioxidants and has anti-inflammatory properties that can keep your skin looking healthy and hydrated!
What Our Customers Think
"The smell is very sweet, kind of like licorice. I swear by using it topically."
- Nicole
03/02/22
"Wonderful for my facial skincare needs!"
- Julia
12/29/21
"What a fantastic EO. Highly therapeutic and works very well for my needs. Thanks!"
- Savana
10/29/21
89%
of reviewers would recommend this product to a friend
Reviewed by Terry, from United States
Verified Buyer
I recommend this product
Cocktails
I used this oil in my pre-dinner cocktail, amazingly refreshing. perfect for a hot summer afternoon, and the perfect thing to settle your stomach before a big meal. Don't forget a little lemon.
Reviewed by Ruth, from United States
Verified Buyer
Surprised!
I am surprised by how much I love this oil! It has a great scent and helps with all of my digestive issues.
Reviewed by Autumn, from United States
Verified Buyer
I recommend this product
We are still finding new and exciting uses for this one
Works wonders for digestion products
Reviewed by Arya, from United States
Verified Buyer
I recommend this product
Excellent product
I love the way that this stuff works!
Reviewed by Elaine, from United States
Verified Buyer
I recommend this product