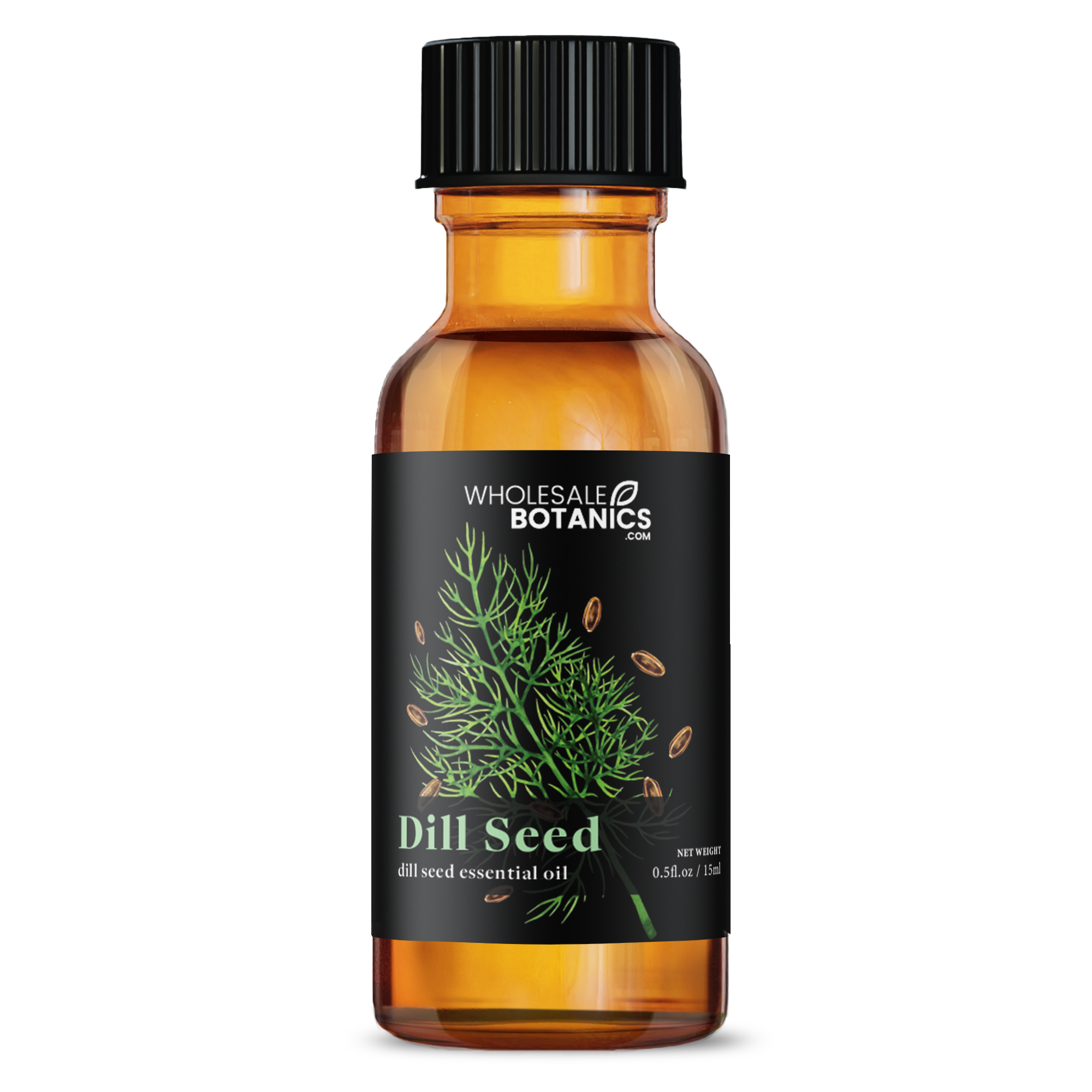 Dill Seed Essential Oil
Frequently Bought Together
Vegan Friendly
The oil is 100% Vegan - No animal was harmed nor used in the manufacturing of this product.
Responsibly Sourced
We work with farms and producers in over 30 countries to support renewable harvest and grow practices.
Oil Report
Access the certificate of analysis below to see the geographical and scientific data of our Dill Seed Oil.
Geographical & Botanical Breakdown of Dill Seed Oil
View and download the Certificate of Analysis for our Dill Seed Oil.
Botanical Name
Anethum graveolens
Also Known As
Dill Weed Oil
Shatapushpa Oil
Oil Profile
Typically chosen for its therapeutic effects, this rare oil shouldn't be overlooked.
Extraction Method
Steam Distillation
Appearance
Colorless to light yellow liquid
Aroma
Earthy, herbal, Spice
Key Components
Carvone, limonene, dill ether
Blends Well With
Bergamot, lemon, and sweet orange essential oils
Mixes Well With
Marula, tamanu, or sweet almond carrier oils
Features & Benefits
Antioxidant activity protects the skin from environmental stressors.
Herbal aroma mixes well with common therapeutic oils.
Rich source of limonene makes this a potent anti-inflammatory, perfect for soothing the skin.
Originating from Southwest Asia and Southeast Europe, Dill is an annual herb that has been utilized for over 2,000 years in traditional medicine to treat stomach ailments and bad breath. An early study found that topical application of Dill Essential Oil can alleviate nausea, likely due to its refreshing minty and herbaceous scent. Extracted from the seeds of the Dill Herb, Dill Seed Oil is rich in limonene and has potent anti-inflammatory properties. This may protect the skin from external stressors and reduce redness, making this oil a valuable addition to your skincare routine.
What Our Customers Think
"A lovely rejuvenating scent with warm and spicy undertones"
- Chloe
12/12/21
"Very potent, use sparingly!"
- Wilson
08/31/21
"After using it for a month on my skin, combined with olive oil, I can see improvements."
- Grace
06/06/21
89%
of reviewers would recommend this product to a friend
Reviewed by Candace C., from United States
Verified Buyer
I recommend this product
Excellent product and packaging
I was pleasantly surprised at how nicely packaged it was. Oil seems to be of good quality. Happy with my purchase.
Reviewed by Bonnie, from United States
Verified Buyer
Not into the smell
I wanted to give this a try, but was not thrilled with the scent. It smells too much like pickles.
Reviewed by Morgan, from United States
Verified Buyer
I recommend this product
no more stomach ache
Wow, I can't believe how well it worked. The other day, I had a killer stomach cramp but I used this oil since I had it on hand and I'll be darned if they didn't disappear.
Reviewed by Lilly, from United States
Verified Buyer
Super strong
I'm a bit worried that this is so strong and pungent. While it smells like the real deal, it smells so strong that it makes me feel like it might not be.
Reviewed by Brooke, from United States
Verified Buyer
I recommend this product
Very happy with this, but just be mindful…
If you don't want something to smell like pickles, make sure to blend it!