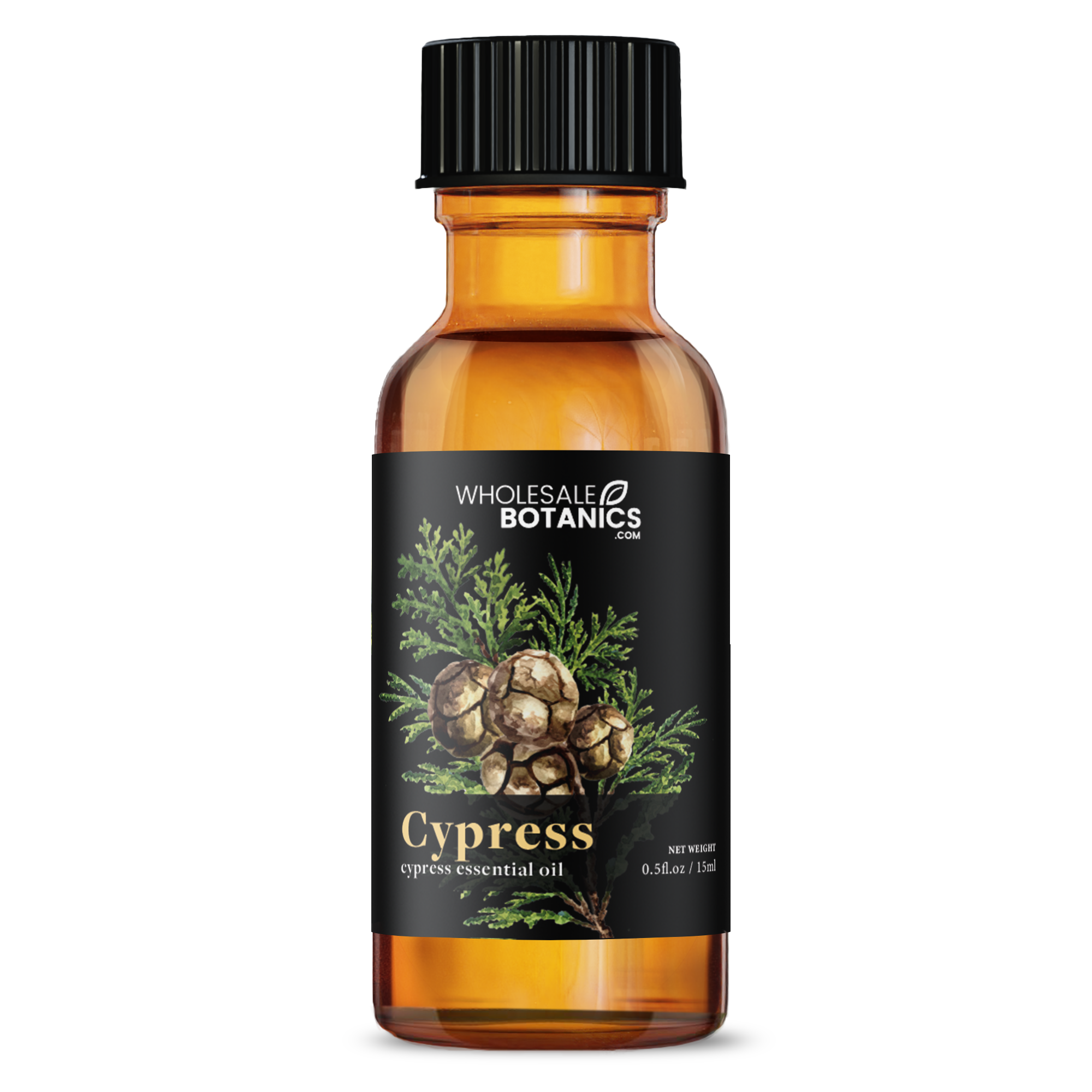 Cypress Essential Oil
Frequently Bought Together
Vegan Friendly
The oil is 100% Vegan - No animal was harmed nor used in the manufacturing of this product.
Responsibly Sourced
We work with farms and producers in over 30 countries to support renewable harvest and grow practices.
Oil Report
Access the certificate of analysis below to see the geographical and scientific data of our Cypress Oil.
Geographical & Botanical Breakdown of Cypress Oil
View and download the Certificate of Analysis for our Cypress Oil.
Botanical Name
Cupressus sempervirens
Oil Profile
Invigorating and energizing Cypress is an aromatherapy all-star.
Extraction Method
Steam Distillation
Appearance
Yellowish liquid
Aroma
Woodsy, herbal, spice
Key Components
α-pinene, Δ3-carnine, terpinolene
Blends Well With
Cedarwood, pine needle, and bergamot essential oils
Mixes Well With
Jojoba, argan, or coconut carrier oils
Features & Benefits
Potent focus and mindfulness aid.
Bold woodsy aroma is excellent in a diffuser.
Creates an invigorating feeling when diluted and used for massage.
Cypress Oil has been used since ancient times, with records dating back to the Egyptians and Greeks. It was primarily used for medicinal purposes, such as healing cuts and wounds, and relieving chest congestion. Today, Cypress Oil is commonly used in aromatherapy to promote relaxation and ease stress. It is also used in skincare products for its astringent and soothing properties, as well as in natural cleaning products due to its fresh, woodsy scent and antibacterial effects.
What Our Customers Think
"I just love the way this essential oil freshens up a room. I mist a little on the linens too!"
- Shannon
08/08/21
"A must-have for those of us who meditate."
- Julia
03/15/21
"It gives me such a sense of calm, I love it!"
- Ronald
01/23/21
87%
of reviewers would recommend this product to a friend
I love the oil and I love the company!
It smells so nice and I know that it is the real deal and not synthetic
easy purchase/quick arrival
WOW ! what a beautiful ship box & product box too !! I was impressed.
Reviewed by Dani W., from United States
Verified Buyer
I recommend this product
Reviewed by Dawn B., from United States
Verified Buyer
I recommend this product
Fast shipping, haven't used the oils yet.
Reviewed by Brendan T., from United States
Verified Buyer
I recommend this product
Strong scent
Woodsy smell, strong aroma