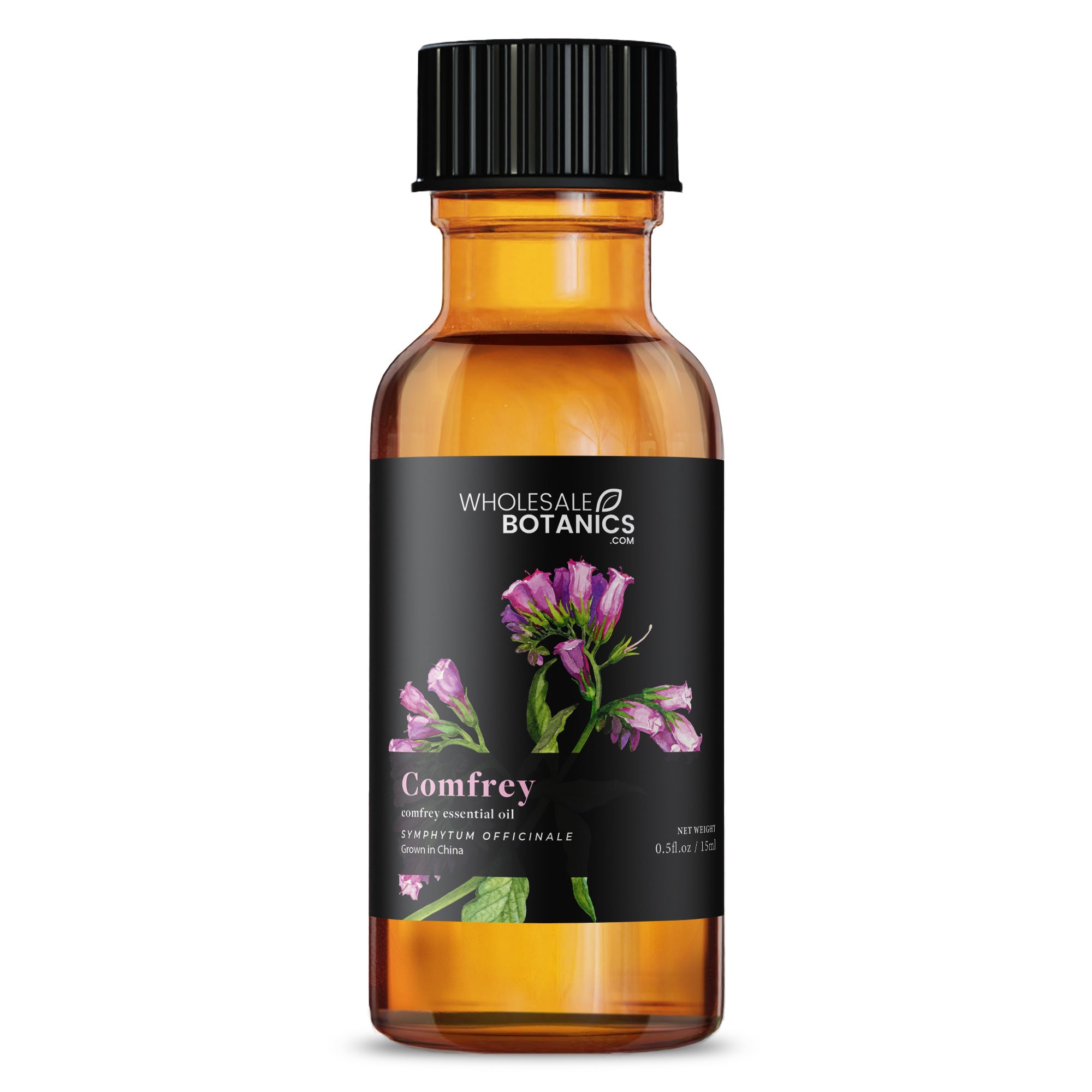 Comfrey Oil
Frequently Bought Together
Vegan Friendly
The oil is 100% Vegan - No animal was harmed nor used in the manufacturing of this product.
Responsibly Sourced
We work with farms and producers in over 30 countries to support renewable harvest and grow practices.
Oil Report
Access the certificate of analysis below to see the geographical and scientific data of our Comfrey Oil.
Geographical & Botanical Breakdown of Comfrey Oil
View and download the Certificate of Analysis for our Comfrey Oil.
Botanical Name
Symphytum officinale
CAS Number
84696-05-09/8001-25-0
Also Known As
Knitbone Oil
Boneset Oil
Healing Herb Oil
Oil Profile
Say goodbye to minor skin irritations with comfrey oil - the versatile and all-natural remedy for sensitive skin!
Extraction Method
Infused in Olive Oil
Appearance
Dark red oily liquid
Aroma
Earthy, herbal, grassy
Key Components
Allantoin, rosmarinic acid, vitamin C
Blends Well With
Lemon, rosemary, and peppermint essential oils
Mixes Well With
Marula, tamanu, or sweet almond carrier oils
Features & Benefits
Natural remedy for skin irritations.
Subtle scent when diffused is ideal for sensitive noses.
Soothes and heals dry, itchy skin.
Comfrey Essential Oil has been used for centuries to promote healing and reduce inflammation. It is extracted from the leaves of the comfrey plant, which contain allantoin and rosmarinic acid - two compounds that are known for their anti-inflammatory and antioxidant properties.
What Our Customers Think
"Helped with my skin problems"
- Bella Garcia
05/02/23
"Great at the end of a long day"
- Ruby Davis
05/02/23
"Instant relief!"
- Kevin Kim
05/01/23
100%
of reviewers would recommend this product to a friend
Felt so much better
Great at the end of a long day
Rich in color and scent
Helped with my skin problems
Wish I could take a bath in it!