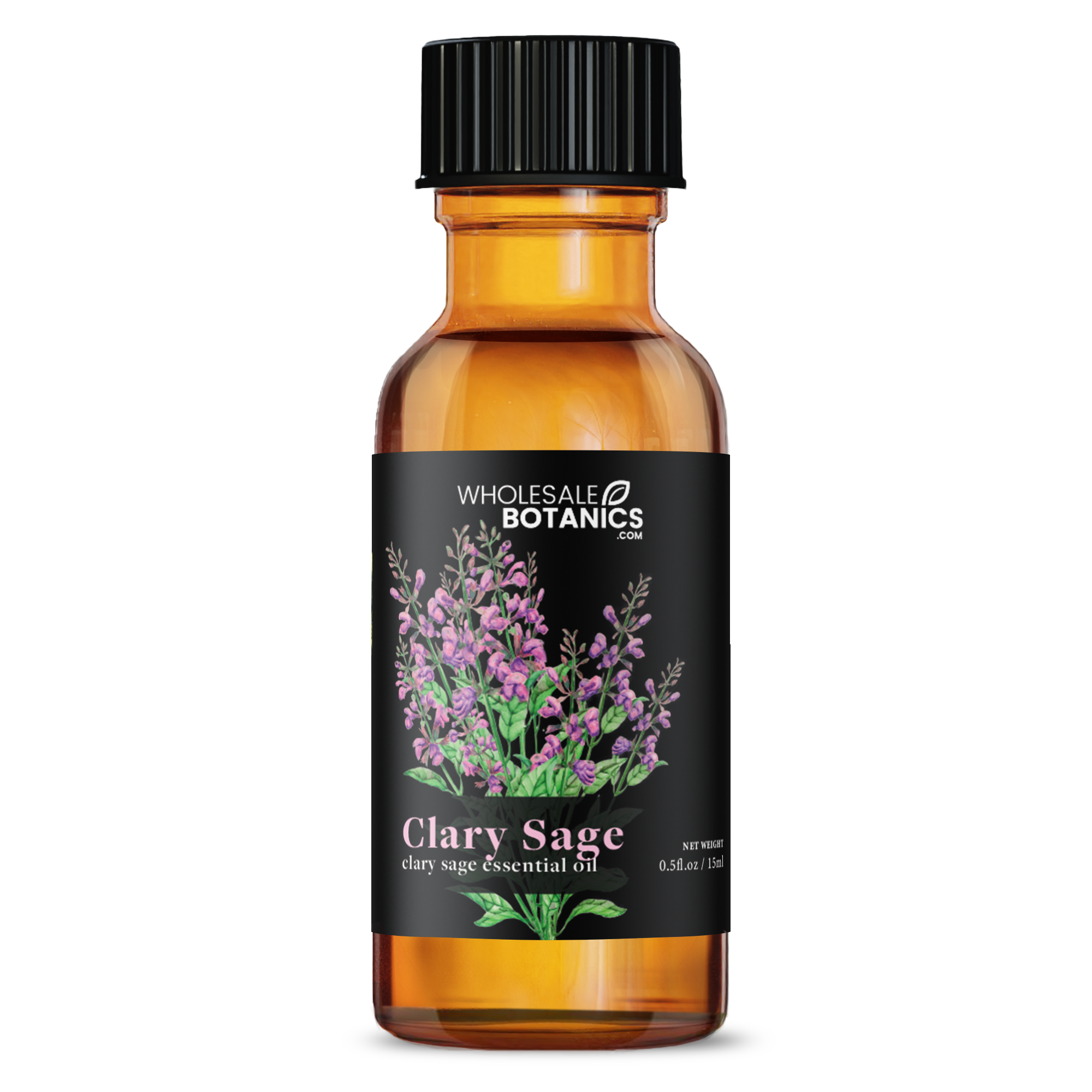 Clary Sage Essential Oil
Frequently Bought Together
Vegan Friendly
The oil is 100% Vegan - No animal was harmed nor used in the manufacturing of this product.
Responsibly Sourced
We work with farms and producers in over 30 countries to support renewable harvest and grow practices.
Oil Report
Access the certificate of analysis below to see the geographical and scientific data of our Clary Sage Oil.
Geographical & Botanical Breakdown of Clary Sage Oil
View and download the Certificate of Analysis for our Clary Sage Oil.
Botanical Name
Salvia sclarea
Also Known As
Clear Eye Oil
Eyebright Oil
Orvale Oil
Oil Profile
Gently floral yet herbal Clary Sage is one of the world's most effective calming essential oils.
Extraction Method
Steam Distillation
Parts Used
Flowers and Leaves
Appearance
Yellowish to yellow liquid
Aroma
Herbal, floral, fruity
Key Components
Linalyl acetate, linalool, α-terpineol
Blends Well With
Lemon, grapefruit, and tea tree essential oils
Mixes Well With
Jojoba, argan, or coconut carrier oils
Features & Benefits
Calms and focuses the mind.
Gentle herbal aroma amplifies its therapeutic effects.
Soothes minor irritations when applied topically.
This aromatic plant is native to the Mediterranean and was considered sacred during the middle ages. Clary Sage is known for its herbaceous, floral fragrance and remarkable calming properties. In ancient times, it was believed to have the power to cure various ailments, including body aches and pains. Clary Sage Oil, obtained through the distillation of its leaves and flowers, contains powerful anti-inflammatory properties that can effectively alleviate minor skin irritations. When diffused, the earthy fragrance of Clary Sage Oil is incredibly soothing, inducing a sense of tranquility and relaxation.
What Our Customers Think
"The perfect oil for my bath bombs! I will definitely be buying more!"
- Ashton
05/24/22
"The aroma is so soothing and you will feel relaxed almost immediately."
- Nicole
05/12/22
"Clary sage and 1 diffusion session a week make the house smell just as I like it. It's perfect, thank you so much!"
- Roland
05/04/22
87%
of reviewers would recommend this product to a friend
It's hard to judge the whole shopping experience because of a once in a 100 years snowstorm that caused shipping delays. I'll just have to order again and check it out.
Beautifully packaged and professional looking.
Superior product!
Staff and management are stellar.
A good aromatic middle ground
It worked exactly as promised
Reviewed by Jeni B., from United States
Verified Buyer
I recommend this product
Great
The representative contacted me initially to say they needed a ups/usps delivery address because you don't deliver to PO boxes, then later I contacted about non-arrival and was told it was in back-order. I was offered to cancel but was happy to receive it eventually - with free shipping as a courtesy.
Reviewed by Sara, from United States
Verified Buyer
I recommend this product
Best Clary Sage
I've tried many different brands for clary sage, but this has by far been the best one! H165