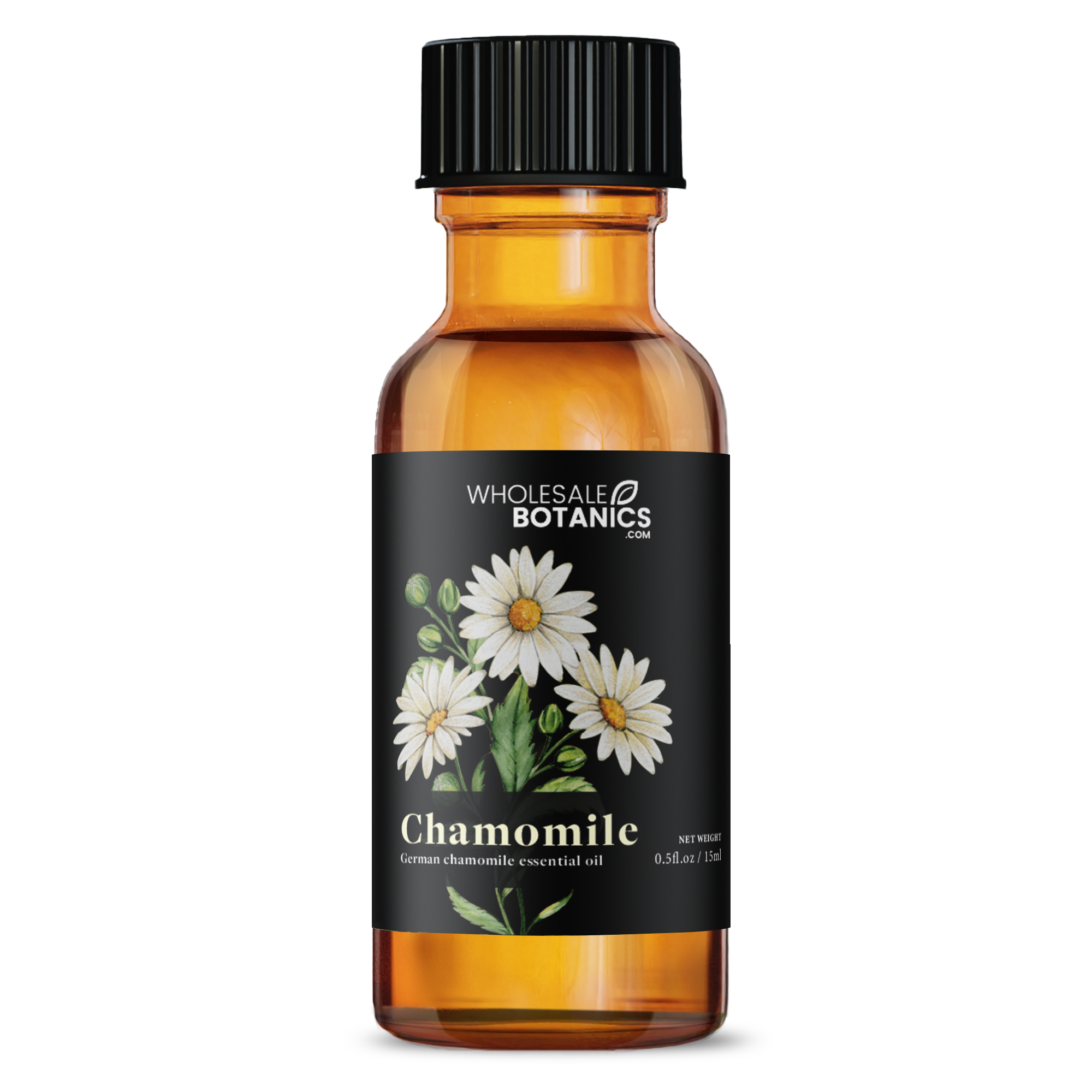 German Chamomile Essential Oil
Frequently Bought Together
Vegan Friendly
The oil is 100% Vegan - No animal was harmed nor used in the manufacturing of this product.
Responsibly Sourced
We work with farms and producers in over 30 countries to support renewable harvest and grow practices.
Oil Report
Access the certificate of analysis below to see the geographical and scientific data of our Chamomile German Oil.
Geographical & Botanical Breakdown of Chamomile German Oil
View and download the Certificate of Analysis for our Chamomile German Oil.
Botanical Name
Matricaria chamomilla
Also Known As
Blue Chamomile Essential Oil
Wild Chamomile Essential Oil
Oil Profile
German Chamomile Essential Oil is the most potent form of this well-known relaxation aid.
Extraction Method
Steam Distillation
Appearance
Light blue liquid
Aroma
Herbal, tea-like, apple-like, woodsy
Key Components
α-bisabolol oxide, chamazulene, sabinene
Blends Well With
Lavender, jasmine, and ylang ylang essential oils
Mixes Well With
Marula, tamanu, or sweet almond carrier oils
Features & Benefits
Powerful sleep and relaxation aid.
Builds an oasis of safety and calm.
Combines therapeutic effects with a calming aroma when used topically.
Recognized for its fragrant white flowers, the German Chamomile plant is native to Europe, Iran, and Afghanistan, but is now cultivated in various regions around the world. This plant has a long history of medicinal use in the treatment of headaches and alleviating pain. German Chamomile Oil, which is produced by distilling the flowers, boasts a delicate and calming fragrance. Studies have shown that this natural wonder can enhance the quality of sleep and decrease anxiety levels. Simply add it to your diffuser to create a peaceful and stress-free environment!
What Our Customers Think
"I've always struggled with falling and staying asleep, so I was a bit skeptical when I bought this. I was pleasantly surprised to discover that this natural oil was all I needed to combat my insomnia."
- Heather
03/25/22
"I've been using chamomile tea to relax my whole life, and I have come to find out that with chamomile essential oil the effect is heightened."
- Florrie
08/28/21
"Just had a wonderful bath with this oil and feel super-chilled and calm after a hectic and very stressful day!"
- Jessica
06/20/21
93%
of reviewers would recommend this product to a friend
SUPERB oils!
Wonderful product, fast shipping and great customer service! My new go-to for essential oils!
Reviewed by Heidi, from United States
Verified Buyer
I recommend this product
Reviewed by Blake, from United States
Verified Buyer
I recommend this product
Great quality
I purchased this for some blends, works great
Reviewed by Kelli, from United States
Verified Buyer
I recommend this product
Good for skincare
I love adding this EO to face serums. Very soothing.
Reviewed by Joanna, from United States
Verified Buyer
I recommend this product
Sore
I used this with some other oils and mixed it in body butter for the pain in my knee.