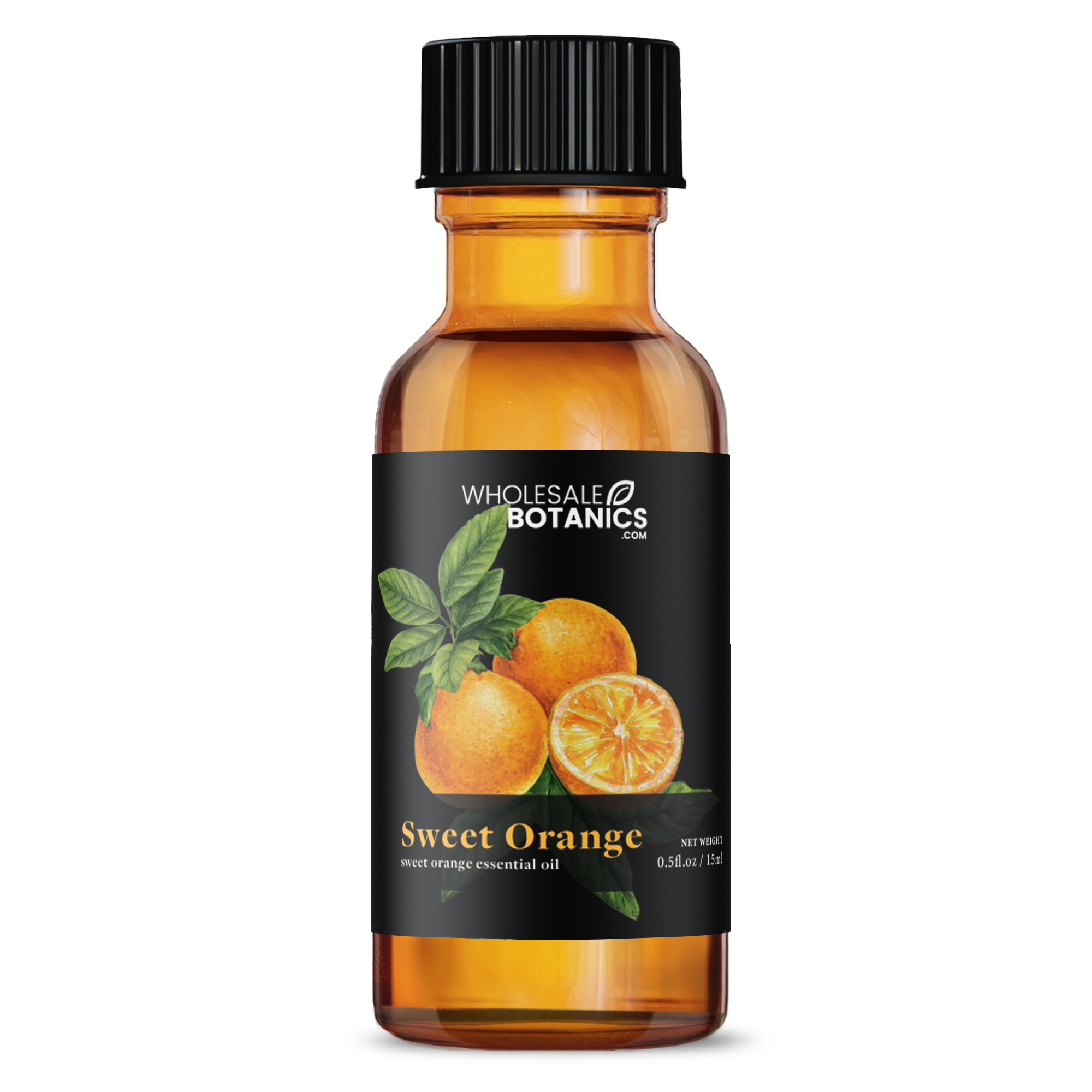 Sweet Orange Essential Oil
Frequently Bought Together
Responsibly Sourced
We work with farms and producers in over 30 countries to support renewable harvest and grow practices.
100% Pure
Wholesale Botanics guarantees that this pure sweet orange oil is undiluted, unadulterated, and contains no additional ingredients beyond the oil itself.
Oil Report
Access the certificate of analysis to see the composition and purity of our Sweet Orange Oil.
Geographical & Botanical Breakdown of Sweet Orange Oil
View and download the Certificate of Analysis for our 100% Pure Sweet Orange Oil.
Botanical Name
Citrus sinensis
Also Known As
Orange Oil
Orange Peel Oil
Navel Orange Oil
This essential oil is comprised only of natural plant material and contains no synthetics, fillers, or other harmful materials.
Ingredients
100% Sweet Orange Oil
Oil Profile
Its zesty scent is perfect for use in aromatherapy to alleviate anxiety and calm the mind.
Extraction Method
Cold Pressed
Aroma
Sweet, citrus, bright
Key Components
Limonene, myrcene, α-pinene
Blends Well With
Grapefruit, cinnamon, and patchouli essential oils
Mixes Well With
Jojoba, argan, or coconut carrier oils
Features & Benefits
Fresh, citrus aroma makes this a perfect addition to DIY natural cleaning solutions.
Bright and refreshing scent reduces anxiety.
High levels of vitamin C can help to brighten complexion.
Sweet Orange Oil is extracted from the peel of the fruit, which is believed to have originated in China. In ancient Chinese medicine, it was used to treat coughs and colds due to its antibacterial properties. Today, the fresh and zesty citrus scent of Sweet Orange Oil can help reduce anxiety and promote relaxation. It is a must-have for those looking to incorporate aromatherapy into their self-care routine.
What Our Customers Think
"You can use it for cleaning, refreshing laundry, in your hair and skin care products. I would highly recommend this oil. And the price is FANTASTIC!"
- Abraham
06/01/21
"Lovely orange scent. I've ordered sweet orange elsewhere and received a very, very sweet product. This one was sweet, yet retained the citrus note of oranges. It has held up well in cold process soap."
- Tyler
01/25/21
"Sweet orange is a staple in my home. I use it for cleaning and as a delicious scent! Pairs great with cinnamon/spicy scents for Christmas!"
- Jordan
08/04/20
85%
of reviewers would recommend this product to a friend
Great Job Guys
Everything was great from the packing to the delivery.
Great Job Guys
Everything was great from the packing to the delivery.
Good
I like the packaging. My delivery was delayed a little & I had to reach out for an update, but I'm satisfied with my product. It smells very good
Good
I like the packaging. My delivery was delayed a little & I had to reach out for an update, but I'm satisfied with my product. It smells very good
exactly what I expected
Can't wait to use it in my infuser