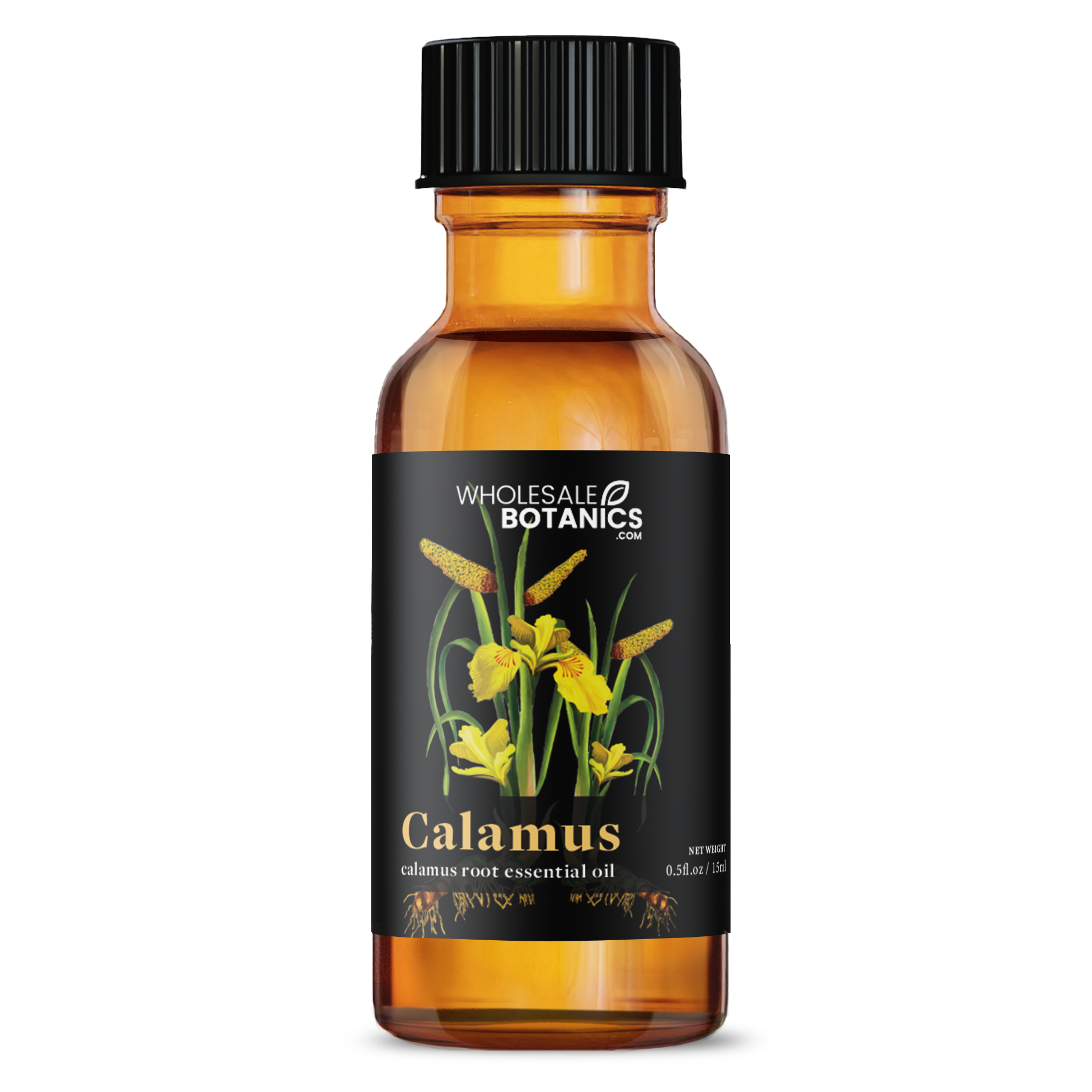 Calamus Essential Oil
Frequently Bought Together
Vegan Friendly
The oil is 100% Vegan - No animal was harmed nor used in the manufacturing of this product.
Responsibly Sourced
We work with farms and producers in over 30 countries to support renewable harvest and grow practices.
Oil Report
Access the certificate of analysis below to see the geographical and scientific data of our Calamus Oil.
Geographical & Botanical Breakdown of Calamus Oil
View and download the Certificate of Analysis for our Calamus Oil.
Botanical Name
Acorus calamus
Oil Profile
Calamus oil has been used for millennia as a relaxant and skincare tonic
Extraction Method
Steam Distillation
Appearance
Yellow to yellow brown liquid
Aroma
Warm, woodsy, spice
Key Components
Methyl isoeugenol, caryophyllene, cadinene
Blends Well With
Tea tree, rosemary, and cedarwood essential oils
Mixes Well With
Jojoba, argan, or coconut carrier oils
Features & Benefits
Traditionally used to calm the mind and body
Tones, tightens, and rejuvenates the skin
The calamus root was historically used by ancient Chinese, Egyptian, Greek, and Native American herbalists, and continues to be used today as a part of Ayurvedic practices for its spiritual and symbolic significance, as well as for its reported effectiveness as an aphrodisiac. It's not commonly used in aromatherapy, but it's incredibly effective when diluted in a carrier oil and applied topically. Though its potent woodsy, musky, spicy odor is beloved by many of the root's fans, those new to the smell may find it improved by the addition of cinnamon and sweet orange oil.
What Our Customers Think
"Real calamus is apparently hard to find. I bought some on Amazon but it smelled so artificial and gross. It even gave me a headache when used in my diffuser. This stuff though smells great and really calms me down in my high-stress office."
- Paul
07/01/22
"I love my calamus essential oil for study time. I use it in my defuser for concentration and focus. amazing."
- Myra
06/14/22
"strong scent and came super fast! thank you! will definitely be ordering again!"
- Leonardo
03/12/22
86%
of reviewers would recommend this product to a friend
Great Experience
I felt the quality was very good and the pricing was much better than most other suppliers.
Reviewed by Clair, from United States
Verified Buyer
I recommend this product
Awesome!!
Great smell and quality for the price. Highly recommend!
Reviewed by Jodie, from United States
Verified Buyer
I recommend this product
just what I needed
The aroma is definitely the one I'm looking for. It's woody and soothing.
Reviewed by Casey, from United States
Verified Buyer
I recommend this product
Just Perfect!
I really love this oil and recommend it to anyone who will listen! The lemon scent is great for haircare products! It lasts forever!
Reviewed by April, from United States
Verified Buyer
I recommend this product
Can't complain.
Not a bad product by any means, it was fine and works well. The scent could have been a little stronger in my opinion.