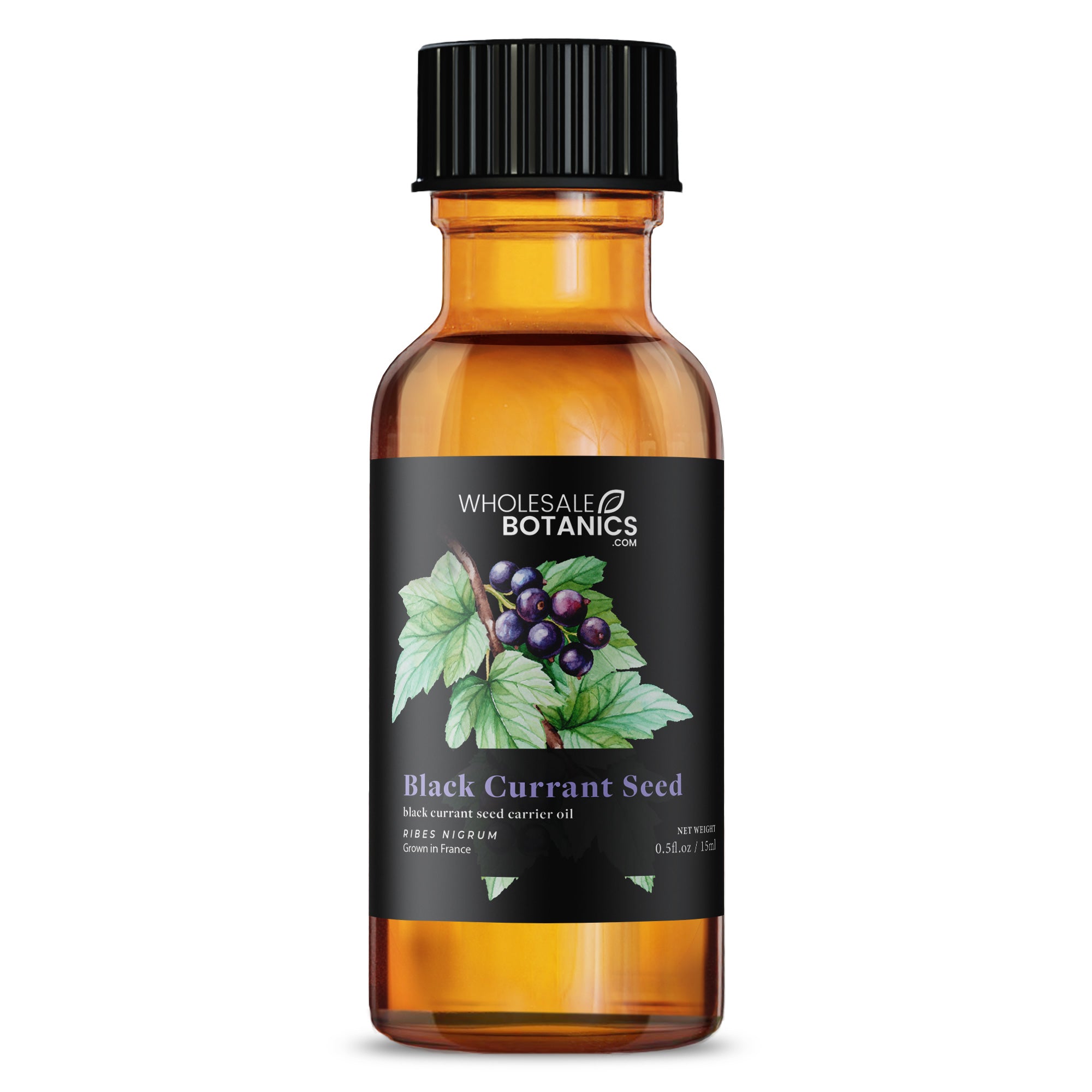 Black Currant Seed Oil
Frequently Bought Together
Vegan Friendly
The oil is 100% Vegan - No animal was harmed nor used in the manufacturing of this product.
Responsibly Sourced
We work with farms and producers in over 30 countries to support renewable harvest and grow practices.
Oil Report
Access the certificate of analysis below to see the geographical and scientific data of our Black Currant Seed Oil.
Geographical & Botanical Breakdown of Black Currant Seed Oil
View and download the Certificate of Analysis for our Black Currant Seed Oil.
Botanical Name
Ribes nigrum
Also Known As
Currant Seed Oil
Cassis Oil
Oil Profile
This luxurious oil is a natural antioxidant powerhouse for glowing skin.
Extraction Method
Cold Pressed
Appearance
Pale yellow to yellow liquid
Aroma
Fruity, tart, earthy
Key Components
γ-Linolenic acid, α-linolenic acid, vitamin E
Blends Well With
Calendula, lavender, and patchouli essential oils
Mixes Well With
Argan, grapeseed, or rosehip carrier oils
Key Components
Black Currant Seed Oil is rich in essential fatty acids, particularly gamma-linolenic acid (GLA) and alpha-linolenic acid (ALA).
The oil contains a range of antioxidants, including flavonoids and vitamin C, which may help protect the skin from environmental damage.
Black Currant Seed Oil Uses
Try incorporating the following topical and aromatic uses of Black Currant Seed Oil into your routine to unleash the natural wonders of this luxurious oil.
How to Use Black Currant Seed Oil
Topical Uses
Nourishing Cuticle Oil: Massage a few drops of Black Currant Seed Oil into your cuticles to nourish and condition them. Let the oil's rich essential fatty acids potentially strengthen your nails and promote healthy, beautiful cuticles.
Dry Skin Remedy: Take advantage of this oil's emollient properties and apply Black Currant Seed Oil to areas of dry, rough skin for its potential to restore moisture and hydration.
Aromatic Uses
Relaxing Massage Oil: Combine Black Currant Seed Oil with a soothing essential oil, like Lavender or Ylang-Ylang. Massage the blend onto your body to promote deep relaxation and released tension.
Luxurious Bath Soak: Blend Black Currant Seed Oil with your favorite relaxing essential oils, such as Chamomile or Lavender, and add it to your bathwater. Immerse yourself in the moisturizing and aromatic embrace, allowing the cares of the day to melt away.
Black Currant Seed Oil Hair Mask Recipe
Ingredients
2 tablespoons Black Currant Seed Oil
1 tablespoon honey
1 tablespoon plain yogurt
Instructions
Mix all of the ingredients in a clean bowl. Apply to damp hair, leave on for 30 minutes, then rinse thoroughly and follow with your regular shampoo routine.
Black Currant Seed Oil Fun Facts
Black Currant Seed Oil is commonly used in skincare products due to its potentially moisturizing and rejuvenating effects on the skin.
Black currant is extensively cultivated in Europe, contributing to a total annual blackcurrant production of nearly 160,000 tons.
In southern Asia, the seeds of this plant are commonly referred to as 'Kalonji,' while in the Middle East, the most prevalent name is 'Habbat us Sauda.'
What is Black Currant Seed Oil?
The black currant plant Ribes nigrum was widely cultivated in temperate climates in Europe. In Nordic countries, the berries were celebrated for their unique taste and abundance of vitamins and phytochemicals. They became a staple in various dishes and drinks, showcasing the plant's versatility.
Derived from the seeds of the plant, Black Currant Oil has a nutrient-rich composition that is now recognized for its high vitamin C and carotenoid content. Its antioxidant-rich profile makes it a valuable ingredient in skincare and aromatherapy.
What Our Customers Think
"I was impressed with this oil.. Very hydrating. Gives my face a natural glow and hydrates my skin."
- Luz Arrizon
06/13/23
"I've been using it for just a few days and it already works"
- Ryan Smith
05/08/23
"I'm obsessed with this black currant seed oil! It's helped my hair grow so much faster and my scalp is less dry and itchy."
- Victoria Gonzalez
05/02/23
100%
of reviewers would recommend this product to a friend
Alleviated itching on my wrists
It helped so much with the rash on my wrists.
Reviewed by dana elise s.
Verified Buyer
I recommend this product
Phenomenal quality, quick shipping, and excellent customer service!!
The entire experience was effortless. The essential oils come in a beautiful box. Expertly packed. Excellent quality.
Satisfied Customer
I was impressed with this oil.. Very hydrating. Gives my face a natural glow and hydrates my skin.
Works quick
I've been using it for just a few days and it already works
Acne Scar Fading Superstar
This black currant seed oil is a must-have in my skincare routine. It's helped fade my acne scars and even out my skin tone. I'm in love!