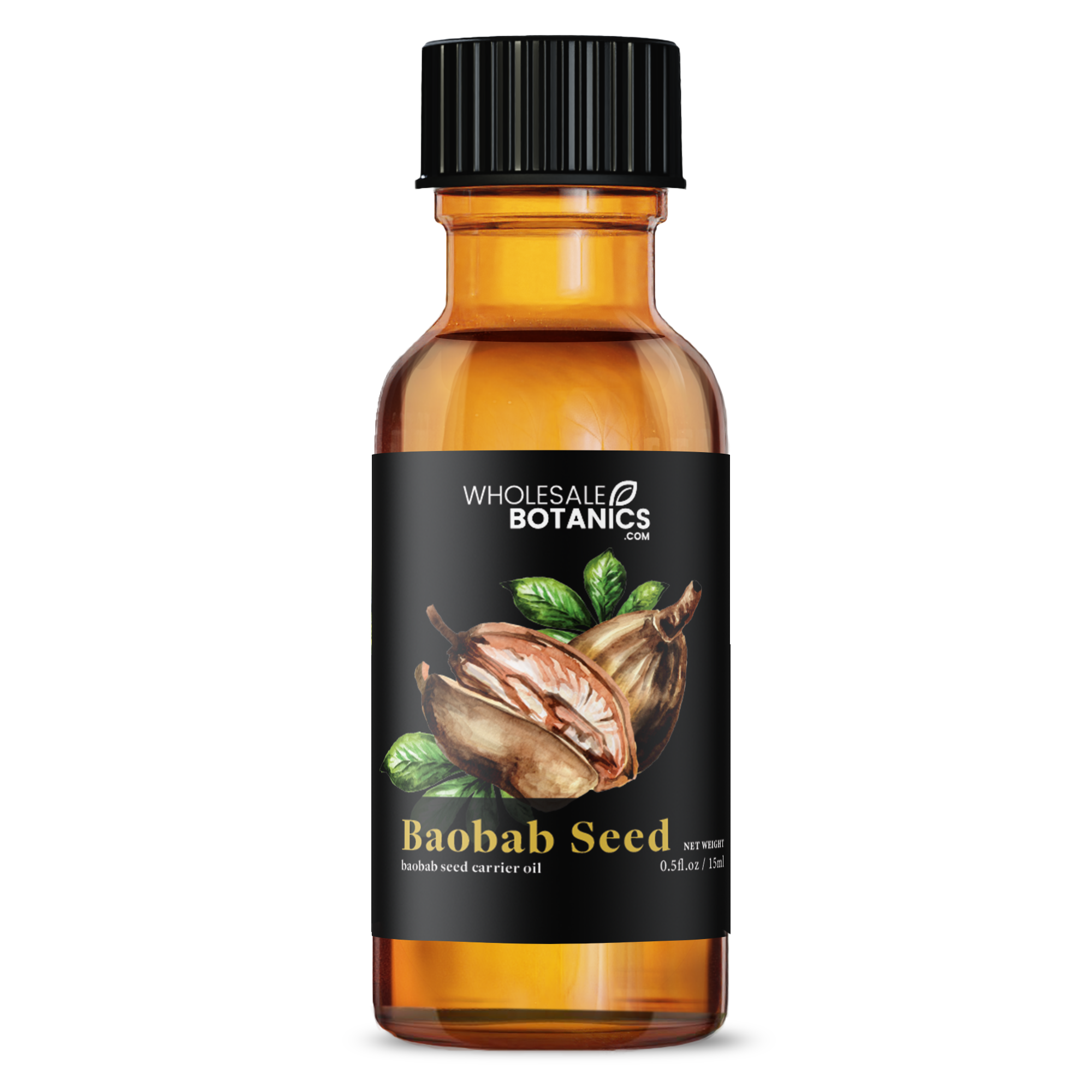 Baobab Seed Oil
Frequently Bought Together
Vegan Friendly
The oil is 100% Vegan - No animal was harmed nor used in the manufacturing of this product.
Responsibly Sourced
We work with farms and producers in over 30 countries to support renewable harvest and grow practices.
Oil Report
Access the certificate of analysis below to see the geographical and scientific data of our Baobab Oil.
Geographical & Botanical Breakdown of Baobab Oil
View and download the Certificate of Analysis for our Baobab Oil.
Botanical Name
Adansonia digitata
Oil Profile
With its potent antioxidant effects, Baobab Oil is the perfect way to protect and rejuvenate your skin.
Extraction Method
Cold Pressed
Appearance
Pale yellow liquid
Aroma
Mild, nutty, earthy
Key Components
Omega acids, vitamin E, phytosterols
Blends Well With
Frankincense, myrrh, and cedarwood essential oils
Mixes Well With
Calendula, grapeseed, or rosehip carrier oils
Features & Benefits
Traditionally used throughout Africa for all aspects of skin and hair health.
Earthy aroma blends well with common hair oils.
Vitamin-rich, and ideal for skin or hair.
Baobab Oil has been used for centuries in African countries, where the majestic Baobab tree is native. The oil is extracted from the seeds of the tree, which were traditionally used for their medicinal properties, such as treating fevers and other ailments. Today, Baobab Oil is prized in the beauty industry for its moisturizing and nourishing benefits, as well as its powerful anti-inflammatory properties. It is the perfect addition to cosmetic products, helping to keep skin and hair healthy and radiant.
What Our Customers Think
"Thank you so much, my skin feels much better"
- Eddie Oddman
04/28/22
"Goes perfect with clove and cinnamon essential oil"
- Carol Johnson
04/24/22
"A great way to apply essential oils, safe and clean"
- Adam Brown
04/20/22
100%
of reviewers would recommend this product to a friend
Reviewed by dana elise s.
Verified Buyer
I recommend this product
Phenomenal!!!
Excellent quality and experience over all. My new supplier!!!
Reviewed by Walter K., from United States
Verified Buyer
I recommend this product
Reviewed by Eddie O., from United States
Verified Buyer
I recommend this product
Sweet Relief!
Thank you so much, my skin feels much better
Reviewed by Carol J., from United States
Verified Buyer
I recommend this product
Smells great
Goes perfect with clove and cinnamon essential oil