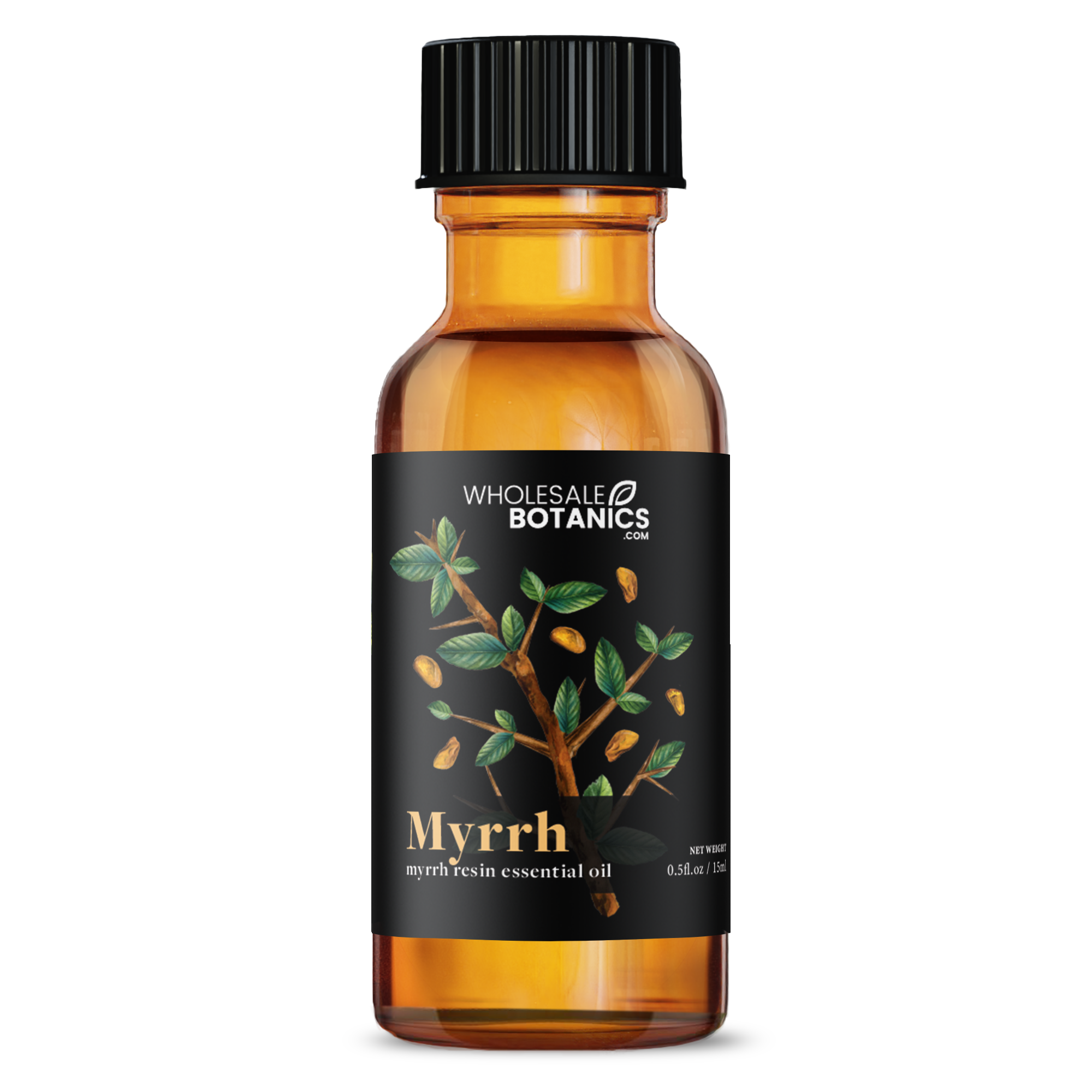 Myrrh Essential Oil
Frequently Bought Together
Vegan Friendly
The oil is 100% Vegan - No animal was harmed nor used in the manufacturing of this product.
Responsibly Sourced
We work with farms and producers in over 30 countries to support renewable harvest and grow practices.
Oil Report
Access the certificate of analysis below to see the geographical and scientific data of our Myrrh Oil.
Geographical & Botanical Breakdown of Myrrh Oil
View and download the Certificate of Analysis for our Myrrh Oil.
Botanical Name
Commiphora myrrha
Oil Profile
This ancient resin has been valued for its aromatherapeutic effects and symbolic significance for millenia
Extraction Method
Steam Distillation
Appearance
Golden yellow or brown liquid
Aroma
Woodsy, earthy, smoky
Key Components
Curzerene, furanoeudesm?-1,3-diene, lindestrine
Blends Well With
Sandalwood, frankincense, and amber essential oils
Mixes Well With
Calendula, grapeseed, or rosehip carrier oils
Features & Benefits
Calms and clarifies the mind
Deep, rich, exotic spiced aroma
Perfect aid for meditation and mindfulness
Alongside frankincense and gold, myrrh is famous as one of the most valuable substances of the ancient past. Even today, this distillation of the resin of an exotic Middle-Eastern tree is treasured for its aroma, therapeutic effects, and symbolic and religious significance, Its earthy, warm, spicy aroma is an indispensible centerpiece in many distinctive aromatherapy blends and fragrances, and this complex odor makes it uniquely suited to blending with a variety of essential oils as wide-ranging as sandalwood, sweet orange, and cinnamon.
What Our Customers Think
"I am a perfumer and have used myrrh for many decades and I have to say that this sweet myrrh that the company carries is the highest quality and hasn't been seen on the market until recently and their price is half what other places charge. I wholly recommend it"
- Travis Thompson
03/07/23
"This is hands down the best Myrrh essential oil I've ever found. I use oils in literally everything; medicinal, diffused, beauty, cleansing, cleaning, etc. I must say that this Wholesale Botanics is even better quality than the higher priced brands (you know the ones I'm talking about!)."
- Preston
07/18/22
"This smells great in my diffuser. Great for hair, nails and relaxation. It also worked well for some soaps I made my husband and dad."
- Arnold
07/09/22
95%
of reviewers would recommend this product to a friend
Good
The jars were a nice size
Same as with Frankincense, appreciate quick delivery.
This scent really works well with Frankincense.
Pleasantly surprised at how fresh the herbs are! Thank you
I liked they arrived on time.
I was surprised at the consistency (sticky + thick).
The smell is appropriate, the effect is strong and long-lasting, however I thought I purchased oil, but what I received was very sticky lumpy resin.
Reviewed by Travis T., from United States
Verified Reviewer
I recommend this product
The best
I am a perfumer and have used myrrh for many decades and I have to say that this sweet myrrh that the company carries is the highest quality and hasn't been seen on the market until recently and their price is half what other places charge. I wholly recommend it