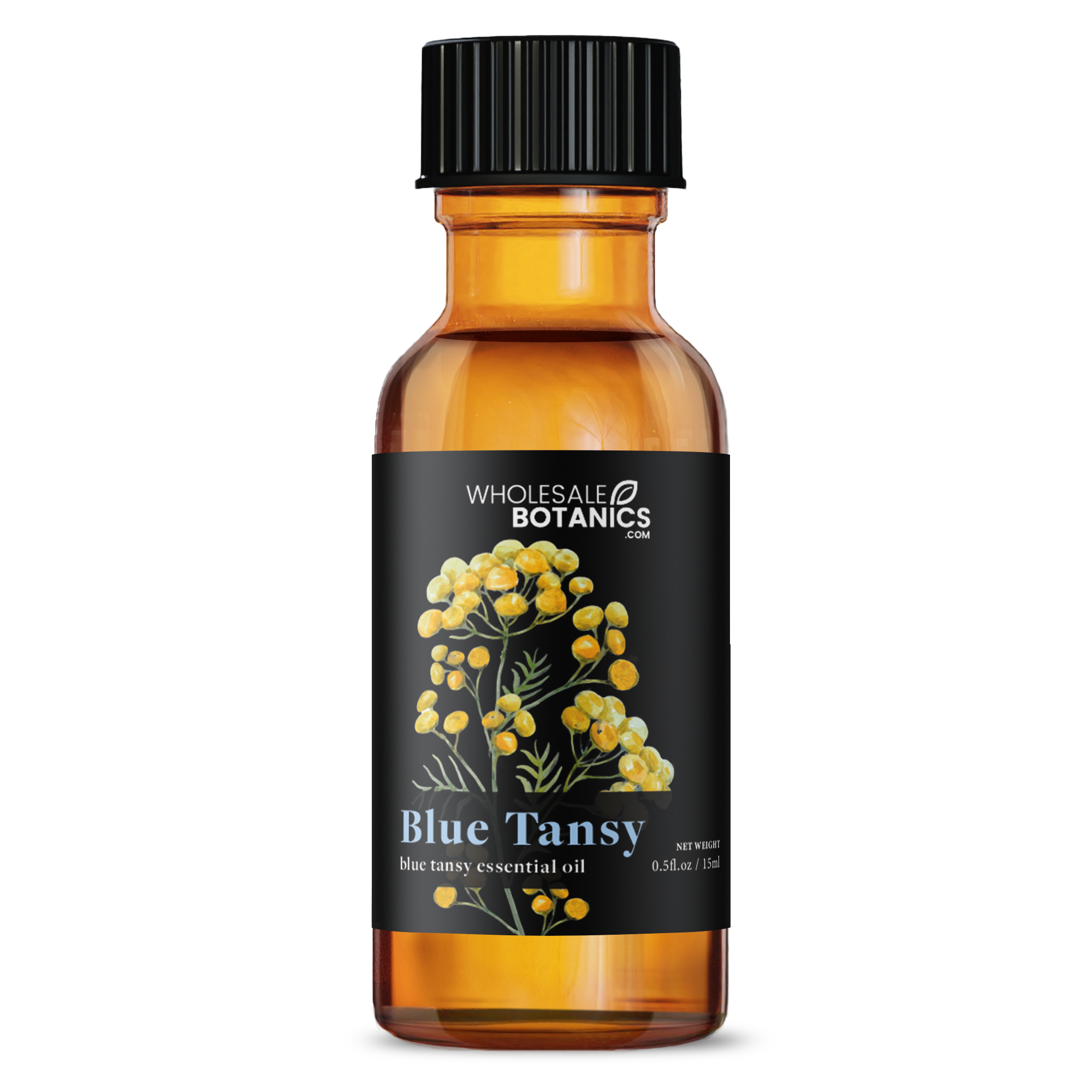 Blue Tansy Essential Oil
Frequently Bought Together
Vegan Friendly
The oil is 100% Vegan - No animal was harmed nor used in the manufacturing of this product.
Responsibly Sourced
We work with farms and producers in over 30 countries to support renewable harvest and grow practices.
Oil Report
Access the certificate of analysis below to see the geographical and scientific data of our Blue Tansy Oil.
Geographical & Botanical Breakdown of Blue Tansy Oil
View and download the Certificate of Analysis for our Blue Tansy Oil.
Botanical Name
Tanacetum annuum
Also Known As
Moroccan Blue Chamomile Oil
Moroccan Tansy Oil
Kumuda Oil
Oil Profile
Blue Tansy Oil is a must-have essential oil for relaxation and skin health.
Extraction Method
Steam Distillation
Parts Used
Flower and stems
Appearance
Dark blue liquid
Aroma
Floral, fruity, herbal
Key Components
Sabinene, chamazulene, myrcene
Blends Well With
Chamomile, lavender, and clary sage essential oils
Mixes Well With
Jojoba, argan, or coconut carrier oils
Features & Benefits
Unique floral yet fruity aroma is perfect for creating a soothing atmosphere.
Can reduce the appearance of imperfections.
Derived from the fragrant flowers of the Tanacetum annuum plant, grown extensively throughout Asia, Blue Tansy Oil boasts a naturally uplifting and fruity floral aroma. This precious oil owes its potent antioxidant and anti-inflammatory effects to its high concentration of sabinene, a powerful compound that contributes to its skin-soothing properties. Its antibacterial properties may also contribute to an improved skin appearance, making it an excellent choice if you're seeking a natural and gentle skincare solution.
What Our Customers Think
"This smells very floral and divine! I absolutely love using it in my warmer. It helps my home smell like sunshine."
- Kelvin
05/03/22
"I made a face toner with a few drops of this blue tansy , along with other special ingredients. My customers rave about how well it works and how beautiful the scent is on their skin. So much so, I have started trying to find new ways to add it into other products in our collection."
- Freddie
01/29/22
"It was great for my after run massage. It smells pretty too and it feels pleasant on the skin."
- Jack
04/14/22
93%
of reviewers would recommend this product to a friend
wonderful first order
The website was easy to use to find the blue tansy essential oil. The fair cost, the quick shipping and beautifully packaged order will all have me returning. So glad I found you!
Nicely packed and quality
Great package and beautiful box art. Give a feeling of collecting these .
Oil smell great and have great quality. The only thing I would recommend is to ship bottles with regular caps instead of dropper.