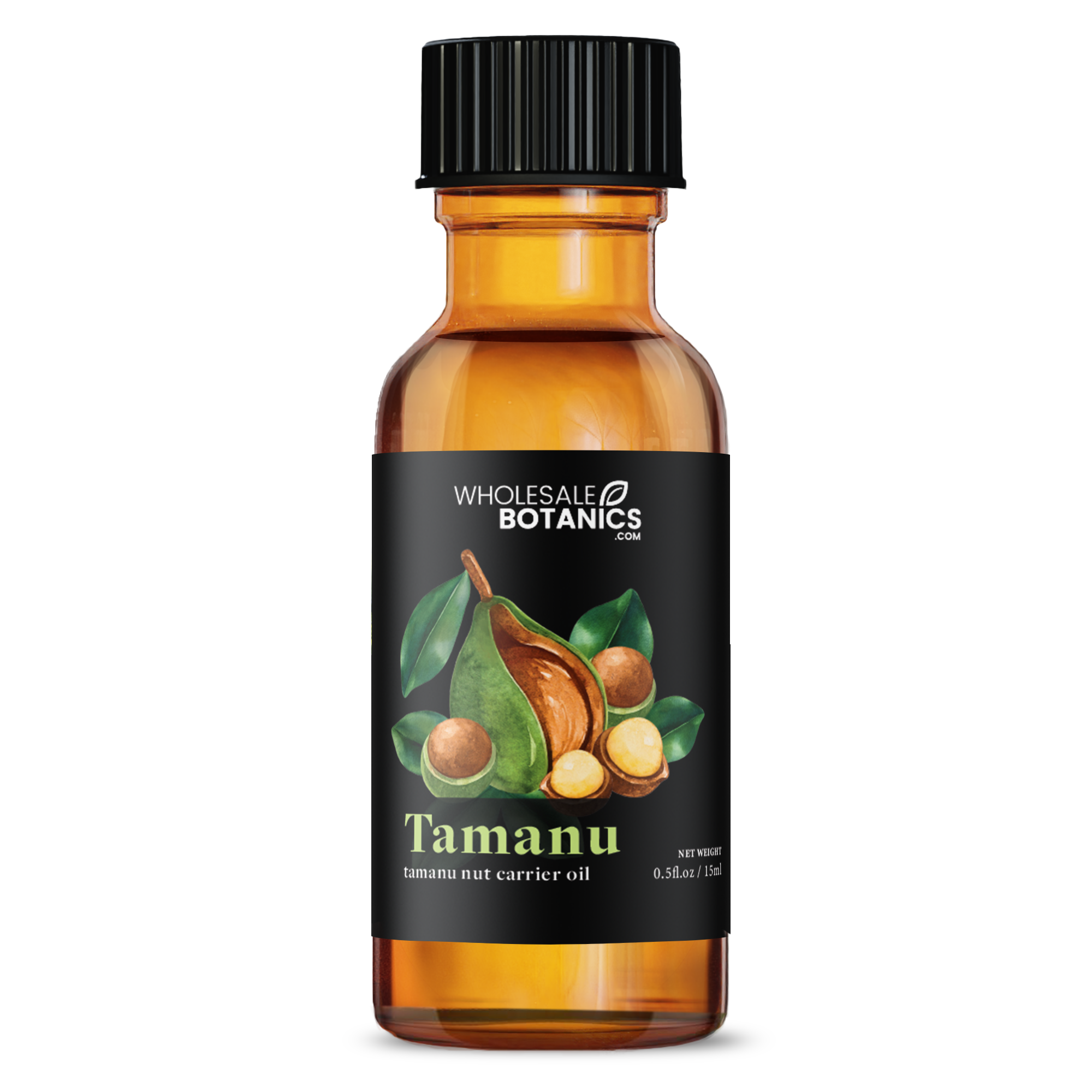 Tamanu Oil
Frequently Bought Together
Vegan Friendly
The oil is 100% Vegan - No animal was harmed nor used in the manufacturing of this product.
Responsibly Sourced
We work with farms and producers in over 30 countries to support renewable harvest and grow practices.
Oil Report
Access the certificate of analysis below to see the geographical and scientific data of our Tamanu Oil.
Geographical & Botanical Breakdown of Tamanu Oil
View and download the Certificate of Analysis for our Tamanu Oil.
Botanical Name
Calophyllum inophyllum
Also Known As
Foraha Essential Oil
Indian Laurel Oil
Oil Profile
A rich source of antioxidants, this natural oil is perfect for soothing dry skin and hair.
Extraction Method
Cold Pressed
Appearance
Yellow green liquid
Aroma
Nutty, earthy, complex
Key Components
Stearic acid, linoleic acid, oleic acid
Blends Well With
Neroli, myrrh, and patchouli essential oils
Mixes Well With
Calendula, grapeseed, or rosehip carrier oils
Features & Benefits
Perfect for soothing dry and irritated skin and hair.
Deep, woody fragrance makes it a perfect addition to therapeutic essential oil blends.
Rich source of fatty acids and antioxidants.
Tamanu Oil is extracted from the nut kernels of the Tamanu tree, native to tropical regions. It has been used for centuries in traditional medicine to treat cuts, burns, and joint pain. In modern times, Tamanu Oil is renowned for its anti-inflammatory and antibacterial properties. Rich in fatty acids, Tamanu Oil is a must-have in your skincare and haircare routine for its hydrating and nourishing benefits.
What Our Customers Think
"You can tell it's pure from the depth of the color"
- Sam Johnson
05/01/22
"Hydrates skin deeply and permanently. I can finally say I have normal skin."
- Kimberly
08/08/21
"I look like a 20 year old, and have even been asked if my daughter was my sister. My skin feels so firm and soft, no more saggy under eyes and crow's feet."
- Rosie
04/13/22
100%
of reviewers would recommend this product to a friend
Reviewed by Sam J., from United States
Verified Buyer
I recommend this product
Pure
You can tell it's pure from the depth of the color
Reviewed by Billie C., from United States
Verified Buyer
I recommend this product
It really helps
Great for scars and wrinkles
Reviewed by Stephen R., from United States
Verified Buyer
I recommend this product
My favorite
I mix it 50/50 with coconut oil to make my own unique carrier oil
Reviewed by Ellie E., from United States
Verified Buyer
I recommend this product
Feels great
Just a tiny bit goes a long long way in my DIY lotion