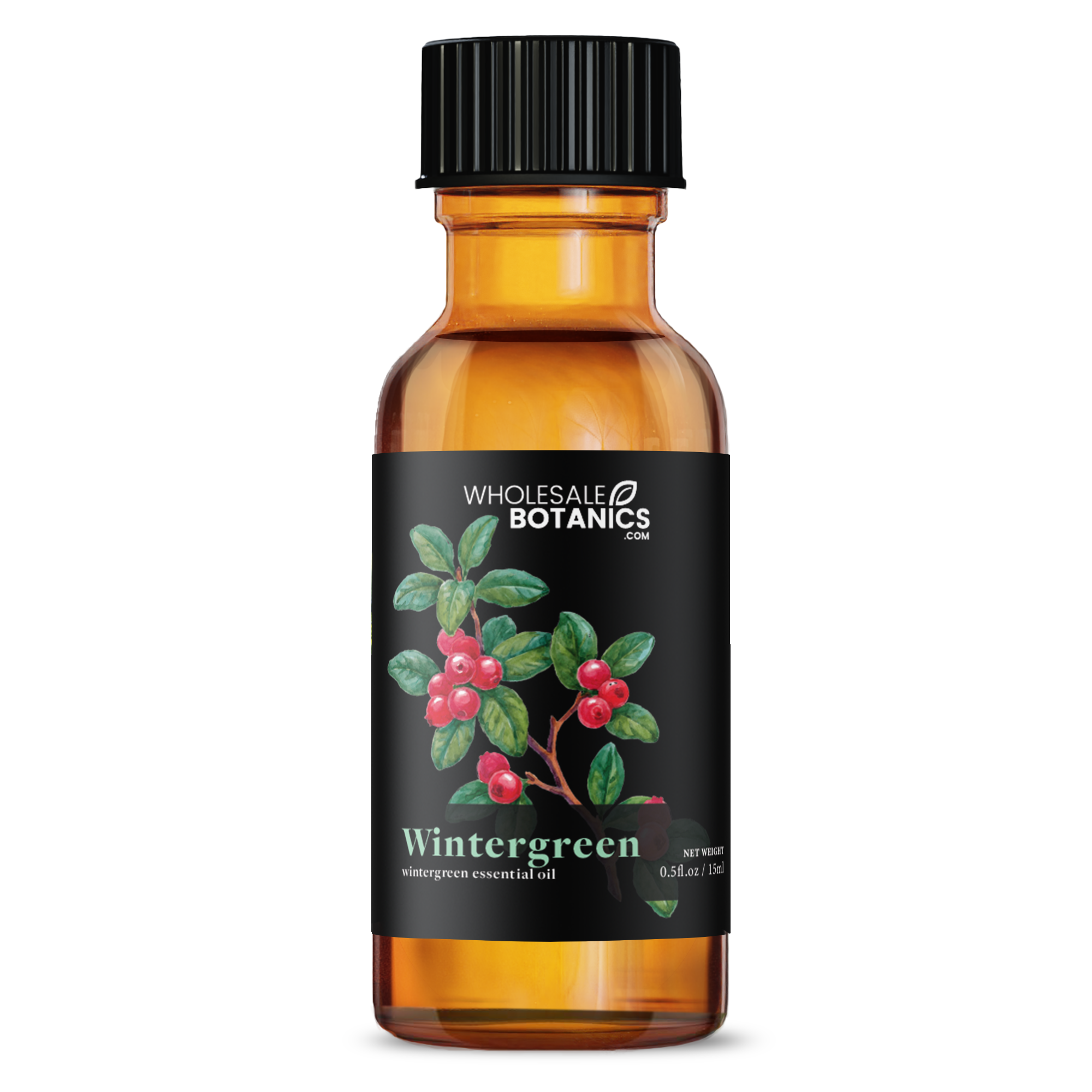 Wintergreen Essential Oil
Frequently Bought Together
Vegan Friendly
The oil is 100% Vegan - No animal was harmed nor used in the manufacturing of this product.
Responsibly Sourced
We work with farms and producers in over 30 countries to support renewable harvest and grow practices.
Oil Report
Access the certificate of analysis below to see the geographical and scientific data of our Wintergreen Oil.
Geographical & Botanical Breakdown of Wintergreen Oil
View and download the Certificate of Analysis for our Wintergreen Oil.
Botanical Name
Ilex chinensis
Also Known As
Teaberry Oil
Boxberry Oil
Oil Profile
Wintergreen oil is a proven natural solution for pain and respiratory relief.
Extraction Method
Steam Distillation
Appearance
Transparent liquid
Aroma
Sweet, minty, crisp
Key Components
Methyl salicylate
Blends Well With
Thyme, oregano, and ylang ylang essential oils
Mixes Well With
Jojoba, argan, or coconut carrier oils
Features & Benefits
As a natural analgesic, this oil is renowned for its pain-relieving properties.
Creates a refreshing and energizing atmosphere when diffused.
Potent anti-inflammatory effects may heal irritated, inflamed skin.
Wintergreen, a name synonymous with pristine alpine forests and cool breezy meadows, hails from the historical healing practices of North America's indigenous peoples. For centuries, the Native Americans recognized the medicinal value of the wintergreen plant and used its leaves in myriad remedies, particularly for pain relief and respiratory conditions. The traditional practice of brewing wintergreen tea for soothing aches is where this plant first earned its reputation as nature's analgesic. Today, Wintergreen Oil is commonly used in topical pain-relieving products, such as creams and ointments, due to its analgesic and anti-inflammatory properties. On top of its topical use, its refreshing scent can be diffused to create a calm and relaxing atmosphere.
What Our Customers Think
"I swear by this for neck and back nerve pain. Plus it smells amazing."
- Olive
09/18/20
"Wintergreen adds a cool kick to cheap OTC muscle creams. Makes me feel 100% after a hard workout, great stuff."
- Bianca
03/29/20
"This is such a crisp scented oil. It has a bit of nostalgia to it. I like the freshness, but also the clean aroma."
- Anaya
08/19/21
92%
of reviewers would recommend this product to a friend
Good
I got what i ordered in a timely manner
I liked very much
I found what I wanted in size I wanted