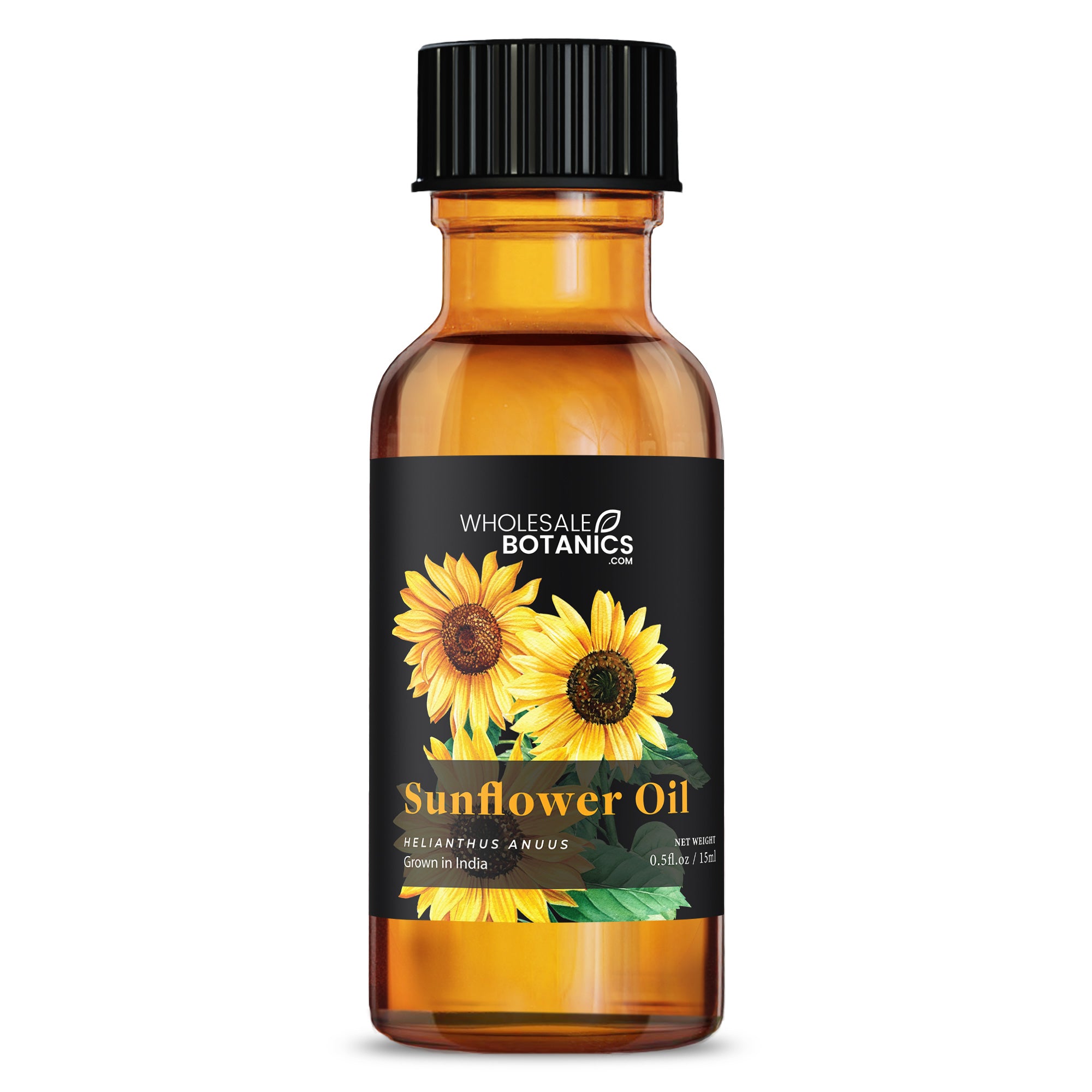 Vegan Friendly
The oil is 100% Vegan - No animal was harmed nor used in the manufacturing of this product.
Responsibly Sourced
We work with farms and producers in over 30 countries to support renewable harvest and grow practices.
Oil Report
Access the certificate of analysis below to see the geographical and scientific data of our Sunflower Oil.
Geographical & Botanical Breakdown of Sunflower Oil
View and download the Certificate of Analysis for our Sunflower Oil.
Botanical Name
Helianthus anuus
Also Known As
Sunflower Seed Oil
Helianthus Oil
Oil Profile
Sunflower Oil is a pure and natural solution for treating dry, flaky, and dull skin.
Extraction Method
Cold Pressed
Appearance
Clear to yellow liquid
Key Components
Vitamin E, oleic acid, linoleic acid
Blends Well With
Ylang ylang, eucalyptus, and lavender essential oils
Mixes Well With
Safflower, calendula, or rosehip carrier oils
Features & Benefits
This soothing oil provides a protective barrier to deeply moisturize the skin.
Provides a light, neutral base for customized aromatherapy blends.
It may nourish and protect the cuticles for stronger nails.
Sunflower Oil is produced from the nutrient-rich seeds of the sunflower plant, one of the world's most produced oilseed crops. Originally cultivated in the United States and Canada around 4,000 years ago, it was later domesticated in various global regions. Traditionally, this oil served as a valuable food source, boasting an abundance of vitamins and minerals. Moreover, it found applications in traditional medicine for treating liver ailments and inflammatory disorders. Today, Sunflower Oil has evolved into a skincare staple, offering protection and nourishment to the skin while also playing a role in hair care by providing a protective shield to the hair and reducing frizz.
100%
of reviewers would recommend this product to a friend
Skincare secret
perfect bulk DIY skincare solution
A+
natural, not greasy at all
Great for sensitive skin types
Despite my sensitive skin, this oil has been deeply moisturizing without causing any breakouts or allergic reactions.