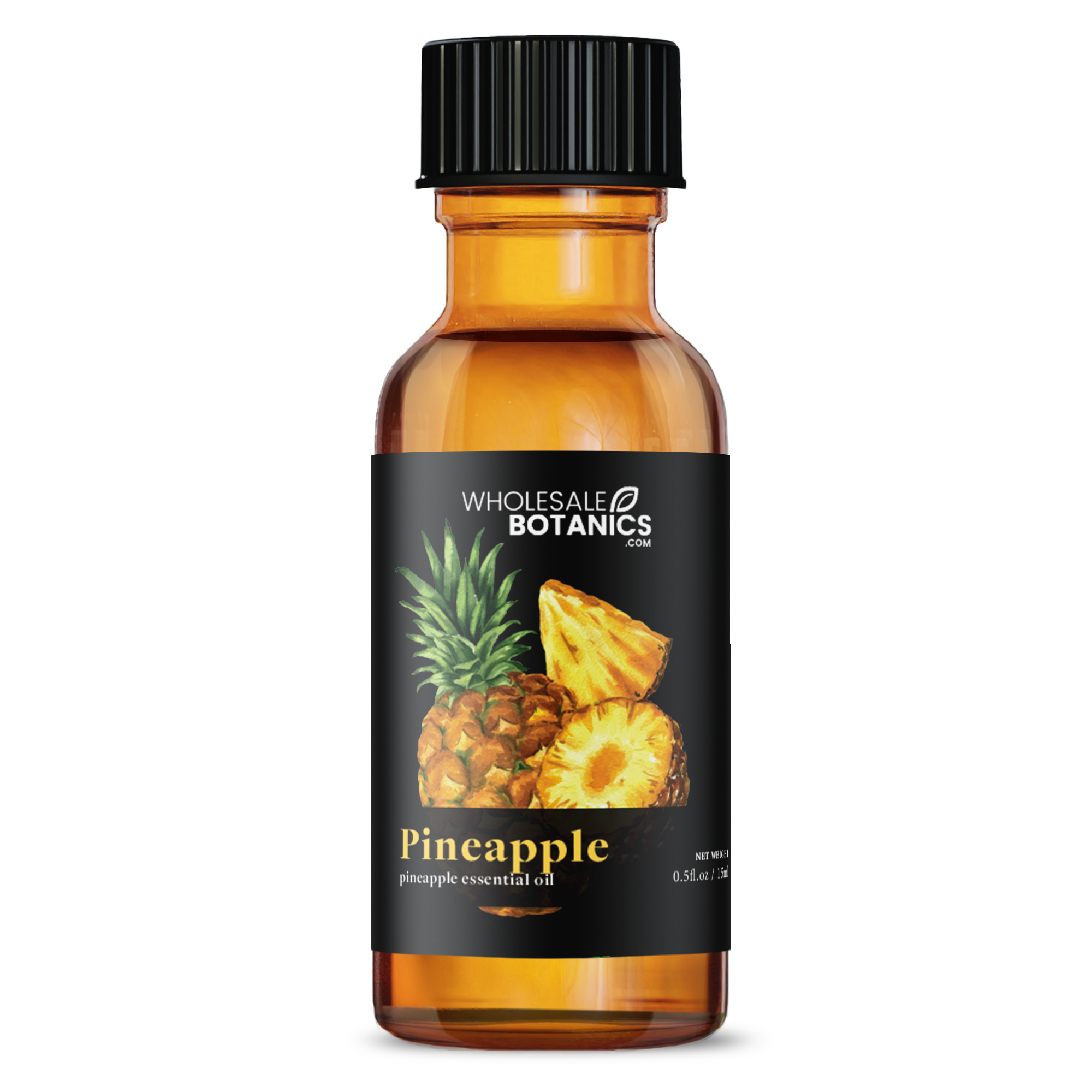 Pineapple Oil
Frequently Bought Together
Vegan Friendly
The oil is 100% Vegan - No animal was harmed nor used in the manufacturing of this product.
Responsibly Sourced
We work with farms and producers in over 30 countries to support renewable harvest and grow practices.
Oil Report
Access the certificate of analysis below to see the geographical and scientific data of our Pineapple Oil.
Geographical & Botanical Breakdown of Pineapple Oil
View and download the Certificate of Analysis for our Pineapple Oil.
Botanical Name
Ananas comosus
Oil Profile
Pineapple Oil nourishes the skin, hair, and nails with its rich source of vitamins.
Extraction Method
Solvent Extraction
Parts Used
Seeds, fruit, and rind
Appearance
Pale yellow liquid
Aroma
Fruity, sweet, citrus
Key Components
Limonene, palmitic acid, α-farnesene
Blends Well With
Bergamot, sweet orange, and ylang ylang essential oils
Mixes Well With
Jojoba, argan, or coconut carrier oils
Features & Benefits
Strong, grounding scent that's ideal for diffusing in the home.
Promotes relaxation and mental clarity.
Can be added to natural skin products due to its anti-inflammatory properties.
The sweet and juicy Pineapple fruit has a rich history, originating in South America and spreading across the globe. Packed with beneficial compounds like bromelain and vitamin C, the Pineapple is valued for its digestive and immune-boosting properties. Extracted from the seeds and rind of the fruit, Pineapple Oil is used in cosmetics and skincare products for its ability to hydrate and brighten the skin. Its fresh and fruity aroma makes it a popular addition to perfumes and scented candles. With its numerous health benefits and delightful scent, Pineapple oil is a must-have in any natural wellness routine.
What Our Customers Think
"This EO is absolutely amazing. The aroma is intoxicating! I used it with body butter and lip balm and the results are fabulous."
- Angelique Jordan
03/08/23
"Excellent product love it will order again"
- Warren Kobayashi
07/10/22
"I love this oil, it's light and feels refreshing like I'm feeding my skin. Thank you!"
- Karen Holmes
02/23/22
Reviewed by Angelique J., from United States
Verified Buyer
I recommend this product
Better Quality Product
Excellent product love it will order again
A+ Quality
I love this oil, it's light and feels refreshing like I'm feeding my skin. Thank you!
Healthy roots
Yeah I need more stars so amazing product, shipping and gift OMG . Thank you so much I feel so good skin like paradise ??