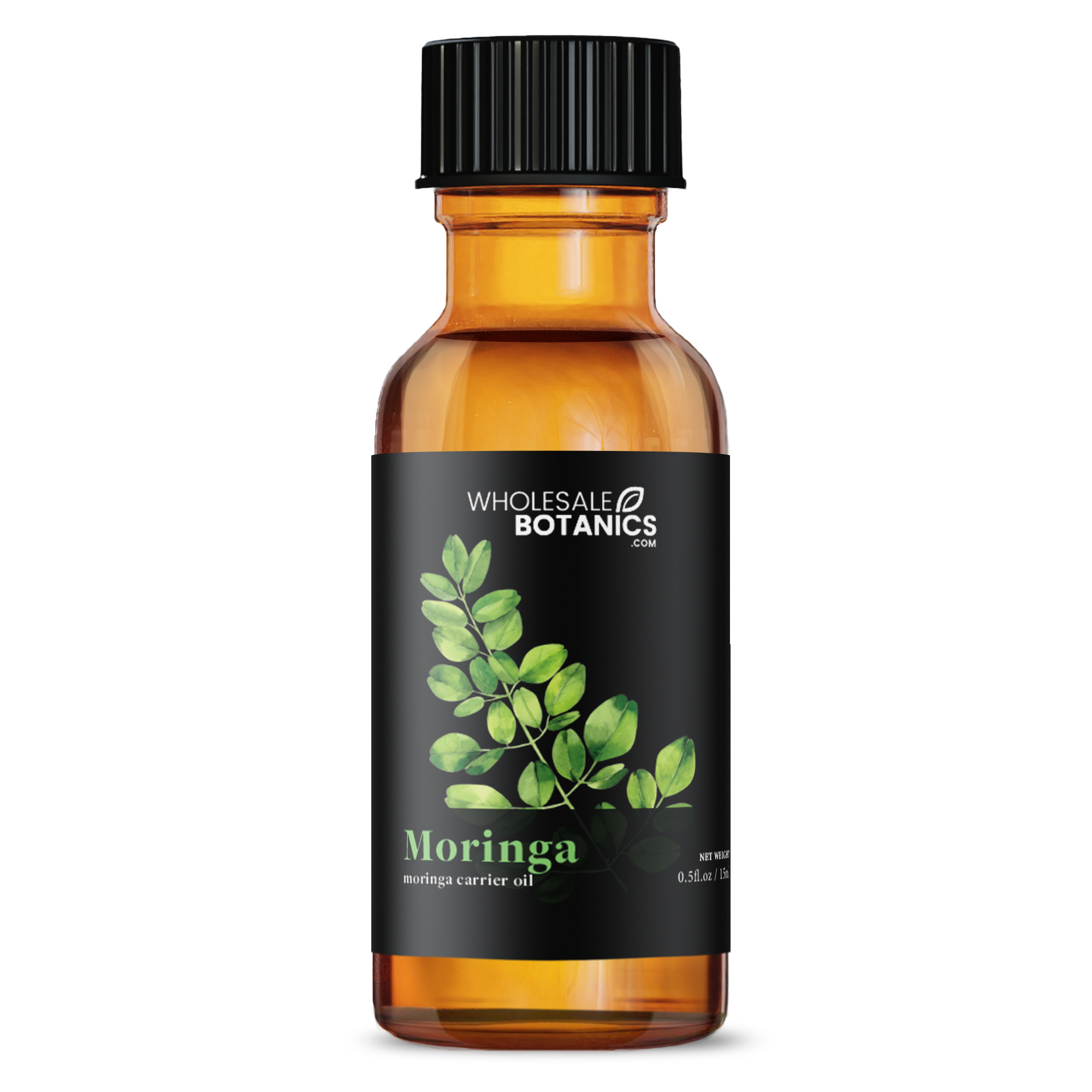 Moringa Oil
Frequently Bought Together
Responsibly Sourced
We work with farms and producers in over 30 countries to support renewable harvest and grow practices.
100% Pure
Wholesale Botanics guarantees that this pure moringa oil is undiluted, unadulterated, and contains no additional ingredients beyond the oil itself.
Oil Report
Access the certificate of analysis to see the composition and purity of our Moringa Oil.
Geographical & Botanical Breakdown of Moringa Oil
View and download the Certificate of Analysis for our 100% Pure Moringa Oil.
Botanical Name
Moringa oleifera
This essential oil is comprised only of natural plant material and contains no synthetics, fillers, or other harmful materials.
Ingredients
100% Moringa Oil
Oil Profile
Nourish your skin with the luxurious Moringa Oil, packed with antioxidants and anti-inflammatory properties.
Extraction Method
Cold Pressed
Aroma
Nutty, woodsy, resinous
Key Components
Oleic acid, gadoleic acid, plamitoleic acid
Blends Well With
Frankincense, cinnamon, and patchouli essential oils
Mixes Well With
Marula, tamanu, or sweet almond carrier oils
Features & Benefits
Nourishes and soothes the skin and hair.
Relax and unwind with its calming and soothing benefits.
Increase hydration of hair, skin, and nails.
Moringa Oil has a rich history dating back to ancient times when it was valued for its medicinal and cosmetic properties. Native to India and widely cultivated throughout Asia and Africa, Moringa Oil is extracted from the seeds of the Moringa oleifera tree. Its high concentration of vitamins, antioxidants, and anti-inflammatory compounds makes it an excellent addition to skincare and haircare products. It nourishes and hydrates the skin, promotes hair growth, and soothes inflammation. This oil's versatility and impressive benefits have earned it a well-deserved place among nature's most powerful oils.
What Our Customers Think
"Such a treat! Thank you."
- Braiden Wright
02/01/22
"Top! Shipped on time!"
- Kristian
01/09/22
"Great oil, exactly what I wanted, thank you!"
- Rubie
11/13/21
100%
of reviewers would recommend this product to a friend
Thank you
Great oil, exactly what I wanted, thank you!