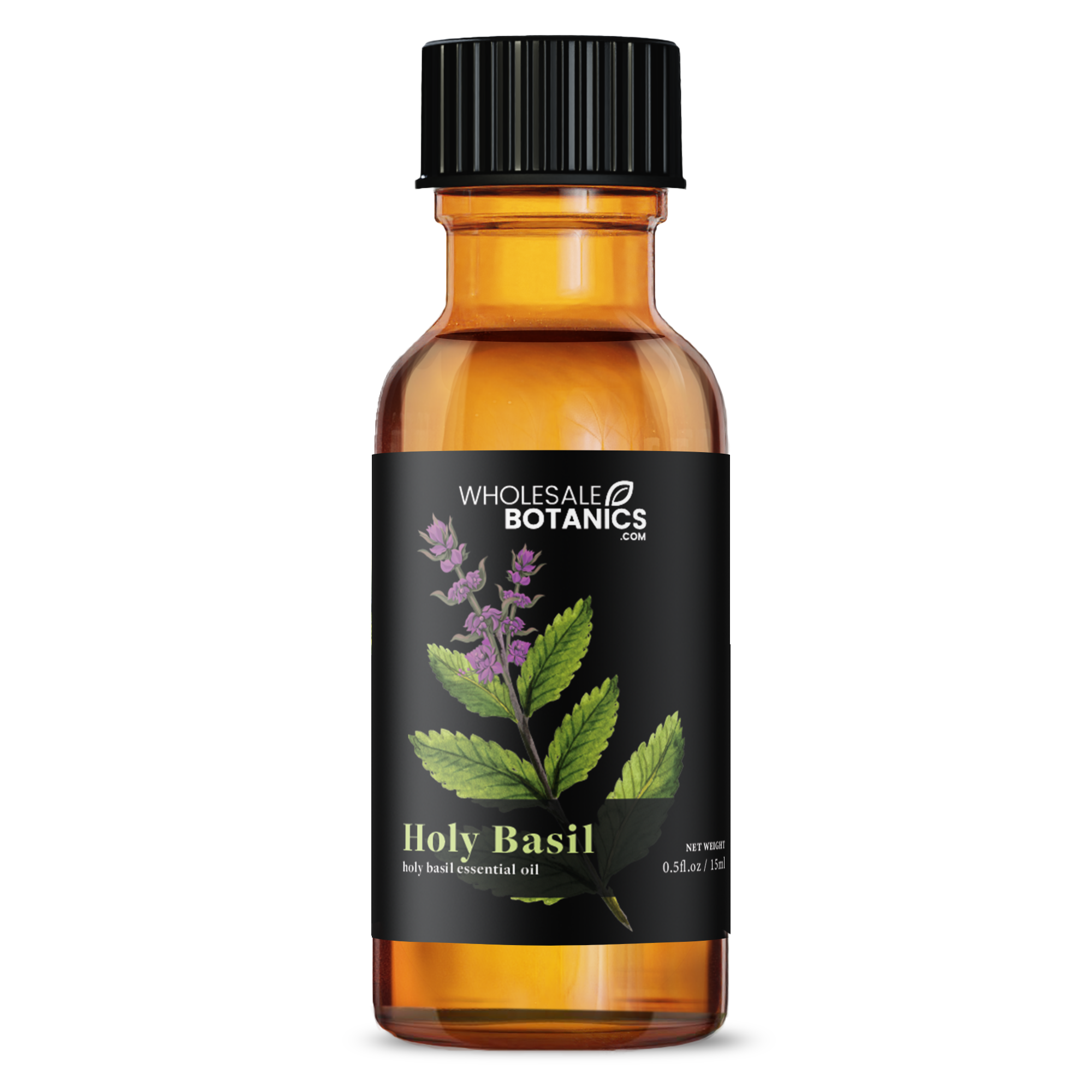 Holy Basil Essential Oil
Frequently Bought Together
Vegan Friendly
The oil is 100% Vegan - No animal was harmed nor used in the manufacturing of this product.
Responsibly Sourced
We work with farms and producers in over 30 countries to support renewable harvest and grow practices.
Oil Report
Access the certificate of analysis below to see the geographical and scientific data of our Holy Basil Oil.
Geographical & Botanical Breakdown of Holy Basil Oil
View and download the Certificate of Analysis for our Holy Basil Oil.
Botanical Name
Ocimum tenuiflorum
Also Known As
Tulsi Essential Oil
Indian Basil Oil
Tulasi Oil
Oil Profile
Holy Basil Essential oil is a warm and earthy oil, perfect for aromatherapy, skincare, and joint pain relief.
Extraction Method
Steam Distillation
Appearance
Pale yellow to brown liquid
Aroma
Spiced, herbal, complex
Key Components
Eugenol, trans-caryophyllene, geraniol
Blends Well With
Clary sage, neroli, and bergamot essential oils
Mixes Well With
Marula, tamanu, or sweet almond carrier oils
Features & Benefits
Creates a relaxing atmosphere.
Its warm fragrance promotes a peaceful and relaxing atmosphere.
Treats minor skin wounds when diluted.
Holy Basil, also known as Tulsi, is an aromatic plant that originated in India and has been used for centuries to promote nervous and cardiovascular health. Thanks to its rich content of phytonutrients - natural plant compounds with antioxidant properties - Holy Basil has gained popularity in skincare products for treating various skin conditions such as dryness and irritation. Additionally, its anti-inflammatory effects make it a promising remedy for topical use in alleviating joint pain. If you're looking to add a natural and versatile oil to your collection, Holy Basil Oil is definitely worth considering.
What Our Customers Think
"Perfect, quick shipping"
- Sophia
05/08/22
"Much better than cheap alternatives I've bought on other sites"
- Ashton
12/03/21
"Such a lovely smell!"
- Derek
08/13/21
100%
of reviewers would recommend this product to a friend
Reviewed by Sophia, from United States
Verified Buyer
I recommend this product
Reviewed by Elise, from United States
Verified Buyer
I recommend this product
Clearly high quality
Much better than cheap alternatives I've bought on other sites
Reviewed by Richard, from United States
Verified Buyer
I recommend this product