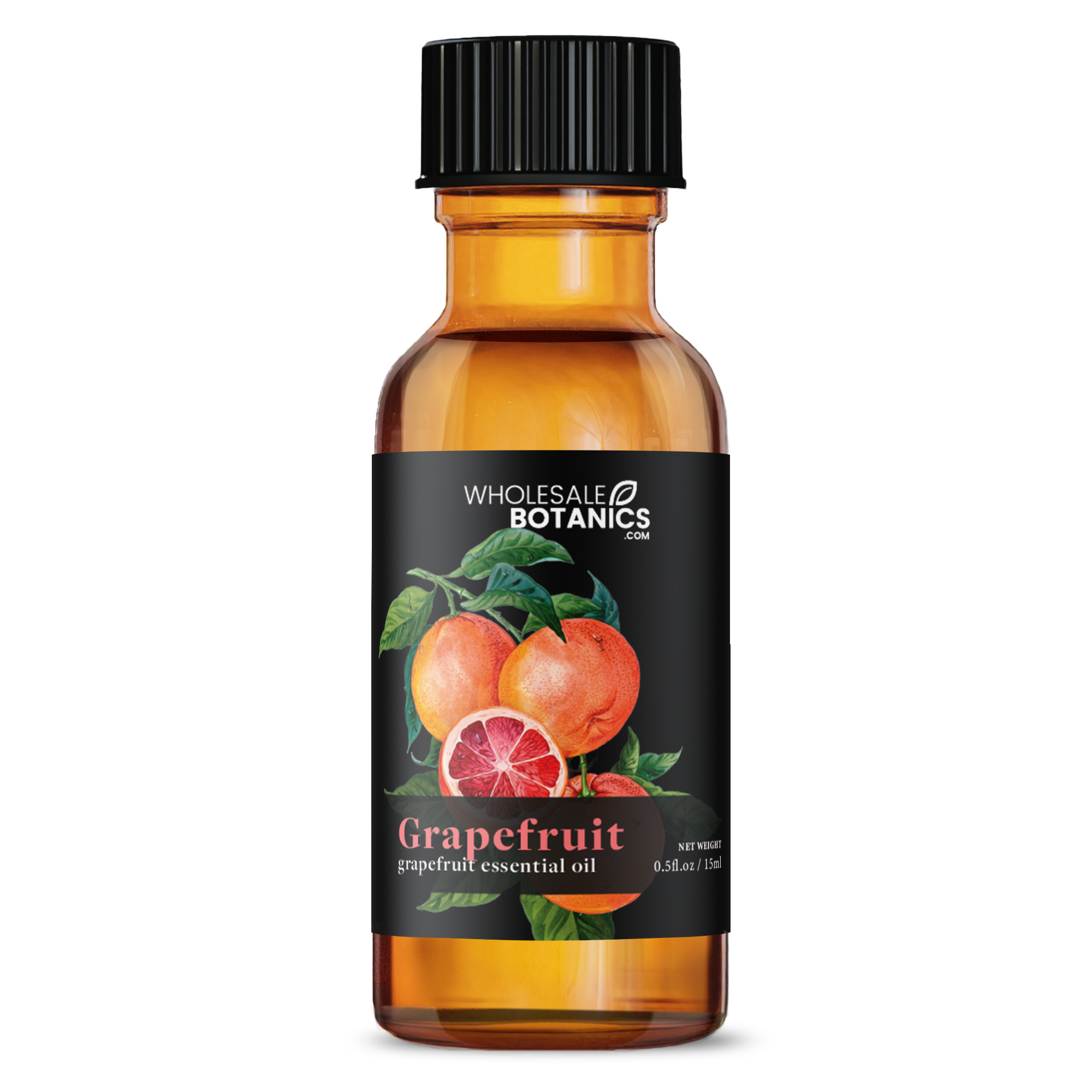 Grapefruit Essential Oil
Frequently Bought Together
Responsibly Sourced
We work with farms and producers in over 30 countries to support renewable harvest and grow practices.
100% Pure
Wholesale Botanics guarantees that this pure grapefruit oil is undiluted, unadulterated, and contains no additional ingredients beyond the oil itself.
Oil Report
Access the certificate of analysis to see the composition and purity of our Grapefruit Oil.
Geographical & Botanical Breakdown of Grapefruit Oil
View and download the Certificate of Analysis for our 100% Pure Grapefruit Oil.
Botanical Name
Citrus paradisii
Also Known As
Pomelo Essential Oil
Chakotra Oil
This essential oil is comprised only of natural plant material and contains no synthetics, fillers, or other harmful materials.
Ingredients
100% Grapefruit Oil
Oil Profile
Known for its vibrant citrus aroma, grapefruit is refreshing and so much more
Extraction Method
Cold Pressed
Appearance
Light yellow liquid
Aroma
Sweet, tart, citrus
Key Components
Limonene, myrcene, α-pinene
Blends Well With
Cedarwood, cypress, and rosemary essential oils
Mixes Well With
Marula, tamanu, or sweet almond carrier oils
Features & Benefits
Works well as a natural disinfectant
Promotes skin health when mixed with carrier oils
Creates an uplifting atmosphere when diffused
More than just a popular breakfast fruit, grapefruit essential oil is derived from the peel of the fruit, where most of the therapeutic compounds reside. With its signature bitter-citrus aroma, grapefruit oil is a versatile oil and is a fantastic staple for both household cleaning and personal use. It can also leave your home smelling fresh and vibrant. As an essential oil, grapefruit has many medicinal qualities as it is said to have antibacterial and antimicrobial properties. Not only is grapefruit a powerful disinfectant, but when used as part of aromatherapy or topically, grapefruit oil may balance mood and help with skin conditions like acne.
What Our Customers Think
"Refreshing citrus oil smell! So much energy!"
- Miranda
06/05/22
"To me it's like smelling a fresh peeled grapefruit, maybe even a little bit tangier then expected. It's wonderful! I love diffusing this oil and adding it to other blends as well."
- Deanna
04/22/22
"i absolutely love the smell of this oil. it is so clean and sophisticated and just lovely. This is a perfect addition to cp soap."
- George
03/16/22
92%
of reviewers would recommend this product to a friend
Reviewed by Latifa C., from United States
Verified Buyer
I recommend this product
Smells great
Smells awesome, light but the scent is there.
Reviewed by Rachel A., from United States
Verified Buyer
I recommend this product
Reviewed by Emmanuel H., from United States
Verified Buyer
I recommend this product
Reviewed by Skylar, from United States
Verified Buyer
I recommend this product
Fruity
Smells more fruity than citrusy and I'm not disappointed.