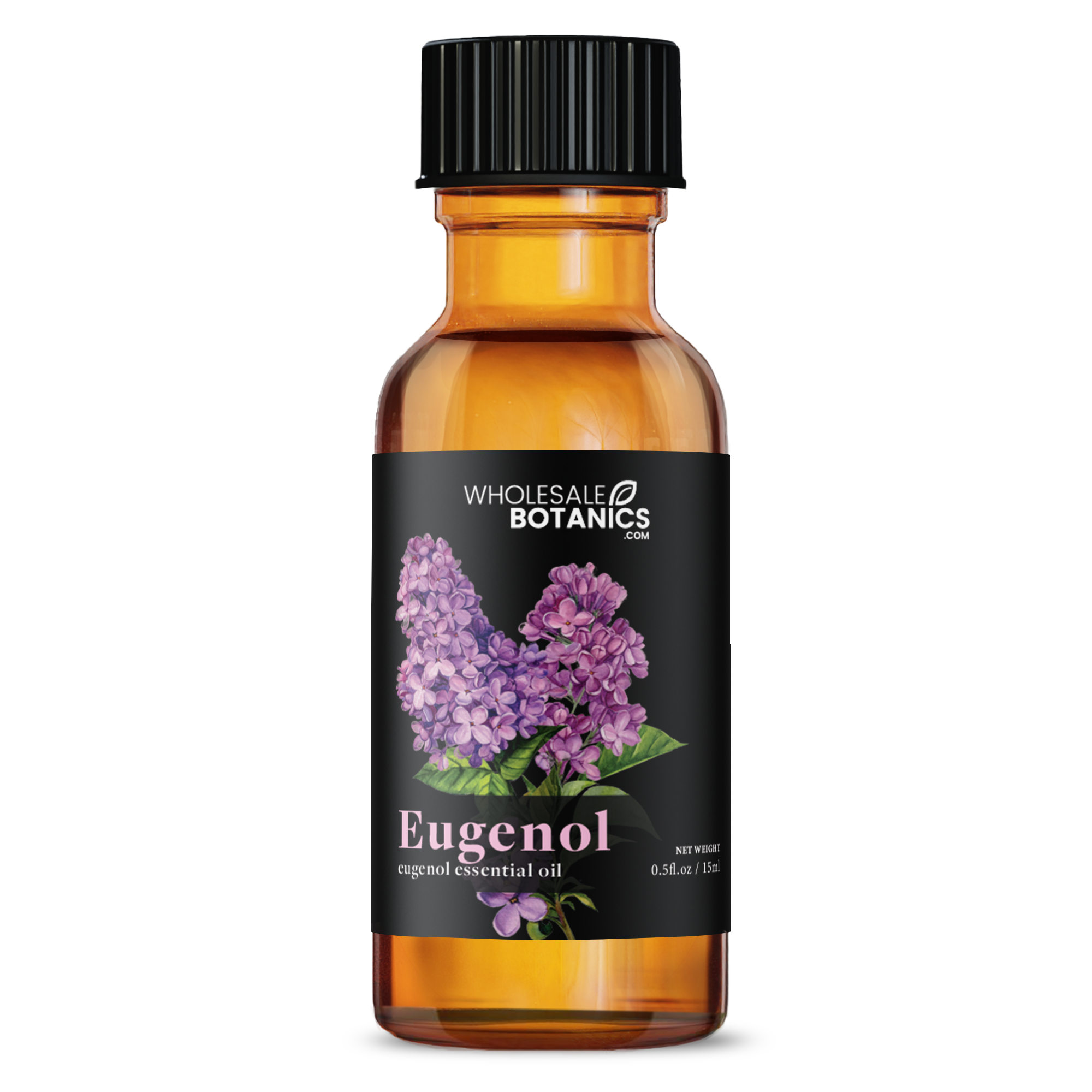 Eugenol
Frequently Bought Together
Vegan Friendly
The oil is 100% Vegan - No animal was harmed nor used in the manufacturing of this product.
Responsibly Sourced
We work with farms and producers in over 30 countries to support renewable harvest and grow practices.
Oil Report
Access the certificate of analysis below to see the geographical and scientific data of our Eugenol Oil.
Geographical & Botanical Breakdown of Eugenol Oil
View and download the Certificate of Analysis for our Eugenol Oil.
Botanical Name
Syzygium aromaticum
Oil Profile
With its warm and spicy fragrance, Eugenol Oil creates a cozy and focused atmosphere.
Extraction Method
Steam Distillation
Appearance
Pale yellow liquid
Aroma
Warm, pungent, spice
Blends Well With
Cinnamon, citronella, and juniper essential oils
Mixes Well With
Jojoba, argan, or coconut carrier oils
Features & Benefits
Boosts focus and mental clarity.
Warm and spicy fragrance enhances focus.
May calm skin redness due to its anti-inflammatory properties.
First extracted from the leaves of the Clove plant in the 19th century, Eugenol Oil has long been used as a potent pain-relieving agent in dentistry. With its sharp aroma, it was also popularly used in perfumes. Fast forward to today, and Eugenol Oil has made its way into an array of household cleaning products, soaps, and cosmetics. With its powerful anti-inflammatory and antimicrobial properties, this oil is a highly effective natural treatment for a variety of inflammatory skin issues. If you're looking to upgrade your natural wellness routine, Eugenol Oil is a must-have addition to your collection of essential oils.
What Our Customers Think
"I mix eugenol oil with my mouthwash and use it after brushing and it's just what I needed to complete my mouth hygiene habits, it's perfect."
- Todd
08/26/21
"Regular hand sanitizers dry my hands so much it hurts, but eugenol is a really good disinfectant too and does the opposite by hydrating my skin, a bit too much at times tho as it doesn't absorb as fast as I would like."
- Kate
05/19/21
"I like to take long baths and this oil gives that relaxation time a premium feeling with its awesome scent and substantial benefits for the skin."
- Daisy
09/13/21
100%
of reviewers would recommend this product to a friend
I was impressed with the shipping container, the oil itself, and presentation en masse.
The packaging of the product was stunning.
Only the time it took to process and receive the order was negative. Nonetheless, I will order again.
Reviewed by Derek, from United States
Verified Buyer
I recommend this product
Useful in intimate hygiene
Mixing eugenol oil with my bath water was a life changing decision. It's really good for feminine hygiene as it helps balance the ph and you know, give a neutral odor. It can also treat some mild vaginal ailments.
Reviewed by Eric, from United States
Verified Buyer
I recommend this product
For heartburn and discomfort after meals
I add a drop of this to whatever drink I'm having with my meal and it makes digestion effortless and curbs heartburn.
Reviewed by Chloe, from United States
Verified Buyer
I recommend this product
Makes breathing easier
It works really well when I'm congested, it clears my airways and helps me breathe easily. Also has a very nice scent which is a bonus.
Reviewed by Tiana, from United States
Verified Buyer
I recommend this product
Helps with digestion
Helps with general discomfort after big meals.