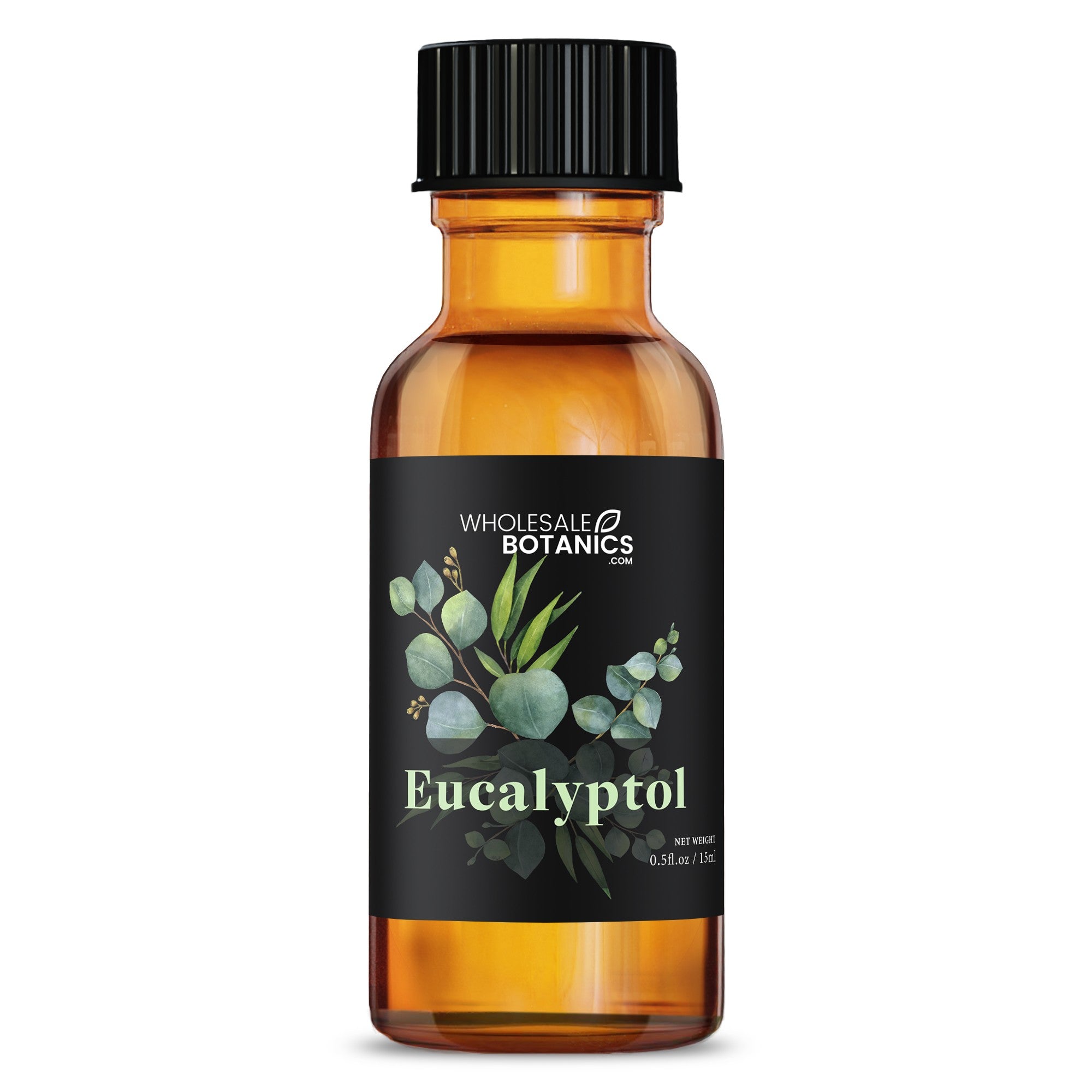 Eucalyptol
Frequently Bought Together
Responsibly Sourced
We work with farms and producers in over 30 countries to support renewable harvest and grow practices.
100% Pure
Wholesale Botanics guarantees that this pure eucalyptol is undiluted, unadulterated, and contains no additional ingredients beyond the oil itself.
Oil Report
Access the certificate of analysis to see the composition and purity of our Eucalyptol.
Geographical & Botanical Breakdown of Eucalyptol
View and download the Certificate of Analysis for our 100% Pure Eucalyptol.
Botanical Name
Eucalyptus globulus
This essential oil is comprised only of natural plant material and contains no synthetics, fillers, or other harmful materials.
Ingredients
100% Eucalyptol
Oil Profile
With its fresh scent, Eucalyptol has powerful mood-uplifting benefits.
Extraction Method
Steam Distillation
Parts Used
Leaves, terminal branches
Appearance
Colorless liquid
Aroma
Herbal, bold, cooling
Key Components
Eucalyptol
Blends Well With
Geranium, pine needle, and rosemary essential oils
Mixes Well With
Jojoba, argan, or coconut carrier oils
Features & Benefits
May increase mental alertness when inhaled.
Potent aroma ideal for diffusing to create an energizing atmosphere.
Soothes skin redness or minor irritation.
Eucalyptol is a key component found abundantly in Eucalyptus Oil that has powerful therapeutic properties. This compound is extracted from the Eucalyptus globulus plant native to Australia, one of 700 Eucalyptus species. The eucalyptol compound is also known as 1,8-cineole and was first isolated from Eucalyptus Oil in 1870.

Historically, Eucalyptol was used in oral hygiene products and cough suppressants for its invigorating, minty scent. Today, Eucalyptol is used in natural insect repellent formulations as well as in cosmetic products for its anti-inflammatory and antioxidant effects.
What Our Customers Think
"What did I like about the shipment? The Unpacking of it. When the package came you would have thought I had ordered a diamond from Tiffany's. The outer box, the inner box, the stuffing in the box (planer friendly shredded paper) - the total experience was beautiful."
- Benjamin Miller
07/10/22
"This oil is amazing. Pure and authentic"
- Lola Herman
02/12/22
"The scent is pretty powerful for just a few drops. The little bottle is a pretty value for the money."
- Denna Benfer
01/01/22
100%
of reviewers would recommend this product to a friend
This is the real good stuff!
Great price for pure eucalyptol
Chilly
Great, cool and effective
Lifesaver
Perfect! Way more powerful than normal eucalyptus