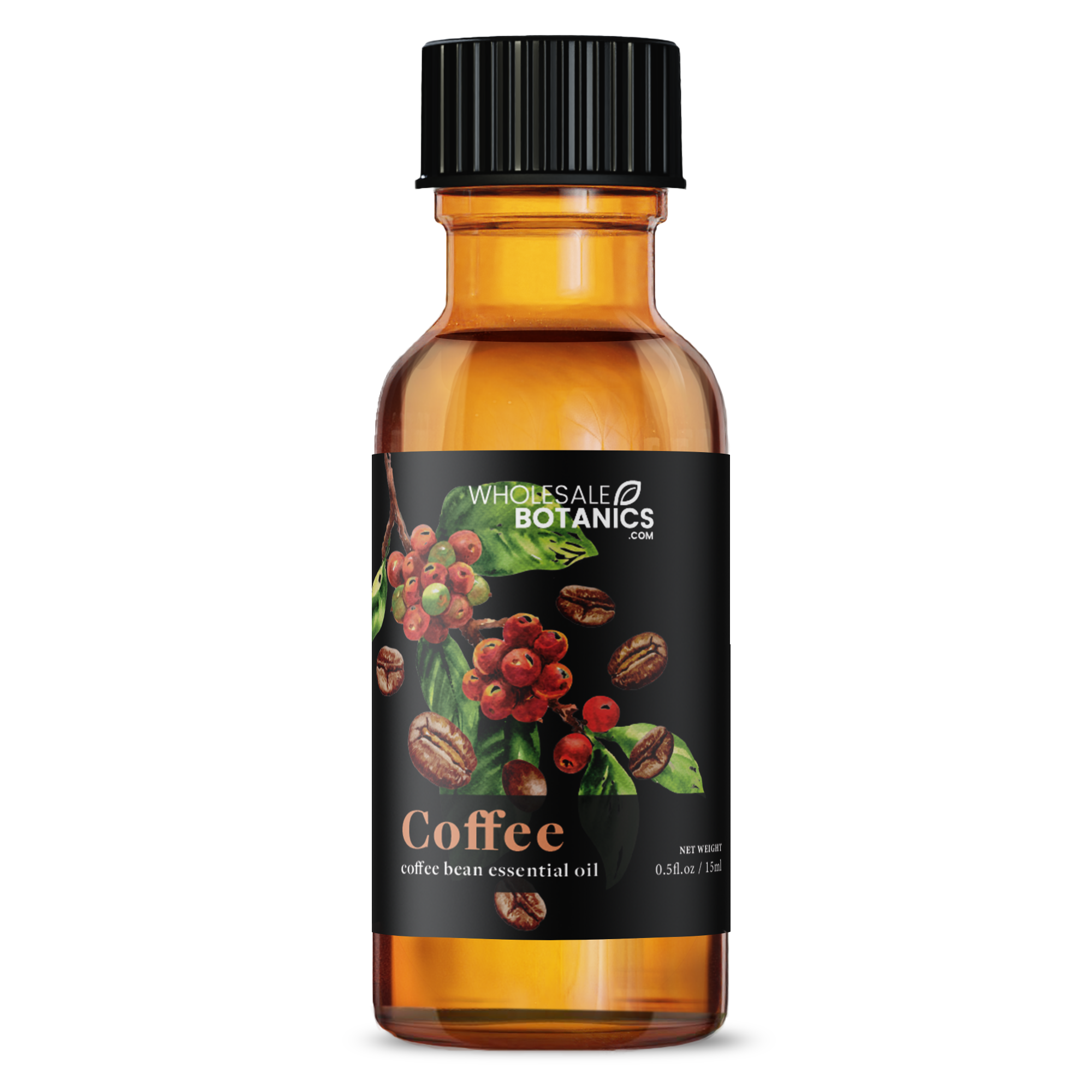 Coffee Essential Oil
Frequently Bought Together
Vegan Friendly
The oil is 100% Vegan - No animal was harmed nor used in the manufacturing of this product.
Responsibly Sourced
We work with farms and producers in over 30 countries to support renewable harvest and grow practices.
Oil Report
Access the certificate of analysis below to see the geographical and scientific data of our Coffee Oil.
Geographical & Botanical Breakdown of Coffee Oil
View and download the Certificate of Analysis for our Coffee Oil.
Botanical Name
Coffea arabica
Also Known As
Coffea Arabica Oil
Coffee Bean Oil
Oil Profile
Coffee essential oil amplifies the aroma and effects of your morning cup
Extraction Method
Steam Distillation
Appearance
Dark brown liquid
Aroma
Warm, roasted, earthy
Key Components
Theobromine, palmitic acid, linoleic acid
Blends Well With
Vanilla, cinnamon, and cardamom essential oils
Mixes Well With
Jojoba, argan, or coconut carrier oils
Features & Benefits
Bold, invigorating coffee smell
Revitalizes the body and mind
Excellent addition to your skincare regimen
A modern classic of essential oils, coffee oil brings everything you know and love about a fresh-brewed cup into an ultra-concentrated form. Not only will the smell, reminiscent of fresh-roasted beans, bring feelings of alertness and wakefulness, but those same properties can be harnessed when using the oil topically. Our favorite way to use coffee essential oil is to add a few drops to creams and lotions. Want to bring the smell to the next level? Try combining coffee oil with cinnamon and vanilla for a truly decadent skincare treat.
What Our Customers Think
"Thick, viscous oil. I can tell by that alone that this is high quality. The scent is powerful, rich, and soothing. It really fills the house with such an incredible aroma. I love diffusing in the morning as I wake up, while I actually drink my cup of coffee. Makes my kitchen feel like a cafe."
- Carlos
07/17/22
"Great for blends! Great on its own! I cannot get enough of the coffee aroma - so good!"
- Vincent
06/08/22
"Coffee oil is a THING! I had no idea. I am so impressed though, it smells like actual coffee!!!! I've been mixing in my diffuser with cinnamon, and now my whole apartment smells like a cleansing, mexican mocha. I love this oil!!"
- Julian
05/08/22
93%
of reviewers would recommend this product to a friend
Like the product
Like The quality and how it was packaged
My experience was wonderful,no problems with ANYTHING!
I'm enjoying my coffee oil!
Reviewed by Victoria, from United States
Verified Buyer
I recommend this product
If you need a mood booster, then you have found one here!
Uplifting and puts me in a great mood.
Reviewed by April, from United States
Verified Buyer
I recommend this product
Very earthy and strong
I love Wholesale Botanics oils! I know they are natural and chemical free, which I love. This coffee oil is fantastic... Strong, earthy, and definitely organic scent. Recommend for sure.