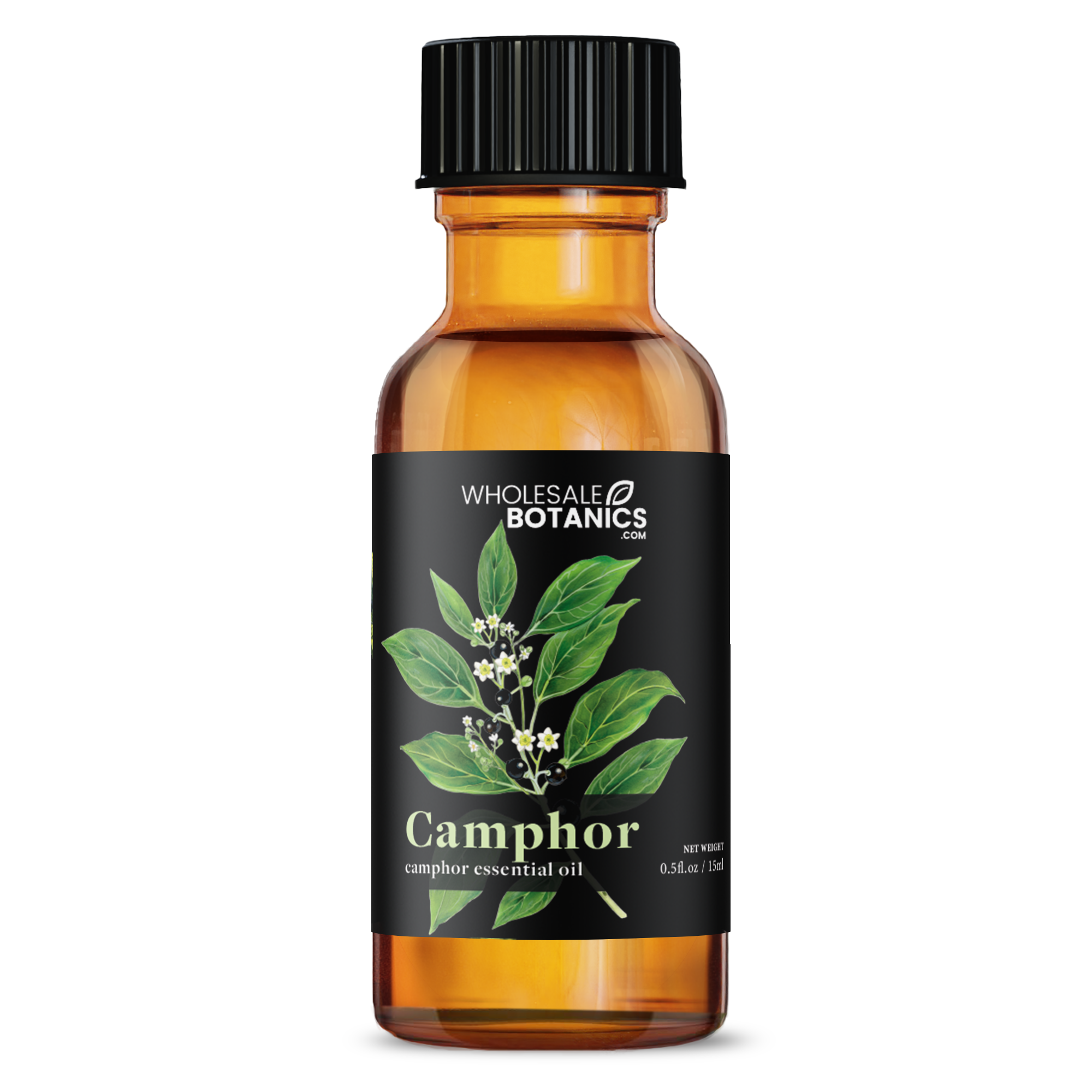 Camphor Essential Oil
Frequently Bought Together
Vegan Friendly
The oil is 100% Vegan - No animal was harmed nor used in the manufacturing of this product.
Responsibly Sourced
We work with farms and producers in over 30 countries to support renewable harvest and grow practices.
Oil Report
Access the certificate of analysis below to see the geographical and scientific data of our Camphor Oil.
Geographical & Botanical Breakdown of Camphor Oil
View and download the Certificate of Analysis for our Camphor Oil.
Botanical Name
Cinnamomum camphora
Also Known As
Camphorwood Oil
Camphor Tree Oil
Oil Profile
Long popular for its effects on breathing, our camphor essential oil is the most concentrated and potent form of the plant available.
Extraction Method
Steam Distillation
Parts Used
Branches and leaves
Aroma
Camphorous, cooling, woodsy
Key Components
Limonene, eucalyptol, α-pinene
Blends Well With
Cajeput, sweet basil, and rosemary essential oils
Mixes Well With
Calendula, grapeseed, or rosehip carrier oils
Features & Benefits
Naturally clears congestion when inhaled.
Proven natural muscle reliever.
Camphor has countless therapeutic topical uses.
The Camphor tree, indigenous to China and Japan, is renowned for its powerful healing properties. Distilled from the tree's branches and leaves, Camphor Oil has been a traditional remedy for treating congestion, infections, and muscle pain. Today, Camphor Oil is frequently used in topical analgesics and balms. Its refreshing and minty fragrance creates an invigorating aroma to help clear the airways and promote a sense of restoration and renewal.
What Our Customers Think
"I use camphor oil to help treat cold and congestion symptoms, rubbing it onto my chest and under my nose for instant relief. The warming sensation is so soothing!"
- Cleo
07/13/20
"So calming and soothing! We started putting it into our relaxation skin care products and it has been an absolute hit ever since."
- Ella
08/04/21
"Superior quality! Great for formulations."
- Luna
05/30/21
86%
of reviewers would recommend this product to a friend
Great
The packaging and quality of the product.
All was ok, except for getting free sample kit as stated on accompanied card. kit as indicated with my order. Unable to recieve thru method required.
Packaging safe guards to avoid spillage and leaks.
Reviewed by Becky M., from United States
Verified Buyer
I recommend this product
Very good
Well packaged, and strong scent.
Reviewed by Ronald H., from United States
Verified Buyer
I recommend this product
Great
The aroma was pleasing to the smell
Reviewed by Sheere B., from United States
Verified Buyer
I recommend this product
Fine
It was the right product but much smaller amounts/containers than I anticipated.