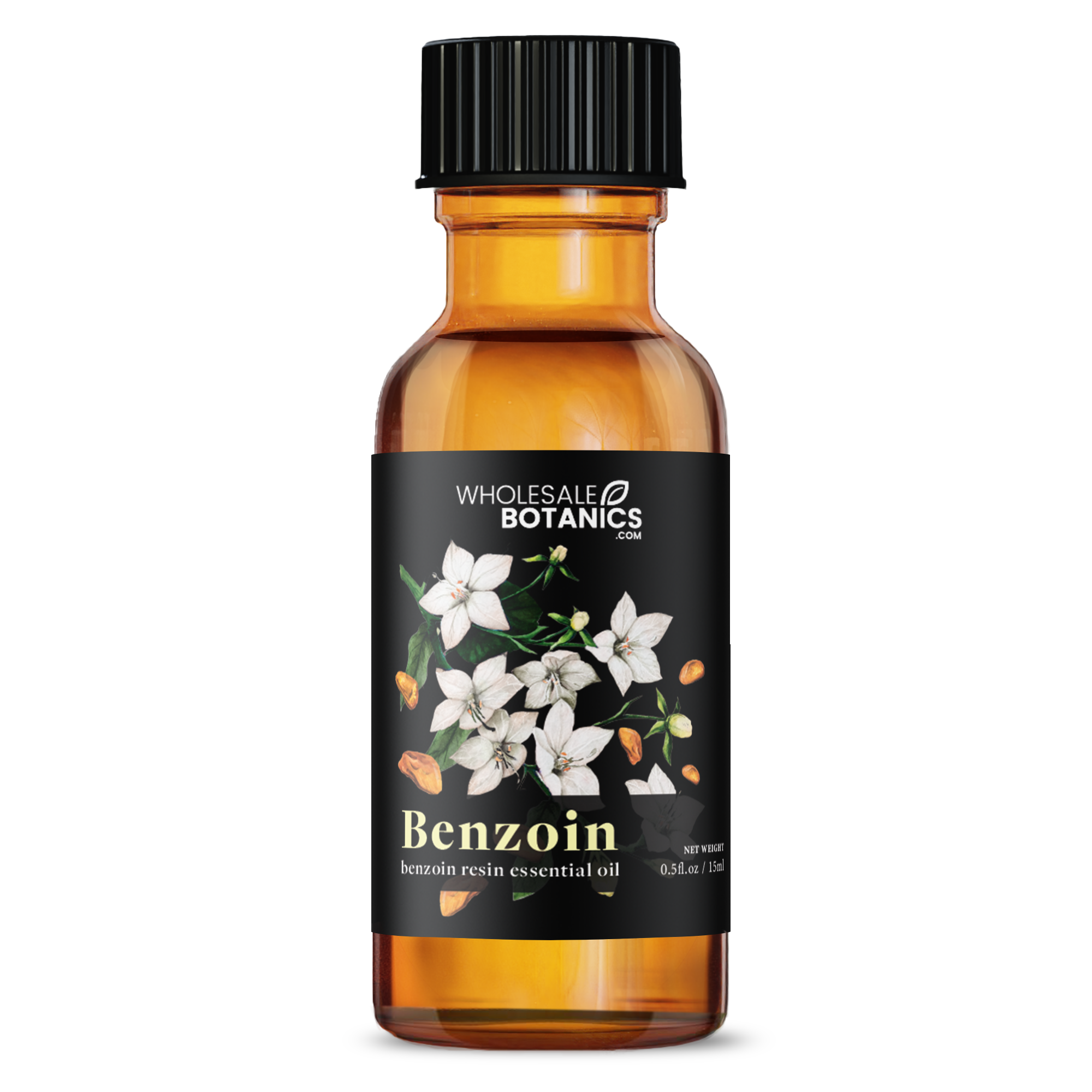 Benzoin Essential Oil
Frequently Bought Together
Vegan Friendly
The oil is 100% Vegan - No animal was harmed nor used in the manufacturing of this product.
Responsibly Sourced
We work with farms and producers in over 30 countries to support renewable harvest and grow practices.
Oil Report
Access the certificate of analysis below to see the geographical and scientific data of our Benzoin Oil.
Geographical & Botanical Breakdown of Benzoin Oil
View and download the Certificate of Analysis for our Benzoin Oil.
Botanical Name
Styrax benzoin
Oil Profile
Resinous Benzoin Oil is packed with deep, rich aromas and grounding, balancing properties.
Extraction Method
Solvent Extraction
Appearance
Golden brown liquid
Key Components
Cinnamic acid, benzoic acid, benzaldehyde
Blends Well With
Amber, frankincense, and patchouli essential oils
Mixes Well With
Calendula, grapeseed, or rosehip carrier oils
Features & Benefits
Uplifting, warm, vanilla-like aroma is the perfect base for perfumes.
Often used in incense, thanks to its bold and complex scent.
May reduce skin imperfections.
Benzoin oil stands out among other essential oils as it is derived from the sticky resin exuded by the benzoin tree's bark. Due to its warm and comforting fragrance, benzoin oil has been traditionally used in religious rituals since ancient times. Today, it is commonly used in the production of perfumes and incense, and it is also diffused to create an uplifting atmosphere.
What Our Customers Think
"Great oil, just a dash turns my daily cream into that expensive store cream! Will buy this again."
- Amelia
12/17/21
"I really like this oil, it's a bit thick & takes time to work with it, but worth every bit."
- Lydia
05/11/22
"The aroma of this oil is incredible. Smells warm and inviting, like vanilla. My customers tell me how relaxing and calming this scent it all of the time."
- Max
05/06/22
90%
of reviewers would recommend this product to a friend
Reviewed by Sylvia P., from United States
Verified Buyer
I recommend this product
Fast professional service and detailed packaging.
It was what I expected and some.
Reviewed by Coniece W., from United States
Verified Buyer
I recommend this product
Lovely
I haven't used it yet but I plan on using it for many things. I read than it could be used for a lot of things. I love the way it smells nice and seems to be of good quality. It shipped really fast and I plan on ordering more soon.
Reviewed by jennifer K., from United States
Verified Buyer
I recommend this product
Super service and good product!
I used some of the benzoin for a soap. It was thicker oil than Im used to working with for fragrance, but I found a tip to thin it down. Once I thinned it down, it worked great!
Reviewed by Ariana, from United States
Verified Buyer
I recommend this product
Just like vanilla!
Can't get enough of this!
Reviewed by Kaylee, from United States
Verified Buyer
It's thick, but
it is a thicker oil, but it does wonders in my sugar scrubs!