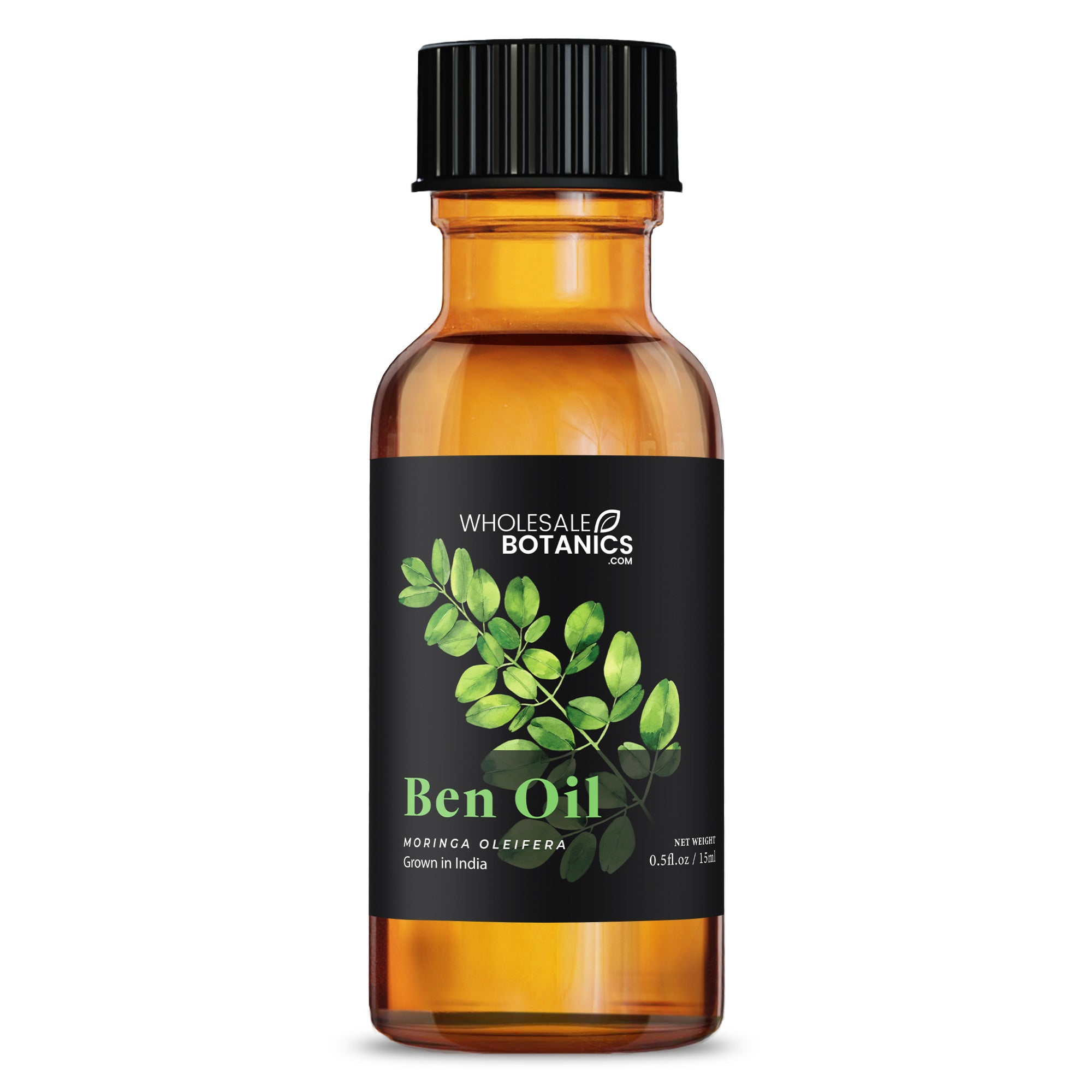 Ben Oil
Frequently Bought Together
Vegan Friendly
The oil is 100% Vegan - No animal was harmed nor used in the manufacturing of this product.
Responsibly Sourced
We work with farms and producers in over 30 countries to support renewable harvest and grow practices.
Oil Report
Access the certificate of analysis below to see the geographical and scientific data of our Ben Oil.
Geographical & Botanical Breakdown of Ben Oil
View and download the Certificate of Analysis for our Ben Oil.
Botanical Name
Moringa oleifera
Oil Profile
Abundant in vitamins, Ben Oil is the perfect addition to your skincare and haircare routines.
Extraction Method
Cold Pressed
Aroma
Nutty, woodsy, resinous
Key Components
Oleic acid, gadoleic acid, plamitoleic acid
Blends Well With
Frankincense, cinnamon, and patchouli essential oils
Mixes Well With
Marula, tamanu, or sweet almond carrier oils
Features & Benefits
Provides beneficial nutrients for skin radiance.
Lightly nutty aroma blends well with essential oils.
Antioxidant-rich profile may promote healthy skin.
Ben Oil is derived from the seeds of the Moringa peregrina plant. Native to tropical and subtropical regions, this plant's leaves, seeds, and other parts were used to create remedies to address wounds, fevers, burns, and skin issues. Ben Oil's appeal lies in its rich composition of bioactive compounds, including antioxidants and antimicrobial agents. These properties contribute to its potential to combat free radicals, promote skin health, and protect against environmental stressors.

It is now frequently used in skincare, as it offers nourishment, hydration, and protection, making it an ideal addition to lotions, creams, and body washes.
What Our Customers Think
"Such a treat! Thank you."
- Braiden Wright
02/01/22
"Top! Shipped on time!"
- Kristian
01/09/22
"Great oil, exactly what I wanted, thank you!"
- Rubie
11/13/21
100%
of reviewers would recommend this product to a friend
Thank you
Great oil, exactly what I wanted, thank you!