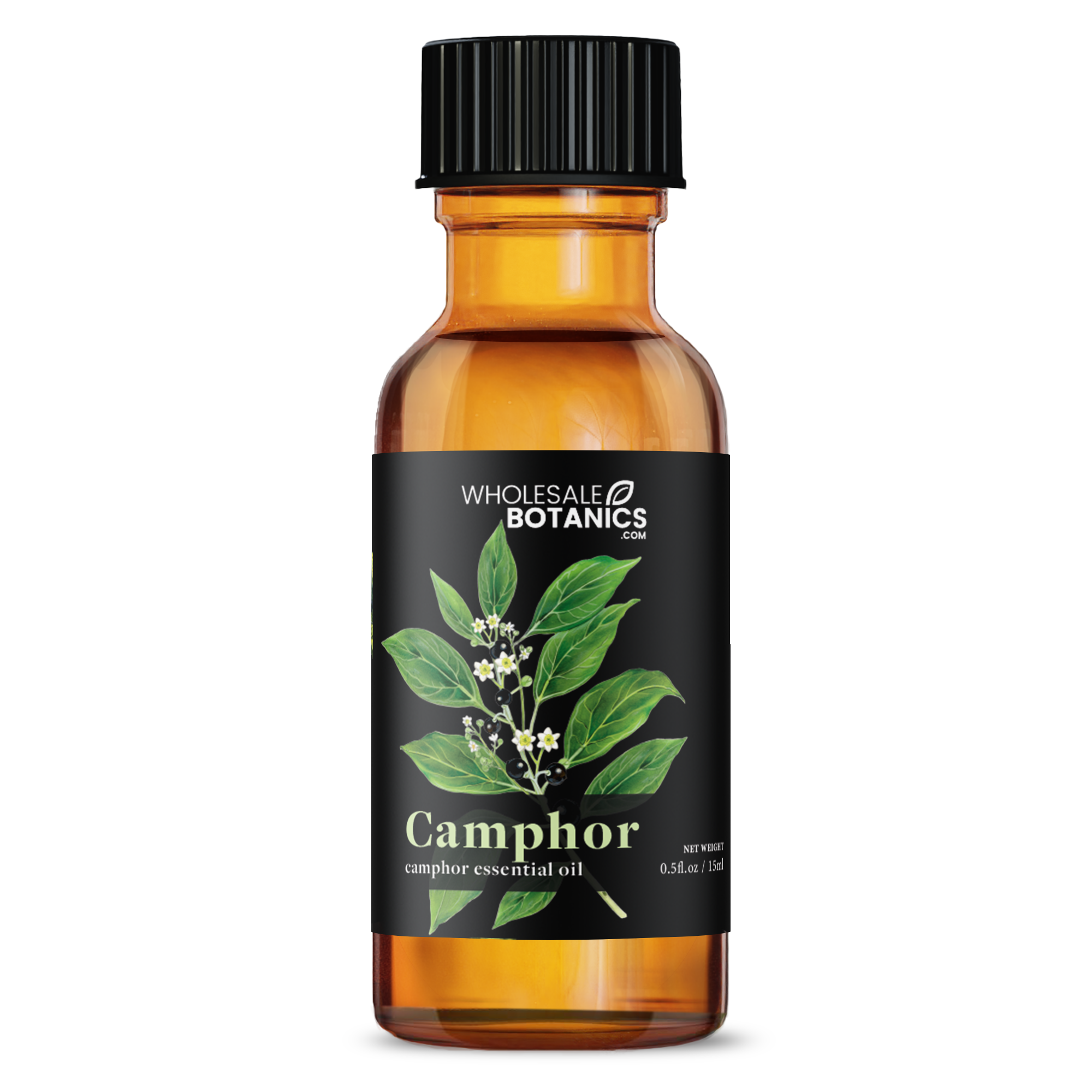 Camphor Essential Oil
Frequently Bought Together
Vegan Friendly
The oil is 100% Vegan - No animal was harmed nor used in the manufacturing of this product.
Responsibly Sourced
We work with farms and producers in over 30 countries to support renewable harvest and grow practices.
Oil Report
Access the certificate of analysis below to see the geographical and scientific data of our Camphor Oil.
Geographical & Botanical Breakdown of Camphor Oil
View and download the Certificate of Analysis for our Camphor Oil.
Botanical Name
Cinnamomum camphora
Also Known As
Camphorwood Oil
Camphor Tree Oil
Oil Profile
Long popular for its effects on breathing, our camphor essential oil is the most concentrated and potent form of the plant available.
Extraction Method
Steam Distillation
Parts Used
Branches and leaves
Aroma
Camphorous, cooling, woodsy
Key Components
Limonene, eucalyptol, α-pinene
Blends Well With
Cajeput, sweet basil, and rosemary essential oils
Mixes Well With
Calendula, grapeseed, or rosehip carrier oils
Key Components
Camphor Oil is a rich source of
D-camphor
. This compound has local analgesic and anti-inflammatory effects, which may soothe sore muscles and calm skin irritation.
α-Terpineol, found in Camphor Oil, exhibits potential antibacterial properties, as it has demonstrated specific
antibacterial activity
against Escherichia coli bacteria.
Camphor Oil contains 1,8-cineole, a compound that has potent
antioxidant properties
that may shield the skin from pollutants and environmental stressors.
Camphor Oil Uses
Camphor Oil offers a range of therapeutic benefits due to its unique composition of bioactive compounds. Discover the versatile ways to incorporate this invigorating oil into your wellness routine.
How to Use Camphor Oil
Topical Uses
Soothing Muscle Balm: Dilute Camphor Oil in a carrier oil, such as Jojoba Oil, and massage onto tired muscles for its potential cooling and analgesic properties.
Anti-Redness Moisturizer: Add a small amount of Camphor Oil to your facial moisturizer and blend thoroughly. This oil's anti-inflammatory properties may help soothe irritated skin.
Aromatic Uses
Mental Alertness: Add a few drops to a diffuser or inhaler to experience Camphor Oil's refreshing, cooling, and invigorating aroma, which may promote alertness and concentration.
Scented Cleaning Solution: Dilute a few drops of Camphor Oil in natural dish soap for a fresh, all-purpose cleaning solution.
Energizing Camphor Oil Recipe
Ingredients
10 ml roller ball bottle
10 drops Camphor Oil
10 drops Peppermint Essential Oil
Fractionated Coconut Oil (or carrier oil of your choice)
Instructions
Combine the ingredients in the roller bottle. Apply the blend to your temples, wrists, or any desired pulse points for a refreshing and uplifting aroma.
Camphor Oil Fun Facts
Due to its minty, refreshing scent, inhaling Camphor Oil may have the potential to alleviate minor congestion.
What is Camphor Oil?
The Camphor tree, indigenous to China and Japan, thrives in subtropical and tropical climates and has been cultivated for centuries, valued for its aromatic and therapeutic qualities.
Camphor trees were initially cultivated for their aromatic and medicinal qualities, leading to the extraction of its powerful oil from its leaves and branches.
With roots in ancient traditions, Camphor Oil was used as a remedy for congestion, infections, and muscle pain.
In modern times, Camphor Oil's analgesic and anti-inflammatory properties have been incorporated into topical analgesics, muscle balms, and ointments. Its refreshing and minty fragrance creates an invigorating aroma that may help clear the airways and promote a sense of renewal.
What Our Customers Think
"I use camphor oil to help treat cold and congestion symptoms, rubbing it onto my chest and under my nose for instant relief. The warming sensation is so soothing!"
- Cleo
07/13/20
"So calming and soothing! We started putting it into our relaxation skin care products and it has been an absolute hit ever since."
- Ella
08/04/21
"Superior quality! Great for formulations."
- Luna
05/30/21
86%
of reviewers would recommend this product to a friend
Great
The packaging and quality of the product.
All was ok, except for getting free sample kit as stated on accompanied card. kit as indicated with my order. Unable to recieve thru method required.
Packaging safe guards to avoid spillage and leaks.
Reviewed by Becky M., from United States
Verified Buyer
I recommend this product
Very good
Well packaged, and strong scent.
Reviewed by Ronald H., from United States
Verified Buyer
I recommend this product
Great
The aroma was pleasing to the smell
Reviewed by Sheere B., from United States
Verified Buyer
I recommend this product
Fine
It was the right product but much smaller amounts/containers than I anticipated.