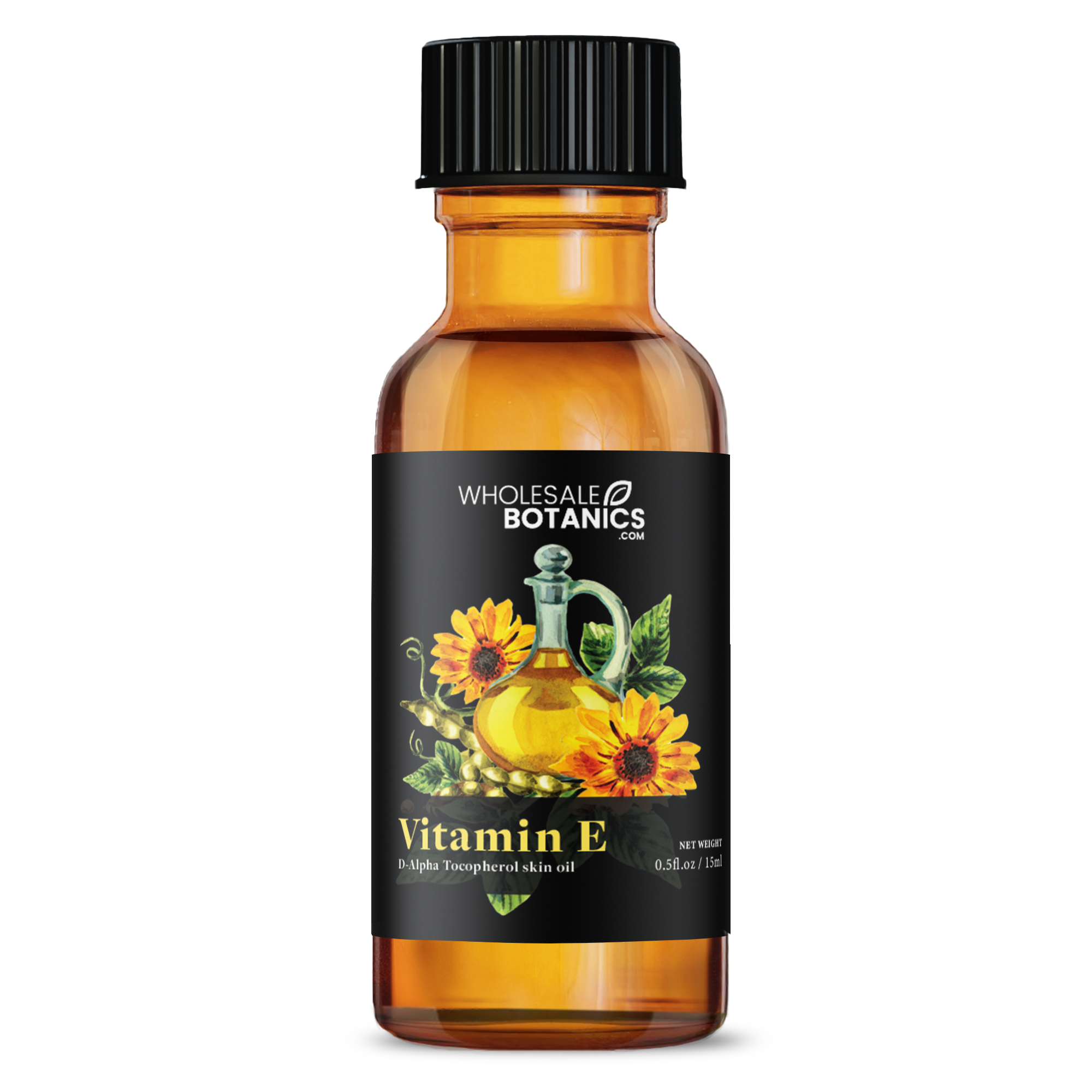 Vitamin E Oil
Frequently Bought Together
Vegan Friendly
The oil is 100% Vegan - No animal was harmed nor used in the manufacturing of this product.
Responsibly Sourced
We work with farms and producers in over 30 countries to support renewable harvest and grow practices.
Oil Report
Access the certificate of analysis below to see the geographical and scientific data of our Vitamin E Oil.
Geographical & Botanical Breakdown of Vitamin E Oil
View and download the Certificate of Analysis for our Vitamin E Oil.
Botanical Name
α-Tocopherol
Oil Profile
Discover the versatile power of Vitamin E Oil for healthier, more radiant skin and hair.
Appearance
Amber yellow liquid
Key Components
α-Tocopherol
Blends Well With
Lemon, lavender, and clary sage essential oils
Mixes Well With
Jojoba, almond, or coconut carrier oils
Features & Benefits
Soothes and hydrates dull, dry skin.
Mild scent makes it a neutral base to mix with essential oils.
Protects the skin against environmental stressors and free radical damage.
Discovered in the 20th century, Vitamin E Oil is a fat-soluble vitamin found in certain plants, nuts, and seeds. In ancient medicine, Vitamin E-rich oils, like wheat germ oil and olive oil, were used topically to soothe and heal wounds. Today, Vitamin E Oil is extracted from sources like soybeans, sunflower seeds, and almonds, and is used in skincare products for its antioxidant properties. It's known to help protect the skin from free radical damage, promote healing, and hydrate dry skin. It's also commonly used in hair care products to nourish and condition hair.
What Our Customers Think
"Mix this with sunscreen for an extra layer of protection and some bonus hydration cause the salty water at the beach can dry out the skin a lot, at least in my experience."
- Brad
03/26/22
"Very pleased with this product, my skin has improved greatly and feels firmer."
- Miley
02/10/22
"Very hydrating so I like to massage my customer's nails with it after they get their hands or feet done."
- Leonardo
02/10/22
100%
of reviewers would recommend this product to a friend
Overall it was a good experience
I haven't used the product yet, but I'm sure it's going to work out great! Impressed with the packaging!! I would like to see LARGER lettering on your labels though!!
Feels nice going on my skin
Reviewed by Dani W., from United States
Verified Buyer
I recommend this product
Reviewed by Brenda, from United States
Verified Buyer
I recommend this product
Calmed itchy urticaria
If you've had urticaria you can imagine my suffering lol Vitamin E oil helped curb the itch, but didn't solve the root problem. Can't complain anyways, it made the itch disappear which was already a relief.
Reviewed by Glenda, from United States
Verified Buyer
I recommend this product
Made me look younger
After years of trying every brand of cosmetics with little to no results, I decided to take a more natural approach and try an essential oil. I inquired in a group about what would be better for my skin as it's showing signs of aging, and there were multiple answers, but Vitamin E seemed the perfect choice to initiate me... Thought process was simple, it has vitamin in the name and that must mean something good. After only two months using it, my skin is significantly softer and most fine lines are fading.