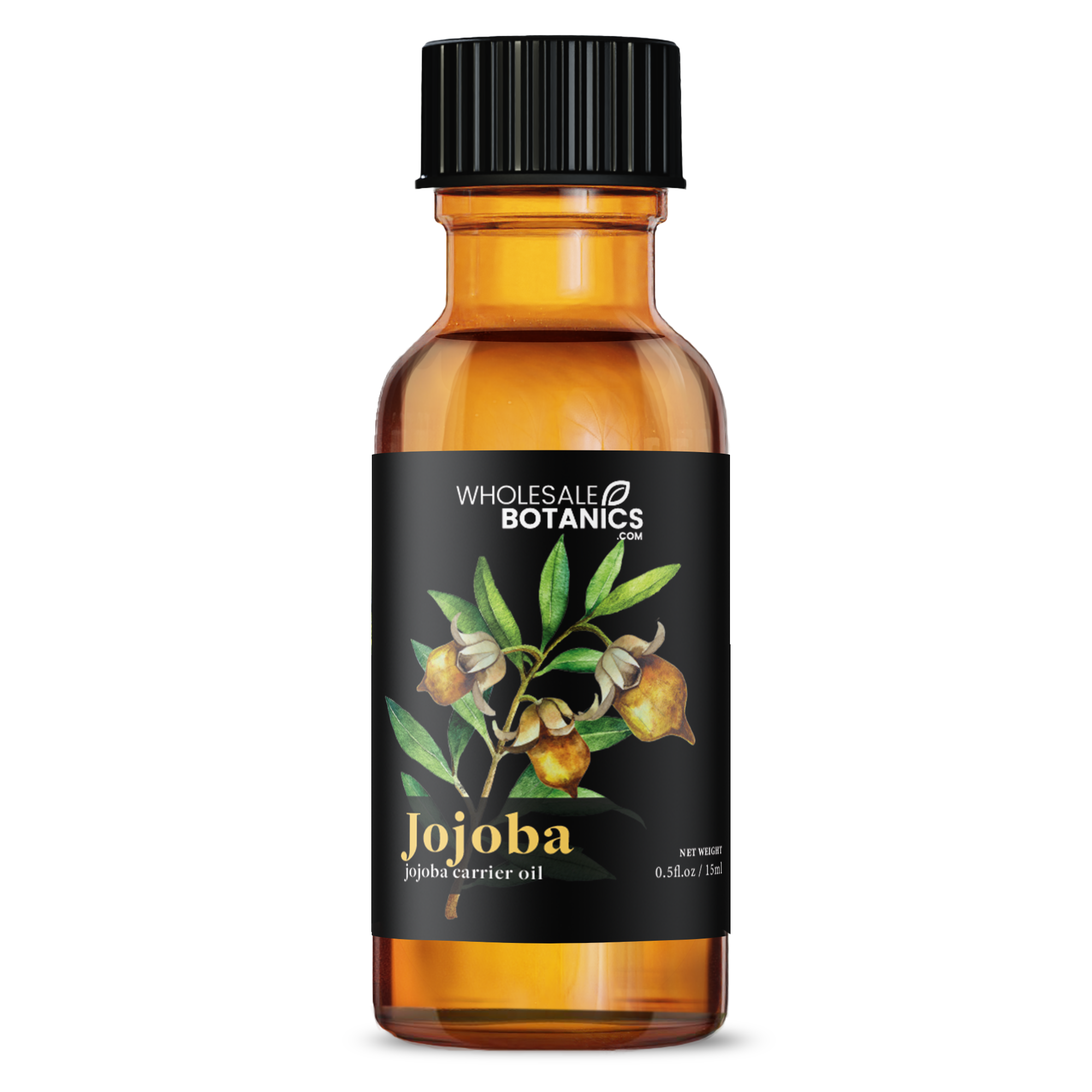 Responsibly Sourced
We work with farms and producers in over 30 countries to support renewable harvest and grow practices.
100% Pure
Wholesale Botanics guarantees that this pure jojoba oil is undiluted, unadulterated, and contains no additional ingredients beyond the oil itself.
Oil Report
Access the certificate of analysis to see the composition and purity of our Jojoba Oil.
Geographical & Botanical Breakdown of Jojoba Oil
View and download the Certificate of Analysis for our 100% Pure Jojoba Oil.
Botanical Name
Simmondsia chinensis
Also Known As
Goat Nut Oil
Quinine Nut Oil
This essential oil is comprised only of natural plant material and contains no synthetics, fillers, or other harmful materials.
Ingredients
100% Jojoba Oil
Oil Profile
Used for centuries, discover the healing power of Jojoba Oil, a versatile and nourishing oil with a light, nutty scent.
Extraction Method
Cold Pressed
Appearance
Golden brown liquid
Key Components
Gadoleic acid, erucic acid, oleic acid
Blends Well With
Peppermint, frankincense, and chamomile
Mixes Well With
Calendula, grapeseed, or rosehip carrier oils
Features & Benefits
Its mild aroma makes it perfect for combining with essential oils.
Soothes and calms irritated skin.
Cold-pressed from the seeds of the Simmondsia chinensis plant native to North and Central American deserts, Jojoba Oil has been utilized for its medicinal properties for centuries to treat multiple ailments including kidney disorders, sore throats, and psoriasis. This nourishing oil is widely used today in many skincare and haircare products. Its anti-inflammatory qualities make it particularly effective for those with sensitive skin, as it can soothe and calm irritated areas. For those seeking a natural and effective moisturizer, incorporating Jojoba Oil into your routine can do wonders for rejuvenating the skin, leaving it soft and supple.
What Our Customers Think
"Packaging is great, traveled safely. Will order again in the future"
- Elana Martinez
06/21/22
"The whole family loves this, it's good for every hair type. It makes hair feel soft and hydrated, and also clear the scalp of any dandruff."
- Gianna
02/12/22
"Jojoba oil makes my skin smooth and helps curb my acne and reduce the number of pimples that appear."
- Sawyer
01/25/22
100%
of reviewers would recommend this product to a friend
Wow! Your business packaging and shipping is top tier! I cannot wait to use the oils.
Everything is wonderful! Your company packaged everything beautifully. I have ordered from other companies and sometimes there are leakage issues. Wholesale Botanics is top notch. Thank you!
Will buy again!
I love everything about this company so far and their products are legit. Will be buying again & recommending!
Reviewed by Elana M., from United States
Verified Buyer
I recommend this product
Came as expected!
Packaging is great, traveled safely. Will order again in the future
Reviewed by Mary, from United States
Verified Buyer
I recommend this product
Softer smoother skin
My skin is in a better state than ever. It used to be heavily textured and bumpy and not it's so smooth it looks like I'm always wearing foundation.
Reviewed by Crystal, from United States
Verified Buyer
I recommend this product
Best blended with moisturizer
I've tried mixing some jojoba oil with a carrier oil to help hydrate my skin but it was just too oily and unpleasant, but when mixed with actually moisturizer the effects are outstanding.