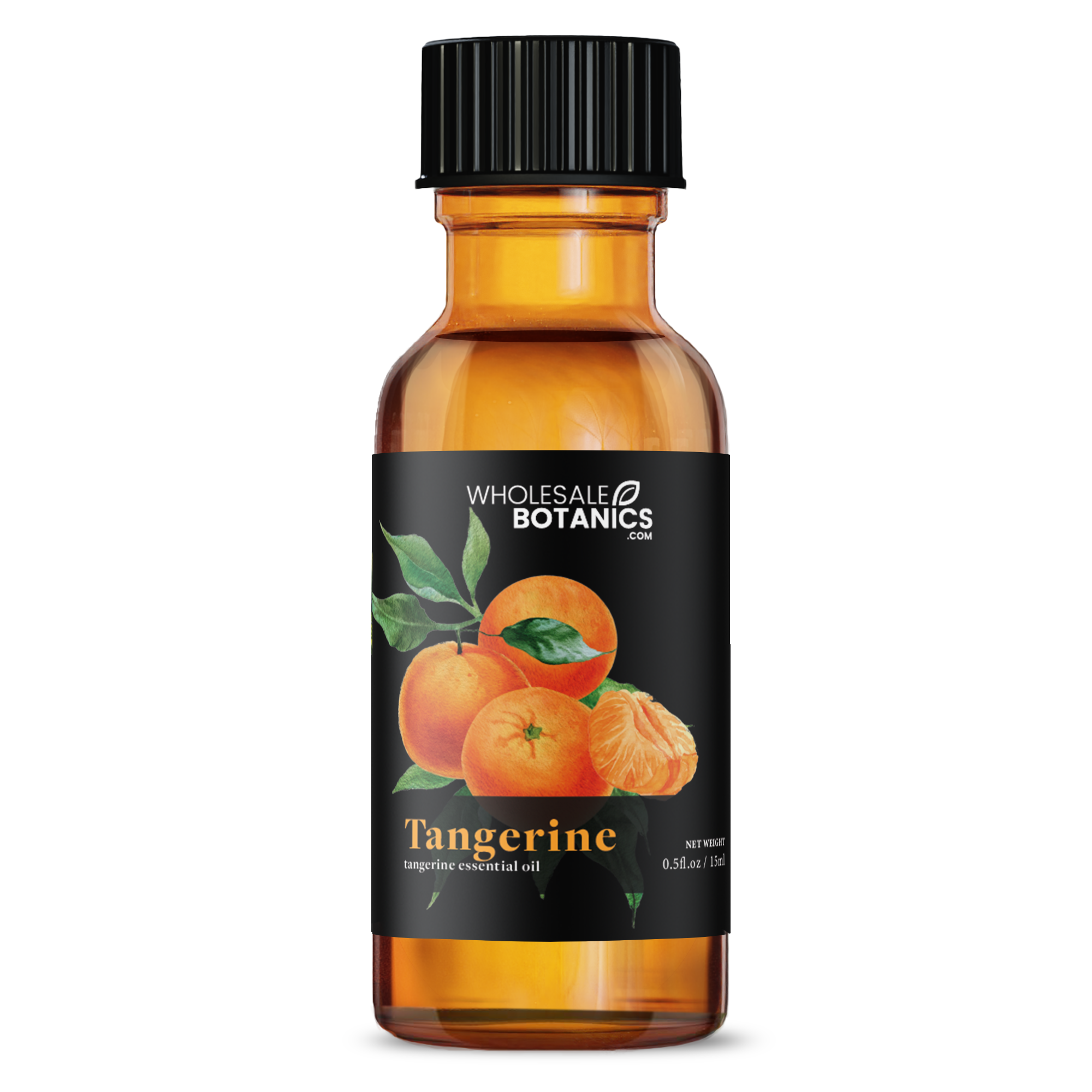 Tangerine Essential Oil
Frequently Bought Together
Responsibly Sourced
We work with farms and producers in over 30 countries to support renewable harvest and grow practices.
100% Pure
Wholesale Botanics guarantees that this pure tangerine oil is undiluted, unadulterated, and contains no additional ingredients beyond the oil itself.
Oil Report
Access the certificate of analysis to see the composition and purity of our Tangerine Oil.
Geographical & Botanical Breakdown of Tangerine Oil
View and download the Certificate of Analysis for our 100% Pure Tangerine Oil.
Botanical Name
Citrus reticulata
This essential oil is comprised only of natural plant material and contains no synthetics, fillers, or other harmful materials.
Ingredients
100% Tangerine Oil
Oil Profile
Its citrus fragrance is perfect for improving sleep quality.
Extraction Method
Cold Pressed
Appearance
Pale yellow liquid
Aroma
Sweet, tangy, bright
Key Components
Limonene, myrcene, γ-terpinene
Blends Well With
Cinnamon, lemon, and clove essential oils
Mixes Well With
Jojoba, argan, or coconut carrier oils
Features & Benefits
Its fresh, citrus aroma makes it an ideal addition to DIY cleaning products.
Can be added to massage oil for a soothing and energizing experience.
Antioxidant properties make this oil a great addition to skin moisturizers.
The Tangerine fruit has a rich history that dates back to ancient China, where it was used in traditional medicine to treat digestive issues. Cold-pressed from the rind of the fruit, Tangerine Oil has strong antioxidant properties that help to protect your skin from environmental stressors while also brightening your complexion. Inhaling the sweet fragrance of Tangerine Oil can also improve sleep quality, leaving you feeling refreshed and energized.
What Our Customers Think
"This is a nice alternative to use in place of orange essential oils. Smells just like the tangerines I use to pick in California! Quite pleasent in chapstick and blended with vanilla."
- Lacey
11/24/20
"I add a little bit of this to my toner to help brighten my skin. Works wonderfully."
- Ashlee
04/08/21
"They say Tangerine and citrusy smells are supposed to uplift your mood, and this definitely did the trick! It feels like I'm walking through a garden. I love it,."
- candace
08/30/20
91%
of reviewers would recommend this product to a friend
Reviewed by Liz, from United States
Verified Buyer
I recommend this product
This worked out so well for my products!
I put this ont in my lip balms, everyone love it! the smell is very delicious i just wanted to drink it down!!
Reviewed by Kelly, from United States
Verified Buyer
I recommend this product
blends quite well with other citrus oils.
Delicious, fresh tangerines. Great mixed with sweet orange, pink grapefruit and lemon.
Reviewed by Meredith, from United States
Verified Buyer
I don't recommend this product
No scent
When I first opened the bottle I was excited it had such a strong smell. However, after putting it into my diffuser, the smell completely diminished. There is no scent whatsoever.
Reviewed by Mallory, from United States
Verified Buyer
I recommend this product
Bathroom refresher?
Works perfect in bath bombs. My bathroom smelled wonderful even after hours of the my bath, its very lovely frgarance.