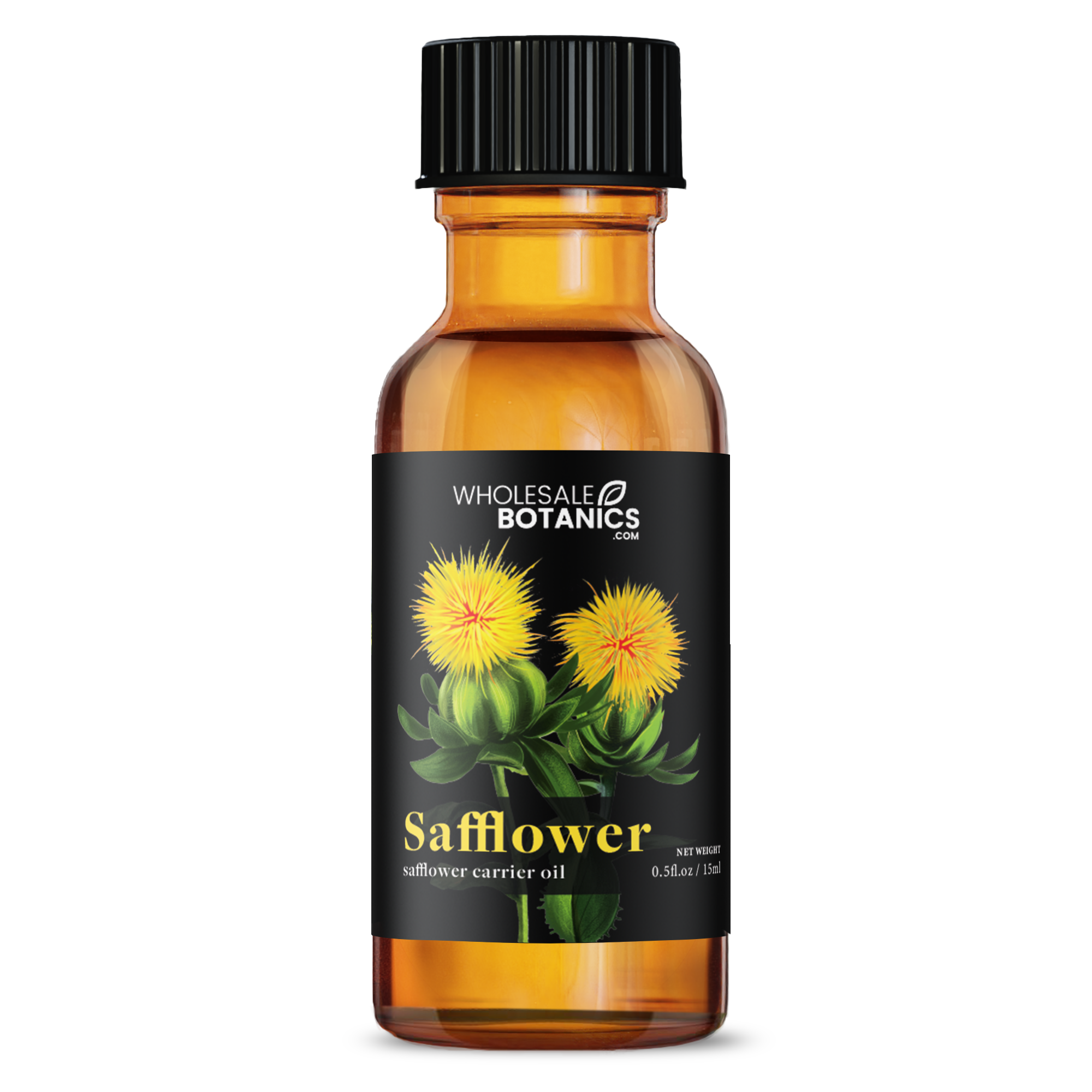 Safflower Oil
Frequently Bought Together
Vegan Friendly
The oil is 100% Vegan - No animal was harmed nor used in the manufacturing of this product.
Responsibly Sourced
We work with farms and producers in over 30 countries to support renewable harvest and grow practices.
Oil Report
Access the certificate of analysis below to see the geographical and scientific data of our Safflower Oil.
Geographical & Botanical Breakdown of Safflower Oil
View and download the Certificate of Analysis for our Safflower Oil.
Botanical Name
Carthamus tinctorius
Oil Profile
Packed with fatty acids, this luxurious carrier oil is perfect for hydrating the skin.
Extraction Method
Cold Pressed
Appearance
Golden to pale yellow liquid
Key Components
Linoleic acid, oleic acid, palmitic acid
Blends Well With
Lavender, borage, and rosehip essential oils
Mixes Well With
Calendula, grapeseed, or rosehip carrier oils
Features & Benefits
Protects and nourishes dry skin.
Mild scent makes it a perfect base for essential oil blends.
High fatty acid content makes it ideal for skin hydration.
Safflowers have bright orange or yellow flowers that were frequently used by ancient Egyptians as a natural dye for fabrics. The flower extracts were also valued in ancient Chinese medicine to promote blood circulation and overall health. Today, the oil extracted from the seeds of the Safflower plant is a popular ingredient in skin care products such as lotions, creams, and serums. Safflower Oil is packed with linoleic acid and omega-6 fatty acids, making it ideal for hydrating and soothing dry skin, leaving it feeling soft and supple.
What Our Customers Think
"Who'd have thought that you could buy liquid health, and for pocket money too. This oil is good for everything I apply it to and I recommend it to everyone that asks me for my two cents."
- Miranda
04/04/22
"My skin is very sensitive to every product, so I decided to try oils since they're natural. This one especially has been really good for my skin, I don't see any huge changes, but my skin feels soft and stronger."
- Nathan
09/27/21
"I would recommend this to anyone who has a skin honestly. It gives me a naturally untextured look without makeup at all, this is gonna save me a fortune."
- Debra
09/04/21
100%
of reviewers would recommend this product to a friend
Reviewed by Ellen, from United States
Verified Buyer
I recommend this product
Cooking oil with slight aftertaste
Safflower is part of the essential oil group that can be used for cooking, but it's also my least favorite. It has a bit of an aftertaste that I don't appreciate, but I still use it often because it cooks at very high temperatures, higher than the other oils I have tried.
Reviewed by Alex, from United States
Verified Buyer
I recommend this product
Healthy fat source
I eat a protein based diet and try to keep my fat sources as healthy as can be and this oil is one of my chosen products to help me conduct a healthy lifestyle.
Reviewed by Virginia, from United States
Verified Buyer
I recommend this product
Cooks at high temperatures
Cooks at much higher temperatures than most essential oils, that's why I was reluctant to completely switch to a healthier option and ditch the vegetable and olive oils, but this one can stand very high temperatures and has a myriad of benefits for the health.
Reviewed by Melissa, from United States
Verified Buyer
I recommend this product
Natural and healthy for cooking
Honestly everyone should substitute their vegetable cooking oil with safflower oil ASAP, the health benefits are numerous, and the harm the other does is unnecessary when there are so many good alternatives.
Reviewed by Joel, from United States
Verified Buyer
I recommend this product
Natural remedy for old age ailments
Getting old isn't fun, but it doesn't have to be miserable either. Safflower is very easy to introduce into the diet, just substitute olive and vegetable oils and you're good to go. It claims to treat all the ailments old people usually get like diabetes and high blood pressure. It's a bit too pricey so I can't buy as much as I would like, but so are doctors and we still fill their pockets.