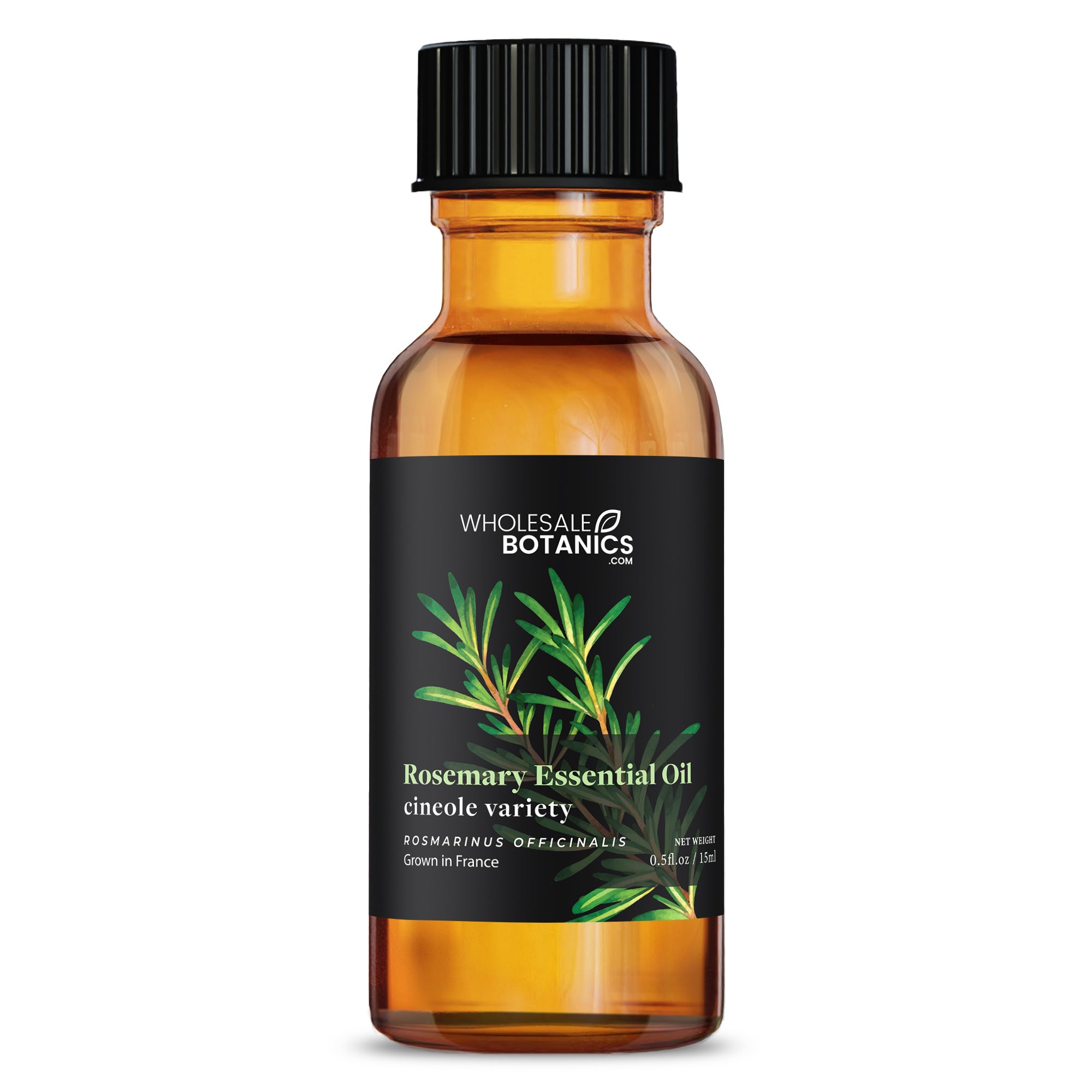 Rosemary Essential Oil - Cineole
Frequently Bought Together
Vegan Friendly
The oil is 100% Vegan - No animal was harmed nor used in the manufacturing of this product.
Responsibly Sourced
We work with farms and producers in over 30 countries to support renewable harvest and grow practices.
Oil Report
Access the certificate of analysis below to see the geographical and scientific data of our Rosemary Cineole Oil.
Geographical & Botanical Breakdown of Rosemary Cineole Oil
View and download the Certificate of Analysis for our Rosemary Cineole Oil.
Botanical Name
Salvia rosmarinus
Oil Profile
The Cineole variety of rosemary features a brighter herbal aroma and powerful invigorating effects.
Extraction Method
Steam Distillation
Appearance
Colorless to yellow liquid
Aroma
Bright, herbal, sweet
Key Components
Eucalyptol, camphor, pinene
Blends Well With
Basil, wintergreen, and lemongrass essential oils
Mixes Well With
Calendula, grapeseed, or rosehip carrier oils
Features & Benefits
May enhance mental clarity when diffused.
Bright fragrance similar to Eucalyptus is prized for aromatherapy.
Powerful respiratory effects.
The Cineole variety of Rosemary is valued for its bright herbal aroma as well as its expectorant and respiratory-supporting properties. It is often used to promote healthy breathing and relieve congestion. Native to the sunny areas of the Mediterranean region, Rosmarinus officinalis is an evergreen plant with vibrant pink, purple, and white flowers. Its leaves were a symbol of love and were often given as gifts during celebrations in ancient times. Rosemary leaves were also commonly used for culinary purposes. When inhaled, this fragrant oil relieves anxiety and stress, making it the perfect addition to your aromatherapy routine.
What Our Customers Think
"I can't relax without rosemary oil. After work, I just sit back and breathe it in. Instant calm."
- Logan
04/15/23
"Hair seems healthier, customer service superb when needed help"
- Isabella
03/20/23
"Take it from me, my eyelashes have never looked longer or fuller."
- Scarlett
01/01/23
100%
of reviewers would recommend this product to a friend
Smells so good
Love, love, love my rosemary essential oil. I never stay at a hotel without it.
Reviewed by Christopher R.
Verified Buyer
I recommend this product
Rosemary is the best
The oil is great for my stress. Never knew oil could help this much.
Helps retain school material
It all started with a few drops of rosemary oil in the diffuser while I was studying, and now I even sprinkle some on my collar before sitting exams and my grades have jumped up. It helps me focus and all that, but more importantly, it helps me memorize things.
Can't get enough!
God this smells so good. It's really perfect for everything.
Stress-free
I can't relax without rosemary oil. After work, I just sit back and breathe it in. Instant calm.